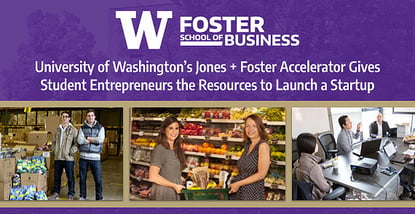 In a Nutshell: Today's enterprising college students don't need to wait until graduation to get a business idea off the ground. The Jones + Foster Accelerator at the University of Washington gives student entrepreneurs the opportunities, resources, and connections needed to get to the startup phase. The six-month program at the Buerk Center for Entrepreneurship in the Foster School of Business is part of UW's commitment to developing an entrepreneurial ecosystem that supports students who have business ideas — regardless of their area of study. The program reaches beyond campus to connect J+FA companies with leaders in Seattle's innovation and entrepreneurial communities. J+FA supports the next generation of business leaders and invites them back as mentors to guide future aspiring entrepreneurs.
In late 2015, two entrepreneurial-minded University of Washington students had an idea: coffee-infused chocolates to help friends stay energized while studying for midterms and finals.
They found the resources, support, and guidance to take this idea from a class project to a growing business on campus at the Jones + Foster Accelerator program at the UW Foster School of Business Buerk Center for Entrepreneurship.
Two short years later, Joe Chocolates are on sale at Nordstrom, Amazon, and other national retailers across the United States.
The company is one of several success stories J+FA has fostered in its short history.
The Buerk Center launched the program in 2010 to give the next generation of leaders in retail and other industries the resources and opportunities to navigate the challenging process of taking a business from student project to startup company.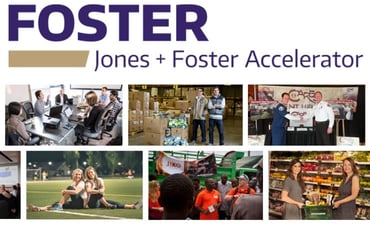 Each year, 20 to 30 teams of student entrepreneurs from colleges and universities in Washington state apply for the program. It's a highly competitive process, and admission into the six-month J+FA program is capped at 10 teams.
Those teams receive mentoring from a committee of entrepreneurs and investors; workshops on relevant topics such as raising money, developing customers, and business sustainability; and $1,000 toward business-related expenses. The teams also make connections in the Seattle entrepreneurial community and earn up to $25,000 in seed money if the team meets a series of milestones. And J+FA receives no equity stake in exchange for that seed money.
"We hope the mentoring, advice, preparation, introductions, networking, and the seed funding give them another year in business — that really crucial year," Buerk Center for Entrepreneurship Associate Director Amy Sallin said.
The program's impact is reflected in the success of the businesses it helps produce. It is also reflected in the commitment of program alumni who continue to support J+FA after bringing their ideas to market.
Cultivating a Vibrant Entrepreneurial Ecosystem on Campus
UW has developed a vibrant ecosystem on campus to support enterprising students who have innovative business ideas and the drive to see them through.
The Buerk Center for Entrepreneurship was established first as a program in 1991 to provide students from all areas of study — ranging from undergraduates to PhD candidates — the opportunity to pursue their entrepreneurial passions.
"We are interdisciplinary. We offer entrepreneurial resources to students across campus, regardless of discipline, program, or school. Any student who has any interest in entrepreneurship, we are here to help them out," Amy said.
Undergraduate business majors may pursue an entrepreneurship option that mixes a core curriculum of strategy, finance, and marketing with more practical learning. Non-business undergraduates may minor in entrepreneurship. The Lavin Entrepreneurship Program immerses students in a three- to four-year extracurricular program that includes developing companies, making connections in Seattle's entrepreneurial community, and paid internships.
The Buerk Center developed a 12-month Master of Science in Entrepreneurship program, as well as a certificate program for post-graduate students outside the Foster School of Business. Buerk Center programs often attract PhD students in science and engineering who decide against going into academia, Amy said.
"We see a lot of them who think, 'I'm working on this cool stuff in the lab, I can commercialize this myself,' and an entrepreneur is born," Amy said.
Extracurricular business competitions are also a significant part of the entrepreneurial culture. The Business Plan Competition has awarded $1.4 million to 154 student companies in 20 years.
The top teams each year participate in a live round, which Amy likened to a "giant science fair."
"When you walk through the show and look, it makes you so hopeful for the future," she said. They're so enthusiastic, smart, and clever, and they're coming up with ideas, concepts, and products that are amazing."
Student teams in the Alaska Airlines Environmental Innovation Challenge develop prototypes to address some of the world's most important environmental problems. In 2017, the $15,000 grand prize went to a team that aimed to disrupt the alternative energy market with low-cost, high-efficiency membranes for redox flow batteries.
In the Hollomon Health Innovation Challenge, student teams come up with ideas to solve significant health care and wellness issues.
The 2017 winner, EpiForAll is an epinephrine auto-injector that is a fraction of the cost of the EpiPen.
The Buerk Center launched J+FA to fill a gap in this entrepreneurial ecosystem, Amy said. Before J+FA, all entrepreneurial programs were student-facing and nothing was in place to support the pursuit of business ideas after graduation.
"At the point of graduation, we'd say to students who want to start a company, 'Great, good luck, bye-bye,' because we didn't do anything for alumni. In 2010, we decided to start an accelerator to help them build a startup company," Amy said.
Making Connections with Seattle's Community of Innovators & Business Owners
Connections are vital for any entrepreneur looking to launch a startup. J+FA is well-positioned to provide those connections through its extensive ties to the thriving Seattle entrepreneurial community.
"Through the whole process, we have advisors, mentors, and judges who are entrepreneurs in the area. The Buerk Center has some really fantastic connections in the Seattle entrepreneurial community in a lot of different industries," Amy said. "They're the class speakers, the judges, the advisors, and mentors. They really take an interest in helping students learn and succeed."
"That networking with the entrepreneurs and investors in various industries is so valuable, particularly for those students who realize they really have something. Frankly, a lot of the judges and mentors who come to our competitions are talent scouting. They say, 'Wow, you seem really sharp; here's my card. Once this is over and you've graduated, contact me, let's talk.'" — Amy Sallin, Buerk Center for Entrepreneurship Associate Director
Each J+FA team has a committee of four to five mentors who may include entrepreneurs, angel investors, industry experts, venture capitalists, and attorneys. Past mentors have come from companies including IBM Bluemix, Voyager Capital, the Perkins Coie law firm, tax software company Avalara, scientific wellness company Arivale, and clean water technology firm HaloSource.
Nearly 1,000 members of the Seattle business community volunteer as judges, mentors, or speakers, and guide the budding entrepreneurs in Buerk Center programs and events throughout the year.
"That networking with the entrepreneurs and investors in various industries is so valuable, particularly for those students who realize they really have something," Amy said. "Frankly, a lot of the judges and mentors who come to our competitions are talent scouting. They say, 'Wow, you seem really sharp; here's my card. Once this is over and you've graduated, contact me, let's talk.'"
J+FA — Helping Shape the Next Generation of Leaders
In its short history, J+FA has launched an eclectic group of startup companies and the nine teams accepted in 2017 continue that trend. They include EpiForAll, the winner of the Buerk Center's Holloman Health Innovation Challenge; ShopSight, which developed an analytics platform for brick-and-mortar retailers; and NASTEA & Co., an all-female founded dirty chai beverage company.
The nine firms hope to join the 56 companies that have completed J+FA since 2010. Forty-one of those companies received seed funding totaling $870,000 through J+FA. Thirty-six are still in business today.
One of them is apparel company Strideline, which was started by two UW students while enrolled in the Lavin Entrepreneurship Program and the Foster School of Business. They went on to complete J+FA and received the maximum $25,000 in seed money. Last August, Strideline entered an agreement with the NFL Players Association and its licensing partner Fanatics to produce an exclusive line of socks featuring players such as Pittsburgh Steelers star Antonio Brown.
But the best success stories involve entrepreneurs who went through the program and then returned as a business owner to help the next generation, Amy said. That was the case with Uphill Designs, a 2014 J+FA company that produces backpacks, trekking poles, and other hiking gear made of all-natural materials. The owner reached out to offer free booth space at a farmer's market to other J+FA companies, Amy said.
"It's so rewarding to watch them grow up, both as people and as entrepreneurs," she said. "And they give back so readily. They come back and talk to students. If they can, they're donating products to the various events we do. The alumni turn around and become mentors themselves."
Advertiser Disclosure
CardRates.com is a free online resource that offers valuable content and comparison services to users. To keep this resource 100% free, we receive compensation for referrals for many of the offers listed on the site. Along with key review factors, this compensation may impact how and where products appear across CardRates.com (including, for example, the order in which they appear). CardRates.com does not include the entire universe of available offers. Editorial opinions expressed on the site are strictly our own and are not provided, endorsed, or approved by advertisers.