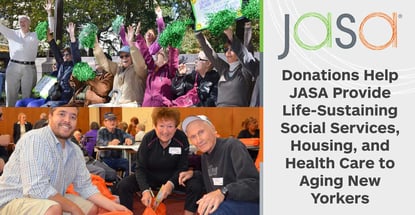 In a Nutshell: People often build homes, start families, and grow within a community over decades, but they may be forced to leave it all behind as they age. JASA eases those transitions for thousands of aging residents in the New York metropolitan area thanks to donor contributions, volunteers, and agency partners. Since 1968, donors have helped JASA build broad programs of service and support that enable New York's older population to thrive safely in the places they call home.
While Medicare and health insurance address the immediate and long-term physical needs of aging Americans, that support doesn't extend to some of the more subtle challenges of growing older. Routines, including shopping for groceries, preparing meals, filling prescriptions, paying bills, and staying active become challenging.
Insurance benefits also don't mitigate the impact of social isolation, poverty, exploitation, or undiagnosed or undertreated mental health issues. And often, spouses, partners, family members, and friends aren't in positions to provide the steady support an aging person needs. And even when they are, they are faced with their own caregiving-related challenges.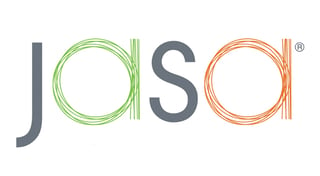 Research from the AARP shows that the vast majority of adults want to remain safely in their homes and communities as they age, but significantly fewer believe they actually can.
In the New York metropolitan area, JASA is there to help with those challenges. JASA, founded in 1968, serves more than 40,000 older adults living in the Bronx, Brooklyn, Manhattan, Queens, and Long Island each year.
The organization delivers life-sustaining programs and services that make aging in place feasible for more seniors — and brings peace of mind to their families and friends.
"We work with people who have lived in their homes for 30 or 40 years — and it's where they want to be, where they want to age," JASA Senior Director of Intensive Services & Business Development Danielle Palmisano told us. "The services we provide make a tremendous difference in keeping people safely in their homes."
Providing Assistance and Advocacy within Communities
JASA was founded as part of the UJA-Federation of New York and grew out of the recognition that more New Yorkers needed support to remain in their communities "with dignity and autonomy," as JASA's mission statement reads. Donors, volunteers, and institutional partners help JASA deliver a broad range of social services along with affordable care and housing.
In 2019, JASA was instrumental in delivering and serving more close to 1 million meals. Almost 6,000 elderly New Yorkers also benefited from counseling and case management assistance, with a comparable number receiving adult protective and community guardianship care. Thousands more received legal assistance, learned from elder abuse programs, or gained access to home care and mental health services.
Almost two dozen JASA Senior Centers located throughout New York helped connect more than 12,000 senior New Yorkers to their communities, with more than 2,100 participating in other cultural and educational programs.
And 5,300 elderly New Yorkers resided in JASA-enabled Naturally Occurring Retirement Communities in 2019, while 2,280 lived in JASA-provided affordable senior housing. In 2020, JASA plans to partner with developers on new senior-affordable housing — and six new projects are underway.
"It's really a continuum for responding to all the needs of our aging population," Palmisano said. "Without these services, more people would be placed at risk for premature nursing home placement."
JASA also operates a Brooklyn-based caregiver assistance program that has provided free home and group respite care and access to peer support to 500 people.
"A lot of the caregivers we work with are either adult children who are balancing their own responsibilities or aging spouses who are struggling as well," Palmisano said. "It's essential that we help them access the services they need not only for their care recipient but also for themselves."
Senior Centers Provide Uplifting Social Connections in 22 Metro Locations
JASA's systematic approach to understanding the unique needs of every one of its clients makes the entire process work. Individual assessments help staff set the correct course of action for positive outcomes.
One of the keys to keeping seniors in their communities is making them aware of benefit eligibility, so assessments at JASA include a financial component. JASA comes to an understanding of each client's income and expenses, ensures they're receiving the maximum benefit amount, and helps them recertify benefits they've let lapse.
"Growing old is a lot to manage, and sometimes you're in a system that can be a little broken, and you don't understand it all," Palmisano said. "Some people are more tech-savvy and can get on the internet and figure it all out, but not everybody can do that."
Among an array of other educational services, JASA's 22 Senior Centers offer programs that help protect seniors from common financial scams.
"We have speakers who come in to talk about financial health and make sure people are aware of what's happening," Palmisano said.
Beyond addressing pressing needs, JASA Senior Centers function almost like homes away from home for many people. They're places for people to socialize, celebrate, and immerse themselves in stimulating arts and cultural programs. They can also exercise, learn about healthy living, and access computer training.
Sundays at JASA takes personal development a step further by offering a wide range of college-level continuing education courses and lectures at Manhattan's John Jay College to all adults over 50.
JASA: Enabling Older Adults to Live in the Places They Love the Best
Significant challenges often face New Yorkers as they age, but JASA provides a lifeline of educational resources and services to help people remain — and thrive — in their homes and communities. Its Senior Centers also offer opportunities for JASA volunteers. And those who want to use their expertise to teach a dance class or run a discussion group have plenty of opportunities. Many JASA volunteers are older adults.
Another way people contribute to JASA's mission is through donations. Philanthropic support helps JASA extend the services it provides.
"Donations are vital in so many areas," Palmisano said. "They help us provide social opportunities, additional meal service to people who are homebound, and transportation services. We also need help when we have a nurse do blood pressure screenings or to provide health and wellness training or programming. We try to use the funds provided by our donors to support and enhance all our services."
Given JASA's commitment to meeting individual needs, assistance can take many forms.
"We'll sometimes receive a call about someone in the community who has no food," Palmisano said. "Or they've just been prescribed a new medication, and they don't have health insurance benefits. Providing financial assistance to help support people in those kinds of emergencies is important, and sometimes it's even a life-sustaining intervention."
It's not hard to imagine other scenarios. For example, seniors discharged from short-term rehab or the hospital sometimes come home to spoiled groceries. Or JASA may identify an individual who's living without electricity. At times like those, donations enable JASA to step up and do what is necessary.
"People want to remain in their own homes," Palmisano said. "We help them think about what that can look like today, tomorrow, and even five or 10 years from now."
Advertiser Disclosure
CardRates.com is a free online resource that offers valuable content and comparison services to users. To keep this resource 100% free, we receive compensation for referrals for many of the offers listed on the site. Along with key review factors, this compensation may impact how and where products appear across CardRates.com (including, for example, the order in which they appear). CardRates.com does not include the entire universe of available offers. Editorial opinions expressed on the site are strictly our own and are not provided, endorsed, or approved by advertisers.