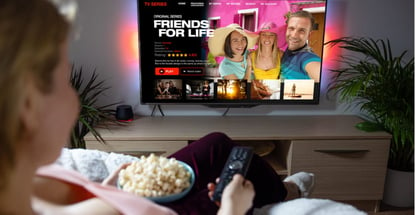 COVID-19 changed the world in so many ways, including boosting the popularity of the best credit cards for streaming services. During the movie theater shut down, folks fought cabin fever by increasing their consumption of on-demand streaming video. 
About 85% of US households subscribe to at least one streaming service, and the share of subscribers using five or more services has quadrupled since 2019.
Against this backdrop, several credit cards for folks with a high credit score added bonus rewards for streaming services. If you're shelling out hundreds per year on Netflix, HBO Max, and the other on-demand services, you have good reason to consider a rewards card that will subsidize your viewing. Our review of the best credit cards for streaming services follows.
Best Cards For Streaming Services
These cards offer reward rates of at least 2% cash back (or 2X points) when you use them to pay for streaming services. That's good, since several on-demand services charge more than $10/month. Own one of these cards and enjoy first-class rewards with your first-class entertainment.
The Blue Cash Preferred® Card from American Express rewards you with the industry's highest cash back rate when you use it to charge eligible US-based streaming subscriptions. More than two dozen services qualify for the rewards. The bonus rewards may not be available for bundled or third-party subscriptions. 
The Capital One SavorOne Cash Rewards Credit Card offers unlimited cash back when you use the card to pay for an eligible streaming service. The services qualifying for the reward include Apple.com, iTunes, Apple Music, Bandcamp, DirecTV, Disney+, ESPN+, FuboTV, HBO Now, Hulu, Netflix, Peacock, Sirius XM, Sling TV, Spotify, Starz Entertainment, and Tidal.
The Capital One SavorOne Student Cash Rewards Credit Card offers the same streaming service rewards as its non-student doppelganger. That's nice if you have a TV in your dorm room, but it doesn't help much if you do your viewing in the student lounge.
The Chase Sapphire Preferred® Card jumped on the streaming bandwagon in August 2021 by adding bonus Chase Ultimate Reward points for select streaming services. Initially omitting HBO Max, Showtime, Paramount+, and Peacock, the card filled the gap in January 2022 by adding these and others to the list of eligible streaming services. 
The Platinum Card® from American Express provides statement credits each month when you use it for eligible purchases on Disney+, The Disney Bundle, ESPN+, Hulu, Peacock, and SiriusXM. This perk can save hundreds of dollars each year. You must purchase these streaming services directly from their providers.
Citi Custom Cash® Card lets you choose a bonus category (including streaming services) for its top ThankYou Points rewards rate. Eligible cable, satellite, and streaming providers include Amazon Prime Video, Amazon Music, Apple Music, CBS All Access, Disney+, AT&T TV NOW, ESPN+, fuboTV, HBO Max, NBA League Pass, Netflix, Pandora, Showtime, Sling TV, Spotify, Starz, SiriusXM, Vudu, YouTube Red, YouTube TV, and Tidal.
The U.S. Bank Altitude® Go Visa Signature® Card offers bonus rewards on more than 30 eligible streaming services. You also receive a modest statement credit each year you put streaming service purchases on your card for 11 consecutive months. You'll receive the credit within two billing cycles after fulfilling the requirement.
Although it doesn't have a special bonus reward for streaming services, we've included the Hilton Honors American Express Aspire Card because of its high default rewards rate on eligible purchases. This card should appeal to anyone who collects Hilton Honors Bonus Points. Hilton received the highest hotel score in the 2021 American Customer Satisfaction Index.
The American Express® Gold Card is another example of a credit card without a bonus category of streaming services. But the card does offer a high Membership Rewards rate for purchases made at supermarkets, an excellent place to buy streaming service gift cards.
What Is a Streaming Service?
A streaming service delivers internet video and audio content from a server to a client without downloading media files. It allows you to watch non-broadcast TV and listen to podcasts on internet-connected devices. The server stores the streaming content in media files that it transmits in packets to client devices for playback.
Unlike downloading, which involves copying entire files from servers to clients, streaming transmits small chunks of content without storing files on the client device. Along the way, the server content voyages on the world wide web and your internet service provider (ISP) to reach your playback device  —  TV set, tablet, mobile phone, etc. 
The major streaming services, such as Netflix, HBO Max, ESPN, Paramount+, Disney+, Apple TV+, and dozens more, purchase or produce their content. You subscribe to a streaming service monthly to access its content, including movies, TV shows, and live events. Typical monthly charges range from $5 to $15, more or less.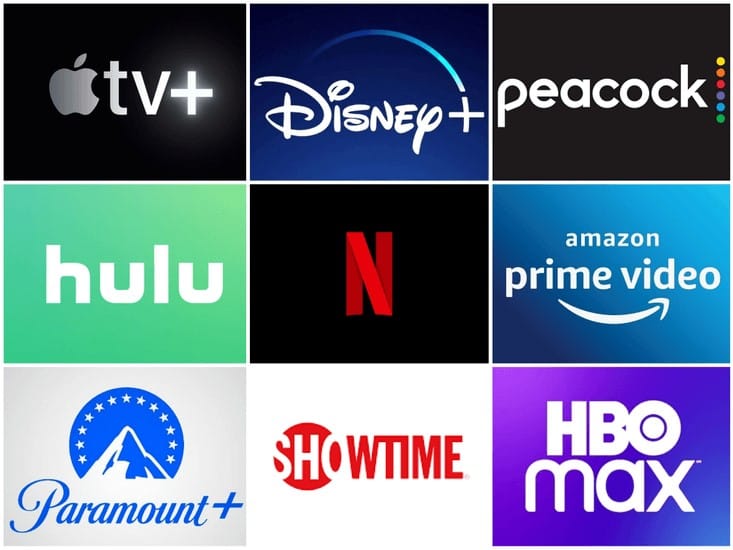 Streaming video services that charge a fee do not play commercials, although they often promote their content. Some services are free but interrupt their movies and shows with ads. 
You can subscribe to a streaming service using a credit card or other payment method. The card can source automatic payments to your streaming services to ensure uninterrupted access. 
Normally, you can cancel a service at any time, but the subscription usually continues until the end of the billing period. Some streaming services allow you to pay in quarterly to annual installments. 
Netflix is the largest streaming service, with more than 225 million subscribers worldwide. The remaining top five are Prime Video, Spotify, Disney+, and HBO Max. 
The ISPs are the cable companies that deliver internet content to your devices. Among the largest are Verizon, Cox, Spectrum, Optimum, and Frontier Communications. 
The ISPs connect (via a local area network or WiFI) to portable streaming dongles that plug into your playback devices. For example, Amazon Fire Stick connects to your TV's HDMI port to deliver content from your streaming services. 
Cellphones use apps to play back streamed content. You need separate apps for different streaming services. You can watch streamed content on computers and tablets by browsing streaming service websites, such as netflix.com.
Do Credit Cards Have Special Offers For Streaming Services?
Several rewards credit cards offer bonus rewards when you use them to pay your streaming service bills. Bonus rewards for streaming services generally range from 2% cash back (or 2X points) to 6% (6X).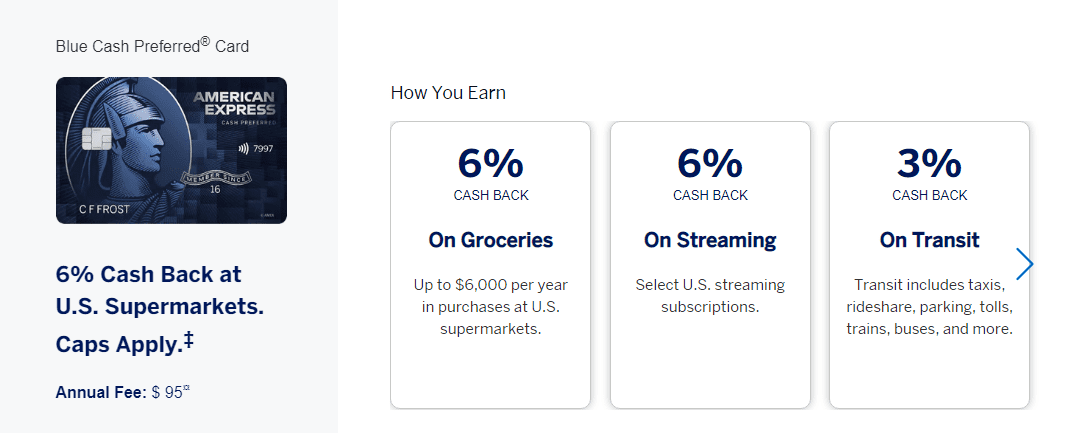 Of course, credit cards are free to offer any promotions they want, so it may be possible to find even better deals.
Some rewards credit cards also offer a flat reward if you use them to pay a set number of consecutive monthly streaming service bills.
Can I Earn a Streaming Service Bonus Through a Shopping Portal?
Shopping portals let you earn bonus rewards on certain purchases, and some websites offer special deals on streaming service purchases. For example, the American Airlines AAdvantage eShopping portal offers bonus miles when you use it to subscribe to Hulu, Disney+, Sling TV, or ESPN+.
The Rakuten shopping portal offers rewards on subscriptions to Disney+. So do the RebatesMe portal, Amtrak Guest Rewards, Caesars Rewards Marketplace, Spirit Online Mall, and Wyndham Rewards Shopping sites. The rewards you earn through shopping portals supplement those from your credit cards.
Several credit card issuers offer special deals to help you save money and earn extra bonuses. For example, select American Express cards offer a one-time cash bonus when purchasing an annual HBO Max subscription. 
Which Is the Best Credit Card for Netflix?
The Blue Cash Preferred® Card from American Express offers the best credit card rewards for eligible streaming services, including Netflix. The cash back takes the form of Reward Dollars that you can redeem for a statement credit. 
The Capital One Savor Cash Rewards Credit Card also deserves consideration. It pays 4% cash back on streaming service purchases. 
What Does Capital One Consider a Streaming Service?
Capital One offers bonus rewards on streaming purchases for eligible music and video streaming services, including Netflix, Hulu, and Disney+. It excludes some services, such as Prime Video, AT&T TV, and Verizon FIOS On Demand, as well as audiobook subscription services and fitness programming.
Can I Dispute a Credit Card Charge For a Subscription?
Credit card issuers usually honor disputes over charges, including those for subscriptions, if you have a valid complaint. The issuer may require you first contact the vendor and try to resolve the problem.
Valid complaints may include:
You did not order the subscription
There is a billing error
The subscription service is defective
You never received the service
You canceled the subscription
Hopefully, the vendor will refund your credit card charge. But failing a vendor resolution, your card issuer may investigate your dispute, or it may accept your contention without further follow-up. If the issuer agrees with you, it should credit your card for the disputed amount. 
On the other hand, if the issuer suspects that you are trying to defraud the subscription service, it may close your account. If the issuer rejects your dispute, it must explain why.
To preserve your right to dispute a billing error, you must send a written notice to the issuer within 60 calendar days of the charge. The issuer must acknowledge receipt of your complaint within 30 days and complete its investigation within two complete billing cycles (in all cases, no more than 90 days). 
Subscriptions can trigger three tricky situations:
Free trials: Many streaming services offer free access for a set period (usually seven days) and then charge your credit card if you don't cancel on time. For your protection, make a note of the deal terms, understand how to cancel, and set a calendar reminder for the end of the trial period.
Automatic renewals: After sending you a renewal notice, the vendor will automatically charge your credit card on the renewal date unless you cancel. If you're happy with your subscription, auto-renewals can be convenient. However, it may be a hassle to stop an auto-renewal after the fact. You should check whether the renewal price is correct and that you hadn't previously canceled the subscription. Be on the lookout for scammers sending fake bills to renew a service. They may be after your credit card information. 
Negative options: The common practice among subscription services is to bill you automatically for items you didn't specifically refuse. With a negative option, your silence provides consent to charge you. Understand whether a subscription assumes a negative option before agreeing to a free trial or purchase. Some vendors use pre-checked boxes that permit them to bill you later. If the company refuses to refund your money, file a dispute with the credit card issuer.
Contact the Federal Trade Commission and your state attorney general if you feel a subscription service has defrauded you or that a scammer has posed as a subscription service to steal your personal information. 
The Better Business Bureau warns of a scam in which you receive a fake activation email with phony links. The scammer wants you to click on a bogus link and provide your login and password. It may also download malware onto your computer. 
Earn Valuable Savings on Streaming Services
The best credit cards for streaming services can save you money on your subscriptions. The top cards rebate up to 6% of your subscription charges through cash back, points, or miles. Yes, we know 6% isn't a windfall, but hey, better in your pocket than your vendor's. 
Unless you spend a disproportionate amount of income on subscriptions, you should avoid letting this tail wag the dog  —  that is, study the total cost and benefits available from a credit card before applying. A high reward rate on a relatively minor budget item may be worth less than a lower rate on your more-significant expenses.
Final Notes on "9 Best Credit Cards For Streaming Services (Sep. 2023)"
We hope this guide "9 Best Credit Cards For Streaming Services (Sep. 2023)" has been a helpful resource for you in learning more about your financial options. In this guide, we've covered:
Best Cards For Streaming Services
What Is a Streaming Service?
Do Credit Cards Have Special Offers For Streaming Services?
Can I Earn a Streaming Service Bonus Through a Shopping Portal?
Which Is the Best Credit Card for Netflix?
What Does Capital One Consider a Streaming Service?
Can I Dispute a Credit Card Charge For a Subscription?
Earn Valuable Savings on Streaming Services
To learn more about options not mentioned here, be sure to check out other popular reviews from our team of experts:
We also encourage you to check back at this URL regularly, as we update the offers listed in "9 Best Credit Cards For Streaming Services (Sep. 2023)" and other guides on a daily basis.
Advertiser Disclosure
CardRates.com is a free online resource that offers valuable content and comparison services to users. To keep this resource 100% free, we receive compensation for referrals for many of the offers listed on the site. Along with key review factors, this compensation may impact how and where products appear across CardRates.com (including, for example, the order in which they appear). CardRates.com does not include the entire universe of available offers. Editorial opinions expressed on the site are strictly our own and are not provided, endorsed, or approved by advertisers.