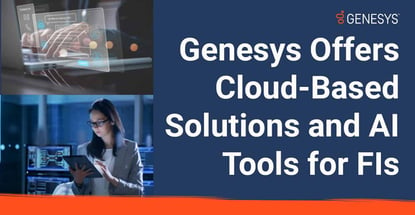 Our experts and industry insiders blog the latest news, studies and current events from inside the credit card industry. Our articles follow strict editorial guidelines.
In a Nutshell:  Customers hold financial institutions to high standards. Genesys helps banks to meet and exceed customer expectations by enhancing a bank's ability to provide an exceptional customer experience. Genesys integrates seamlessly with numerous financial solution technologies. Its tools also serve to boost employee satisfaction and engagement. As companies race to increase the personalization of their customer experience, the Genesys team is surveying the technology landscape to develop cutting-edge and efficient solutions.
Technological advancements in the 21st century have changed the way we work and interact with each other. From smart devices to the ever-increasing reach of artificial intelligence, technology is nearly omnipresent as we go about our daily routines.
The increased reliance on technology for communicative purposes can cause us to feel more distant and isolated from each other. But some companies have developed technology solutions that create and strengthen interpersonal connections.
Genesys is a privately held technology company who is a global leader in cloud customer and call center solutions.

David Porter is Genesys' Managing Director of Financial Services. He leads the company's finance vertical, which is the company's largest vertical.
"It's a good time to be in business for remote client connectivity technology companies," Porter said. "Since COVID, bank initiatives lean more toward client empowerment. Banks want to bring digital differentiation into their products and incorporate more personalization. The experiential approach to banking is improving, and we're focused on sequencing the digital experience so that customers have a smooth and personalized journey."
Genesys is headquartered in California's Bay Area. Porter said North America, due to its sheer size, supplies a large share of the company's client base, including credit unions and banks.
However, Genesys has a global footprint and is engaged in business activity in every region of the world. Porter cited the Asia-Pacific region as an area with "large emerging economies with incredible needs."
Regardless of their location or reach, all Genesys clients share a desire to keep pace with the speed of technological advancements. 
"There are so many things you can do in banking today that weren't possible even 10 years ago," Porter said. "I talk with bank executives from all over the world, from New York to New Zealand to Thailand to the UK. They are all interested in how they can harness technology to provide a better experience for their customers. And that's where Genesys comes in."
Seamless Integrations Promote Success
It's usually a good thing to have options. But the number of technology solution providers available to financial institutions can be overwhelming.
"Banks don't want to have 50,000 different vendors doing 50,000 different things," Porter said. "They want everything to work together perfectly to provide customers with a fully-integrated digital experience." 
Genesys seamlessly integrates with established solution providers, including Adobe, AWS, Google, and Salesforce, as well as smaller fintech companies. Porter said Genesys' solutions, which can integrate with voice, email, and social media components, are well-architected and feature strong API connections.
Genesys offers two primary products: Genesys Cloud, a newer cloud-based offering, and Genesys Engage, which is a more traditional on-premise solution. Porter said the company has recently focused on transitioning customers from on-premise to cloud solutions.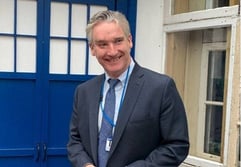 He said on-premise solutions can allow for more complex customization, but cloud solutions are designed to meet a broader range of potential requirements.
Porter noted that small to mid-size banks are typically still using on-premise solutions. Genesys' in-house professional services group can efficiently migrate these banks' on-premise products to a central, cloud-based environment.
Mid-sized banks starting a new relationship with Genesys can expect to have their solutions installed and ready to go live in as little as three months. Porter emphasized that this implementation timeline refers to the time after the bank has performed any necessary due diligence and risk assessments.
Genesys typically works with systems integrators, including IBM, when implementing solutions for larger banks. The team does its due diligence to align its systems with the bank's overarching technology roadmap.
Genesys measures its impact on a financial institution by how the technology performs in a few key metrics.
"Once we educate a financial institution on the technology we offer, they see the value of bringing their numerous back-office functions together in a more holistic way," Porter said. "We measure our impact partly by assessing how well our solutions allow a bank to quickly and accurately respond to their customer's inquiries and issues."
Genesys Solutions Enhance Employee Satisfaction
Genesys aims to provide banking customers with an enhanced customer experience, but its tools can also improve the bank's employee satisfaction and engagement, Porter said.
Genesys offers solutions that can increase employee productivity and their ability to reach a larger pool of customers. Such improvements can then augment sales and service opportunities.
"Every bank around the world is kind of scratching their heads, wondering what exactly to do with their brick-and-mortar branches," Porter said. "We've had great success putting Genesys solutions into bank branches that enable branch employees to handle calls and emails from customers outside their branch's footprint. So they're getting more calls routed to them, and ultimately they're able to sell more products."
Genesys uses predictive artificial intelligence to help determine the reason a customer is calling their bank before the customer communicates with a bank employee. Predictive routing helps direct the call to the right bank expert, saving customers and bank employees time.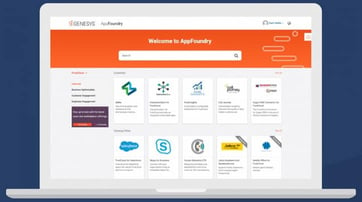 Genesys Agent Assist is a solution that can provide reminders to bank advisors while they're engaged in discussion with customers. Porter said the tool prompts employees to notify customers of required disclosures when appropriate. It also communicates to employees which products and services they are licensed to discuss with customers.
Banking is a heavily regulated industry, and a solution that assists employees to remain compliant with regulations can be invaluable. Porter said the Genesys AI can also identify sales opportunities.
"Our AI tool listens while the banker is conversing with the customer," he explained. "It can prompt the employee to discuss regulatory things and things that can enhance the customer's experience, and it'll even look for situations where it can recommend products or services to sell to the customer. There's more to come in this space as the technology advances over time."
Customers Value Efficient Personalization
Companies have grown in their ability to customize their marketing and communications efforts as technology has advanced. Porter says Genesys defines unique personalization such as allowing client-facing staff and technology to provide the right solutions to help customers immediately. 
"Years ago, you probably received letters from your bank that started 'Dear Valued Customer,'" he said. "Now, that same letter prints your name instead of 'valued customer.' Is that enough? We think personalization can go further. As AI gets better at anticipating client needs, the possibilities for personalization will expand. One challenge for banks is that customer expectations are continually increasing."
Porter cited a consultant group's recent report listing the most innovative companies in the world. The list, littered with the names of technology companies including Apple, Tesla, and Microsoft, didn't include a single bank.
Porter said banks must be fast followers in implementing new technologies. He identified two challenges to overcome: 1) older banks have legacy infrastructure that's resistant to change and 2) it takes time for technology solutions to clear regulatory hurdles.
Genesys advises its clients to keep an eye on leading tech innovations because customers will expect their banks to offer similar features.
"Banks need to stay current with what technology companies are creating," Porter said. "That's certainly something that we think is important. We look at what astonishing innovations are happening in other industries. And then we focus on how we can translate those innovations into the banking world to best serve our customers."