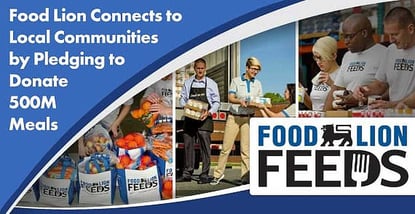 In a Nutshell:  Food Lion is in the business of keeping its customers supplied with food so it's only fitting its philanthropic focus would revolve around hunger relief in many of the food-insecure communities it serves. Demonstrating the grocery chain's commitment to social responsibility, the Food Lion Feeds™ program has a goal of donating 500 million meals by the end of 2020. The chain also donates millions of pounds of food annually through its Food Rescue Program, which takes high-quality food off store shelves and gets it into the hands of the hungry before its expiration date. Customers appreciate and participate in annual campaigns, such as the sale of bagged Gala apples, holiday boxes, and reusable bags, that are all focused on the same goal of feeding those in need.
What was once a church in Pageland, South Carolina, became a food pantry eight years ago when the congregation outgrew its original location and needed a new purpose for the building.
The Door of Hope Food Pantry now provides for around 1,200 hungry families a month with much of the food coming from a nearby Food Lion grocery store. The pantry's work made it an ideal candidate for "The Great Pantry Makeover." In response to Feeding America's Hunger Action Month, Food Lion pledges 1,200 volunteer hours every September to refurbishing and restocking 30 pantries in their local communities over 30 days, and the Door of Hope was one of the beneficiaries of the program.
In preparation for the project, one of the volunteers at Door of Hope was in line buying renovation supplies at a local hardware store when she struck up a conversation with the owner of a construction company. Later that day, Travis Lewis of Lewis Construction, showed up to help Food Lion employees with the project.
This man giving his time and know-how to help his neighbors perfectly illustrates the community-building sentiment behind Food Lion Feeds, a program that demonstrates to customers the grocery chain's commitment to social responsibility. Consumers appreciate when companies show how much they care, and Food Lion has gone above and beyond its call of duty.
When the project at Door of Hope was done, the pantry had upgraded floors, refrigerators, shelving, and more than 1,100 pounds of donated food from Food Lion.
"The Great Pantry Makeover" is just one part of the Food Lion Feeds program, which has a goal of providing 500 million donated meals by the end of 2020. September is certainly a busy month for Food Lion philanthropy, but providing meals for the hungry is a year-round cause for the grocery chain.
"Our goal is to help end hunger in our local communities," said Christy Phillips-Brown, Director of External Communication and Community Relations for Food Lion.
Demonstrating Social Responsibility Within its Communities
Food waste is a big problem in the U.S., where an estimated 70 billion pounds of food go to waste each year, according to Feeding America. Despite all of these resources and an overabundance of discarded food, 42.2 million Americans lived in food insecure households in 2015.
The key is connecting the dots and diverting food destined for landfills and getting it onto dinner plates that would otherwise be empty.
Food Lion's nearly 1,000 stores operate in 10 states, four of which (Tennessee, North Carolina, Georgia, and Kentucky) are in the top 10 in the country for the highest percentage of food insecurity. This puts Food Lion in a great position to make a meaningful difference in communities with more hunger issues.
According to an Entrepreneur article on social responsibility, 82 percent of American consumers consider companies' philanthropic causes when deciding where to shop. The grocery chain has gone above and beyond on a cause it really cares about, and this embodiment of social responsibility goes a long way in building loyalty among its customers and keeping its employees feeling fulfilled.
"All of this is developed with the focus on the customer," Christy said. "We're making sure that our customers see that we are committed to the community, we are tied to the community, and we are centered around a hunger relief cause because that's what our customers, and Food Lion, are passionate about."
Organized Efforts to Reduce Food Waste & Feed the Hungry
Food Lion has gotten creative in its efforts to achieve 500 million meals donated by the end of 2020. As of the midpoint of 2016 — the third year of Food Lion Feeds —the company has donated nearly half of the goal (231 million meals), so they are actually on pace to surpass the original goal.
It starts with the Food Lion Feeds Food Rescue Program, a daily commitment to eliminate food waste and feed the hungry. Every day in nearly 1,000 stores, Food Lion managers and employees find produce, meat, dairy, and other grocery products nearing their expiration dates, pull them from the shelves, and get them to local feeding agencies. This process results in the donation of millions of pounds of food each year.
"The goal is to not toss products out, but to donate them and give them back to our communities in need," Christy said. Every Food Lion store is paired with a local feeding agency to which they donate food.
"Ultimately, Food Lion cares, and this is a great way for us to show that we care about the communities in which we serve." — Meg Ham, Food Lion President
Food Lion also awards charitable grants that go toward programs that help feed the hungry. One such program discreetly distributes backpacks full of food for children entering a weekend or school holiday.
"They take the backpack home and have food for their family for the weekend so they don't go hungry when they're not in school," Christy said.
Food Lion grants also support Feeding America's Kids Cafe program, which provides free meals and snacks to low-income children at a variety of afterschool locations, such as Boys and Girls Clubs, YMCAs, churches or schools.
These are year-round efforts by Food Lion, but they also have several other monthly and seasonal campaigns that show their commitment to social responsibility.
1,200 Volunteer Hours Dedicated to "The Great Pantry Makeover"
Food Lion found a perfect way to respond to Feeding America's Hunger Action Month. What better way to take action against hunger than by renovating and restoring the food pantries that people rely on so much?
The program has benefited 60 pantries in the past two years. Food Lion even donated some of its shopping carts to one location, giving people a chance to feel like everyday shoppers. What seems mundane to most can add normalcy to those who need help feeding their families, adding an element of dignity to the food pantry experience.
Food Lion has found a way to foster community building with "The Great Pantry Makeover."
"A lot of the people I've met through this program actually know a lot of the people who work in our stores, which is really cool to see when our store managers and associates are going out to the pantries," said Kristyn Callaway, External Communications and Community Relations Specialist for Food Lion. "They know each other by first names, they see each other all the time, so it's really a neighbor-to-neighbor experience, which is awesome."
A Bag of Gala Apples a Day Helps Keep Hunger Away
Another way Food Lion tackles hunger in the month of September is through the sale of bagged gala apples. Each sale of a $2.99 bag of gala apples with the "Food Lion Feeds" logo will result in six meals donated to local food banks.
The goal is to donate a minimum of 1 million meals, and Christy told us the program has been very popular because it coincides with the peak of apple season
$5 Boxes of Food and Cash Donations for "Holidays Without Hunger"
A holiday meal is an essential part of any of the major holidays, but many Americans struggle to put food on the table. Food Lion's "Holidays Without Hunger" program does a lot to deliver happy holidays to food-insecure families.
For $5, customers can buy specially marked "Holidays Without Hunger" food boxes and either take them home for a neighbor in need or drop them off in a box in the front of Food Lion stores, where they are later donated to local food banks.
Food Lion also accepts cash gifts to fight hunger during the holidays.
Reusable Bag Sales Support "Summers Without Hunger"
One Food Lion campaign supports sustainability while also doing its part to feed those in need.
Summer is a tough part of the year for hungry children. Many kids rely on school-provided breakfasts and lunches for nutrition, and the summer months can mean a lot of missed meals.
Food Lion holds a Design-A-Bag Contest for kids each year. The winning artwork designs are printed on reusable bags that are sold for $1, and Food Lion donates the equivalent of six meals for each bag purchased with the goal of at least 1 million meals donated throughout the campaign.
The children with the winning drawings receive prizes and are recognized with a press conference in their hometowns to unveil the reusable bags.
"The community loves it because they get to see their local children heroes recognized," Christy said. "Our customers participate [by purchasing the bags] because it's a cause they really care about."
A Natural Endeavor for a Company Focused on Feeding
Food Lion's efforts during the month of September — and throughout the rest of the year with its other campaigns — have not gone unrecognized by the dozens of food pantries that the company's managers and associates have helped through volunteer work. Neither do their efforts go unnoticed by customers, who seem to really appreciate their grocer's commitment to the community.
"We've had a lot of people say, 'We didn't even realize you guys were doing this,' and 'We think it's phenomenal, and now we're just so committed to shopping your stores and making sure we look out for your Food Lion Feeds campaigns,'" Kristyn said.
What was accomplished at Door of Hope is only part of the story.
"Food Lion appears to have the same focus on community as the Door of Hope has, which is why we've developed such a strong partnership," said Dr. Lawrence Elliot, the director of the food pantry.
It's only natural that Food Lion's philanthropy would revolve around feeding the hungry. It is a chain of grocery stores, after all.
"We like to say at Food Lion that our business is about food and so it's natural that we would be focused on hunger relief in our local communities," Christy said. "At the end of the day, our goal is that no one has to choose between dinner and rent or gas and groceries. Through our efforts, we hope to nourish our communities and shorten the lines at feeding agencies."
Advertiser Disclosure
CardRates.com is a free online resource that offers valuable content and comparison services to users. To keep this resource 100% free, we receive compensation for referrals for many of the offers listed on the site. Along with key review factors, this compensation may impact how and where products appear across CardRates.com (including, for example, the order in which they appear). CardRates.com does not include the entire universe of available offers. Editorial opinions expressed on the site are strictly our own and are not provided, endorsed, or approved by advertisers.