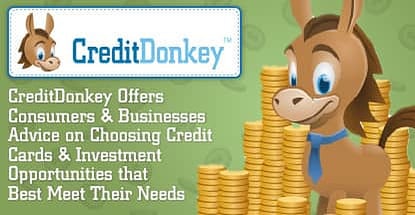 In a Nutshell: Studies show the number of people looking for sound, professional financial advice has been growing for years. Though navigating the vast maze of financial services online can seem daunting, CreditDonkey is a centralized location where consumers can find the resources they need to increase financial literacy. CreditDonkey offers credit card and broker comparison tools to help people make informed decisions on the cards and investments right for them. The goal is to make financial education simple and enjoyable, or "donkey-proof," as the site calls it. This, coupled with a storehouse of best practices and strategies aimed at financial problem solving, makes CreditDonkey an effective platform to help people manage their money. //
A 2015 CFP Board study confirmed consumers have been increasingly turning to advisors to help them manage personal finances. In fact, in the last half decade, Americans' use of financial consultation has grown from 28% to 40%, and that number continues to rise.
Wading through an overwhelming amount of services and resources dedicated to helping manage personal finances can be a stressful and time-consuming process. Luckily, there is a reliable, easy to use, centralized location to help consumers make sound financial decisions.

CreditDonkey operates with the aim to make personal finance fun and easy to understand, or as the site puts it: "donkey-proof." The online platform offers educational resources on financial best practices to inform consumer decision-making.
CreditDonkey's credit card and broker comparison tools give consumers the ability to make data-driven choices on the cards that best fit individual needs and the most effective venues to invest money. With resources directed at both personal finance and small businesses, CreditDonkey helps a variety of users secure their financial health.
The Manifesto: Working Toward the Goal of Making Finances Fun & Easy to Understand
CreditDonkey's mission is to make personal financial management approachable and even enjoyable. According to the site's Manifesto, the successful pursuit of a healthy financial lifestyle is dependent on several things — with the willingness to ask questions to attain knowledge at the top of the list.
Consumers need to make wise, calculated decisions in order to enjoy financial prosperity. That's why the CreditDonkey Manifesto stresses the need to "Compare. Compare. Compare." before making choices on cards and investments.
CreditDonkey is dedicated to empowering consumers to advocate for the health of their financial life and to develop skill in understanding the financial landscape. The Manifesto lists affirmations concerning everything from saving money to taking vacations. Here are a few:
A healthy financial life is my everyday resolution
I use credit cards to earn rewards, save money and enjoy life
My knowledge is power
I always ask questions
I am worth more than my credit score
I always join the loyalty program
My credit opens doors
Vacations are good for my soul
I dream big
I am my best advocate
CreditDonkey's team is made up of analysts, journalists, writers and editors who conduct data-driven research and analysis to help save you money and achieve economic prosperity. This group of professionals demonstrates expertise in consumer behavior, small market research, shopping trends, career development, along with an array of other contours of personal and professional finance.
Need-Based Comparisons Match Consumers with Cards Ideally Suited for Them
The needs of consumers are as diverse as the credit cards that suit them. Because of this, CreditDonkey's Best Credit Card list isn't just a handpicked selection of cards. Rather, it is a customizable comparison tool that gives recommendations based on what types of benefits the individual consumer is looking for.
To better identify and hone in on a particular card, CreditDonkey provides several options users can select to determine which works best for their goals and purposes. If consumers are looking to carry a balance, earn cash back, or receive air miles, the site presents cards that are tailored toward individual need. And, in keeping with the "donkey-proof" quality of their products and financial expertise, the information is presented in a concise and easily understood format.
CreditDonkey recommends that consumers analyze their own spending habits, identify immediate and long-term financial goals, and decide whether a card will be used in a personal or professional capacity. The site offers advice on how to choose a card and what to keep in mind when considering rewards, annual fees, cash back, low interest rates and/or travel points. CreditDonkey even identifies what credit card is best suited for those with bad credit.
CreditDonkey also helps people identify financial habits and makes card recommendations that match their financial patterns. For example, users who are avid travelers might benefit the most from a robust air miles rewards program. Card choice should always depend on where and how users are spending and what perks fit with those habits.
In standing with their ethos, CreditDonkey always recommends doing your own individual credit card comparisons and to be weary of the hidden risks associated with various cards. The site notes it is also important to consider annual fees and other products, like secure credit cards, when making decisions.
Sound Advice to Narrow Decisions on the Right Cards for Small Businesses
In much the same way individuals can gain personal economic advice from the site, CreditDonkey also provides wisdom about how small and medium-sized businesses can most effectively choose the right credit card for their commercial venture. And, like individual consumers, businesses also have unique needs and limitations.
Again, making the right decisions on the best card for a small business comes down to where and how the card will be used. If a business spends large amounts of money entertaining clients, a card that provides a cash back rewards program might be the best bet.
CreditDonkey's comparison tool makes it easy for businesses to make these data-driven choices. Some deals and promotions the site says businesses should consider are cash back, no annual fee, travel reward points, hotel stays, and bonus miles with airlines like Delta. Once you have figured out what card is best for your business, CreditDonkey provides a list of current credit card promotional offers and their corresponding rewards and benefits.
Connection to a Network of Brokers Puts Investment Strategies Into Action
The same amount of scrutiny and research devoted to finding the right credit card should go into choosing an online stockbroker. Many consumers are interested in investing in the market but are often unsure about how to get started.
CreditDonkey provides a Beginner's Guide on how to develop skill in understanding stocks, investing money, assessing your risk comfort level, and choosing the right brokerage firm. Brokers are also ranked in categories such as customer service, discount, and mutual funds.
CreditDonkey makes it easy for consumers to figure out how to most effectively invest and what to consider regarding brokerage fees. In addition, the site provides a list of the top-rated online brokers complete with reviews and comparisons.
Tips & Best Practices to Manage Everyday Expenses & Shape Financial Futures
The site's dedication to providing financial management education is furthered by the comprehensive reviews and effective tips it offers consumers. Like the card and broker comparison tools, these resources are meant to help people make informed decisions about their money.
Reviews focus on the best-rated products and services, ranging from computer applications to antivirus software to internet security providers. CreditDonkey's tips include how to best spend your money on a spectrum of retail items, including how to finance a wedding ring, the best deals on televisions, or which jogging stroller is best for you and your baby.
With the growing number of Americans seeking financial advice from professionals, it's good to know there is a centralized location to find the resources these consumers need. CreditDonkey's free tools and trustworthy information "donkey-proof" financial literacy and help people make data-driven decisions about their money.
Advertiser Disclosure
CardRates.com is a free online resource that offers valuable content and comparison services to users. To keep this resource 100% free, we receive compensation for referrals for many of the offers listed on the site. Along with key review factors, this compensation may impact how and where products appear across CardRates.com (including, for example, the order in which they appear). CardRates.com does not include the entire universe of available offers. Editorial opinions expressed on the site are strictly our own and are not provided, endorsed, or approved by advertisers.