Upon entering the real world for the first time, one of the most shocking things to many young people is often the exorbitant cost of housing.
Whether you rent or pay a mortgage, you're looking at an average of at least $800 a month in many areas — and that's assuming you don't live in an expensive city.
With so much of our monthly wages going toward that roof over our heads, it seems a shame to miss out on potential credit card rewards. But paying your rent or mortgage with a credit card isn't always straightforward. Read on for some important considerations and tips on how to pay your rent or mortgage with credit cards, then you can weigh the pros and cons and decide for yourself if this approach is a good fit for you.
1. Check to Ensure Your Landlord/Bank Accepts Credit Cards
The first impediment to paying your rent or mortgage with your credit cards is your landlord or bank. Individual landlords are unlikely to accept credit card payments, often because they lack the ability to do so — but also because of the credit card processing fees merchants are charged.
Even larger rental organizations, like apartment complexes, are often unlikely to want to lose as much as 3.5% of their rent to a credit card company just for the privilege of having the payment processed.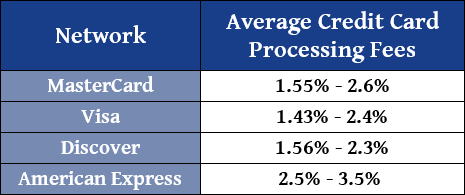 Finding a bank or mortgage lender that directly accepts credit card payments is also a challenge. For example, mortgages from Chase cannot be paid directly by credit card; the bank only allows payments from a Chase account, transfers from other banks, checks, or money orders.
Even if your bank or landlord does accept credit cards, some credit card issuers don't allow mortgage payments to be made with their cards. Bank of America, for instance, reportedly doesn't allow you to charge mortgage payments with a BankAmericard.
Moreover, some entire credit card networks won't allow credit card mortgage payments to be processed through their networks. Visa and American Express both reportedly prohibit mortgage payments made by credit card from being processed on their networks, though debit and prepaid card payments are allowed.
Visa and American Express both reportedly prohibit mortgage payments made by credit card from being processed on their networks.
Besides fees, one of the biggest beefs banks and credit card companies have with cardholders trying to make mortgage payments is the idea that those customers are essentially paying a debt with more debt.
Mortgage loans are a form of debt — and so are credit cards. Paying one with the other is really just moving debt around in many ways.
On the plus side, this does mean that most rental payments are considered in a different light. Rent isn't generally regarded as a debt, particularly because it's usually paid ahead of time. Therefore, most card issuers and networks allow rental payments to be made with their credit cards.
2. Watch Out for Costly Third-Party Fees
Although most landlords and banks won't (or simply can't) accept credit cards, there are a number of third-party companies that will allow you to use a credit card to make rent or mortgage payments.
Essentially, you pay the company with the method of your choice, and then the company sends the payment as an ACH payment or paper check to the party you designate.
The downside to these companies is that they all charge pretty stiff fees for the service, up to 3% on average.
Because the fees are so high for third-party rent or mortgage payments, it can easily override any potential rewards you might earn with your credit card for the purchase. This is especially true given that few — if any — credit cards will offer bonus rewards for rent, mortgage, or online payments.
Think of it this way: you pay your mortgage with your favorite 2% cash back card. The third-party company you use charges you a 2.5% fee for the payment. When all is said and done, you're in the red by 0.5%.
3. Use a High-Earning Credit Card for the Most Value
The best way to counteract the high fees for paying your rent or mortgage with a credit card is to use the highest-earning card you have in your wallet (or add to your wallet for the occasion).
If you play the points game, this may mean your favorite points card, but per-point value will vary drastically depending on how you redeem.
A simpler option is a cash back card that offers a high unlimited rewards rate or one with a bonus category of which you can take advantage.
The Citi Double Cash Card has a unique cash back program that offers unlimited 2% cash back on all purchases — just not all at once. You'll earn 1% cash back when you make your purchase, then another 1% cash back when you pay your balance.
While the Chase Freedom Flex℠ only offers 1% cash back for non-category purchases, it does sometimes offer certain digital payment methods, like Apple Pay and Paypal, as a bonus category, which means you can earn up to 5% cash back if you make rent payments using your card and a qualifying payment service.
4. A Big Signup Bonus May Be Worth the Fees
Beyond purchase rewards, another reason you may want to use a credit card to pay your rent or mortgage despite the fees is to meet the spending requirement for a high-value signup bonus. Some cards require you spend $3,000 or more in a 90-day period, which can be tough if you don't have many expenses.
Since housing payments typically make up at least a third of the budgets of most consumers, making those payments with your card can take you a long way to the spending requirement.
As one might expect of an elite card with a robust $550 annual fee, the Chase Sapphire Reserve® has an equally robust signup bonus — and a high spending requirement to match. On the plus side, the Ultimate Rewards® points you earn for every dollar can be worth enough to balance out most (if not all) of the transaction fees.
Similar to its sibling, the Chase Sapphire Preferred® Card comes with a big signup bonus — with a big spending requirement. If you can meet the requirement in the first 90 days, however, you'll be rewarded with hundreds of dollars worth of Ultimate Rewards® points.
While the minimum spending requirement for the Capital One Venture Rewards Credit Card is lower than some of its peers, it can still be a stretch for those who don't regularly charge much without adding rent or mortgage payments to the mix. With an unlimited 2X miles per dollar, you can even make up for some of the fees.
5. Some Issuers May Code the Payments As Cash Advances
Unfortunately, the third-party processor that handles your credit card payment may not be the only source of fees when it comes to paying your rent or mortgage.
In some cases, your credit card issuer may interpret your payment as a form of cash advance. Not only does this mean big cash advance fees, it also means your payment will start accruing interest right away — often at a higher rate than normal purchases.
Using those handy convenience checks often provided by your credit card company is the surest way to incur big cash advance fees. Although it seems like an everyday check, convenience checks are always treated as cash advances by credit card companies.
6. Business-Related Rents/Mortgages May Also Qualify
One of the largest chunks of a business's overhead is often office space, be it leased space or a building owned by the business. Happily, business owners can often use the same third-party platforms to pay their business's rent or mortgage with their favorite business credit card.
Of course, keep in mind that the same potential limitations apply to business rent or mortgage payments as for consumer payments, including only being able to use certain payment methods for some types of payments.
The Ink Business Preferred® Credit Card Card is a popular choice of many businesses thanks to the versatile, valuable Ultimate Rewards® points earned on every purchase. Transferable to a number of travel partners, these points can be particularly lucrative for frequent travelers.
The Ink Business Cash® Credit Card doesn't have any points to transfer or maximize, instead offering cash back on every purchase. Cardholders earn bonus rewards in a range of useful categories on top of its unlimited 1% cash back for all non-bonus spending.
The Capital One Spark Cash for Business may be a good option for those who like simple rewards, with 2% cash back on every purchase and no bonus categories of which to keep track. There are no limits on the rewards you can earn.
7. Payments May Take a While to Arrive
Fees aren't the only downside to paying your rent or mortgage through a third-party service, especially one that sends a paper check. That's because you can say goodbye to day-before deposits or last-minute payments when you have to wait for money to change hands more than once.
If you select a recipient in our system, they will be funded by ACH/EFT (electronic bank transfer) in 2-3 business days. If your recipient is manually added, they will be funded by check in 5-7 business days. — Plastiq
With some services, the payment can be processed and delivered in just a few days. In other cases, you're looking at a week or more before your payment reaches its final destination. So, if your rent or mortgage is due on the first of the month, you'd better start the ball rolling ASAP to avoid paying late.
Only You Can Decide If the Convenience is Worth the Cost
Although it's one of the big four — along with air, water, and food — shelter is often the most expensive need on the list. And paying that big housing bill is even more frustrating for credit card rewards enthusiasts who see thousands in rewards going unearned each year.
But while you can find ways to pay your rent or mortgage with a credit card, even one that earns rewards, it isn't always the most worthwhile procedure.
Unless you have a card with points that you value above the amount of the processing fee or are working toward a big signup bonus, you may want to skip the plastic and stick to old-fashioned checks to pay your rent or mortgage.
Advertiser Disclosure
CardRates.com is a free online resource that offers valuable content and comparison services to users. To keep this resource 100% free, we receive compensation from many of the offers listed on the site. Along with key review factors, this compensation may impact how and where products appear across the site (including, for example, the order in which they appear). CardRates.com does not include the entire universe of available offers. Editorial opinions expressed on the site are strictly our own and are not provided, endorsed, or approved by advertisers.