credit card advice
Opinions expressed here are ours alone, and are not provided, endorsed, or approved by any issuer. Our articles follow strict
editorial guidelines
and are updated regularly.
First and foremost, ask yourself why you want to increase your credit limit. If it's to go on a shopping spree or purchase things you can't afford without credit, stop right there. You'll need to have proven to yourself and the bank that you know how to use credit responsibly in order for them to approve you.
This means that you've exemplified yourself as a good customer for at least 6 months. If your cards are maxed out, you've been late making payments, or you've even missed payments, your chances of approval are slim to none.
With that said, if you are indeed one of the wise consumers who's followed the golden rules of credit card usage, here are 6 tips for getting your credit limit increased:
1. Apply for a New Card with a Higher Credit Limit
Sometimes, applying for a new card altogether is the simplest option, as each individual card can have its own credit limit cap depending on its target demographic.
You can choose a credit card company, apply, get your new card and be done — or you can apply for a new card with your current lender and, once approved, reallocate a portion of your new credit line to the card you originally wanted to be increased. Yes, you can do this, assuming you have better-than-average credit, and it can get you significantly more than you originally requested.
Here are our best overall offers with generous credit limits upon approval.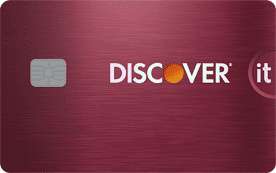 at Discover Card'ssecure website
INTRO OFFER: Discover will match ALL the cash back you've earned at the end of your first year, automatically. There's no signing up. And no limit to how much is matched.
Earn 5% cash back at different places each quarter like gas stations, grocery stores, restaurants, Amazon.com and more up to the quarterly maximum, each time you activate.
Plus, earn unlimited 1% cash back on all other purchases - automatically.
Redeem cash back any amount, any time. Rewards never expire.
Use your rewards at Amazon.com checkout.
Get an alert if we find your Social Security number on any of thousands of Dark Web sites.* Activate for free.
New Offer! Double Cash Back: Earn 3% cash back on all purchases in your first year up to $20,000 spent. After that earn unlimited 1.5% cash back on all purchases.
0% Intro APR for 15 months from account opening on purchases and balance transfers, then a variable APR of 17.24-25.99%. Balance transfer fee is 3% of the amount transferred, $5 minimum
No minimum to redeem for cash back
Cash Back rewards do not expire as long as your account is open
Free credit score, updated weekly with Credit Journey℠
No annual fee
| | | | | |
| --- | --- | --- | --- | --- |
| 0% Intro APR on Purchases 15 months | 0% Intro APR on Balance Transfers 15 months | | | |
Earn a $150 Bonus after you spend $500 on purchases in your first 3 months from account opening
Earn 5% cash back on up to $1,500 in combined purchases in bonus categories each quarter you activate. Enjoy new 5% categories each quarter!
Unlimited 1% cash back on all other purchases - it's automatic
0% Intro APR for 15 months from account opening on purchases and balance transfers, then a variable APR of 17.24-25.99%.
3% intro balance transfer fee when you transfer a balance during the first 60 days your account is open, with a minimum of $5.
No annual fee
| | | | | |
| --- | --- | --- | --- | --- |
| 0% Intro APR on Purchases 15 months | 0% Intro APR on Balance Transfers 15 months | | | |
+See More High-Limit Credit Cards
2. Pick an Existing Card to Request an Increase On
Pick a card in your wallet you want to have the limit increased on. Don't assume if you ask all of your credit issuers that your chances of being approved are greater.
When you request an increase, the issuer will need to pull your credit history to see if you're creditworthy.
This credit pull will be noted on your credit report and will slightly lower your credit score. If multiple issuers are pulling your report, it won't be so slight. Not only that, the issuers will be able to see that other issuers are reviewing you as well, meaning you'll come across as desperate for money. This is a red flag in the eyes of credit companies and can easily hurt your chances for approval.
Remember: Banks like to loan to people who don't really need money. This leads us to our next tip:
3. Plead Your Case, But Don't be Desperate
If you call the credit issuer crying that you have an emergency and think your sob story will make them empathize with your situation and increase your credit limit — think again.
Don't tell them why you need it, tell them why you deserve it. Here are some good reasons why:
You've been a loyal customer for X years/months and have never missed a payment. (Don't ask for an increase if you've been a customer for less than six months.)
You pay your balance in full each month or
You always pay more than the minimum balance
You're utilizing 30% or less of your current limit
Your payments are always on time
Your income has recently increased
And remember, being kind to the person on the other end of the phone can also help — they're just doing their job, so don't take your financial frustration out on them. Not only will being rude be unlikely to help your case, but yelling or cursing at a representative can give them the right to hang up on you, guilt free.
4. Don't Be Greedy When Requesting an Increase
Asking for too much of an increase can be seen as yet another red flag, which may cause you to be denied and you'll have to wait a few more months to reapply.
Don't ask the representative how much you should request, either. Credit card companies prohibit their employees from providing this advice to you. There's a not-so set-in-stone standard that says 10 to 25 percent is a good percentage to aim for, so if you have a $1,000 limit, expect to see up to an additional $250 or so made available to you.
This is not a hard and fast rule, however — those with good credit histories can receive substantially more and every situation is different. If you do receive considerably more, don't let the new credit limit entice you into overspending.
5. Entice Them with a Balance Transfer
Banks love balance transfers like Joanie loves Chachi. If you don't know how balance transfers work, all it means is you're transferring your balance from one credit card to another.
These can be a pretty sweet deal, as many credit issuers nowadays offer zero percent interest on transfers for up to a year or longer. That means you stop paying interest for that time period if you move your balance from Card A to Card B. It's actually a pretty smart move, financially speaking. This can save you hundreds of dollars.
See Our Favorite 0% Interest Balance Transfer Cards
So what's in it for them?
A balance transfer fee. Check if there is one and the amount to see if it's worth it. If the fee equals the same amount you'd save, it's not such a sweet deal after all.
If you don't pay the amount in full by the time the no-interest period is over, the new issuer gets to make the money from the interest they're now charging you that would have gone to your previous issuer.
If you tell your issuer you want an increase so you can transfer your balance, they'll likely want to make this work, assuming they can trust you to make the payments (i.e., having a decent credit history).
6. Wait For an Increase to Occur Naturally
Credit issuers review accounts generally every six months, and those in good standings will naturally receive limit hikes periodically. Continue to be a good customer by always making payments on time, and if you can swing it, pay the balance in full each month. Be patient, grasshopper — good things come to those who wait!
Go Get 'Em
You're now prepared to request the credit limit increase you've earned by being a responsible consumer.
Understand that a higher limit can easily tempt you to charge more and lead you down a dangerous road. Don't change your spending habits on a false sense of increased wealth. Continue to use credit for emergencies only, or if you know you can pay the balance in full each month, and always keep your credit utilization ratio under 30 percent.