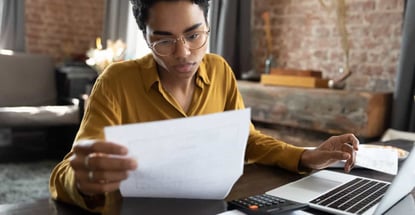 Opinions expressed here are ours alone, and are not provided, endorsed, or approved by any issuer. Our articles follow strict editorial guidelines and are updated regularly.
Since the Fair and Accurate Credit Transactions Act of 2003, or "FACTA", Americans have enjoyed the right to free annual copies of our credit reports. Now that it has been 20 years since we've had the right to freebies, it's reasonable to expect most credit-conscious consumers to understand how pulling their own credit reports will impact their credit scores. 
But according to a recent survey commissioned by CardRates, 25% of consumers believe checking their own credit reports will hurt their scores.
You can look at these results and walk away feeling happy that 75% of consumers do not believe checking their scores will hurt their scores. Or you can feel disappointed that 25% of consumers are probably worried about checking their own credit for fear it will lead to lower scores and may avoid doing so as a result.
The credit bureaus don't publish the number of free credit reports they disclose on an annual basis. What we do know is that it is free to check your own credit reports once a week, forever, according to a recent announcement by the credit bureaus.
Checking Your Credit Does Not Affect Your Credit Scores
Thankfully, the 25% of survey respondents who say they believe checking their own credit reports will hurt their score are incorrect. The reason checking your own credit won't hurt your scores has to do with the variety of credit inquiries that are posted by the credit bureaus.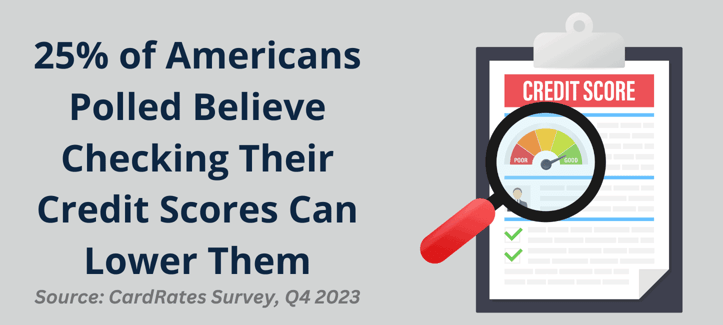 When someone —  including yourself — accesses your credit reports, the credit reporting agencies post what's referred to as a credit inquiry. The credit inquiry is essentially a notation indicating the date and the name of the party that pulled your report. The Fair Credit Reporting Act requires credit bureaus to disclose to consumers the identification of each party that procured their credit reports for between one and two years, depending on the nature of the inquiry.
The type of inquiry that is posted when you pull your own reports is a "soft" inquiry. Soft inquiries are entirely benign. They are not seen by lenders if they pull your credit reports or by credit scoring models during the scoring process. Soft inquiries are only seen by you when you check your own credit reports.
Essentially, due to the nature of soft inquiries, the only person who knows you pulled your credit reports is you.
Types of Credit Inquiries That Might Affect Credit Scores
To be clear, some inquiries can affect your credit scores. Those inquiries are generally referred to as "hard" inquiries. Hard inquiries are usually the result of you applying for some form of credit, like a loan or a credit card. Credit scoring models can see and consider hard inquiries during the scoring process, and they may (or may not) result in a lower score.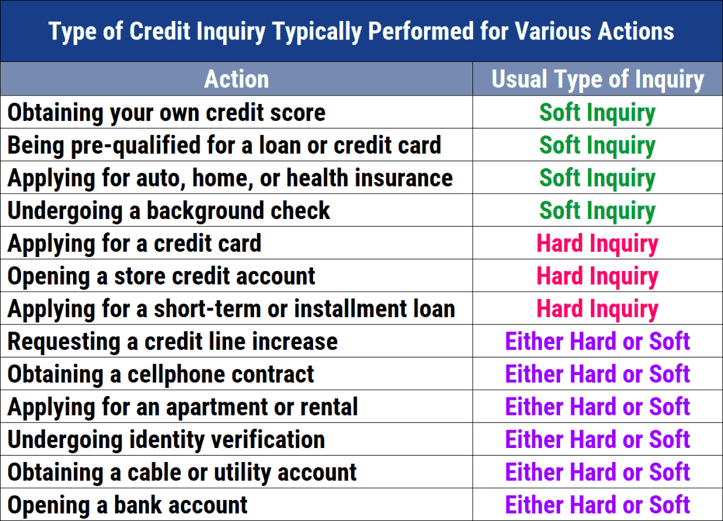 Having said that, even if an inquiry or inquiries is/are impacting your credit scores, it's minimal and almost not worth discussing. It's been my experience that consumers (and credit repair companies) often ascribe inflated importance to inquiries rather than focusing on the more meaningful metrics, like payment history and debt management, in credit scoring models.
In FICO's credit scoring models, for example, inquiries are only one part of the scoring category that's worth only 10% of the points in your scores. That means inquiries are worth, at most, a small portion of 10% of your score points. There are certainly bigger fish to fry if you're actively trying to improve your credit scores.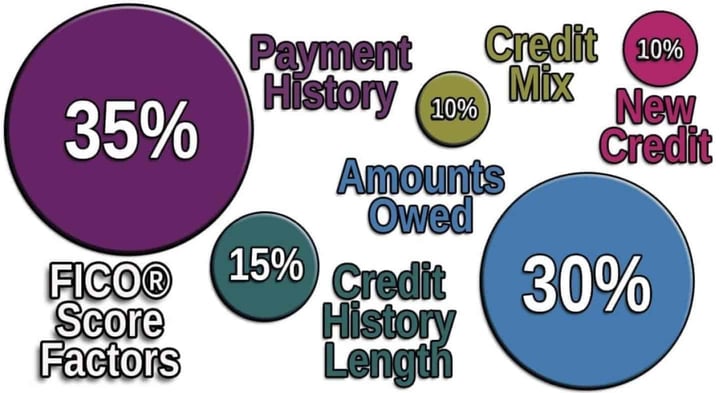 Focusing on inquiries is often counterproductive, especially because they're simply a factual record of access into your credit reports. 
Pulling your own credit reports from authorized sources, including AnnualCreditReport.com or the credit bureaus' own websites, will always result in soft inquiries.
But if you have a friend who works for a mortgage broker or a car dealership and they pull your credit reports as a favor, the world is going to think you're applying for either a mortgage loan or a car loan because of the inquiry type. Those will also be hard inquiries, and they may result in lower credit scores. The point here is to stick with authorized sources of credit reports.
How to Check Your Credit Scores 
There are ways you can check your credit reports and ways you can check your credit scores, and they're not always the same methods. To the extent you want to check your credit reports, the aforementioned website AnnualCreditReport.com is the best way to do so.
In my experience, that website is, by far, the most cited authorized source of credit reports.  
Now, if you want to check your credit scores, you have many methods to do so. If you have credit cards, especially cards from major card issuers, they likely participate in FICO's Open Access program. That program allows the card issuer to give their cardholders their FICO scores monthly at no cost.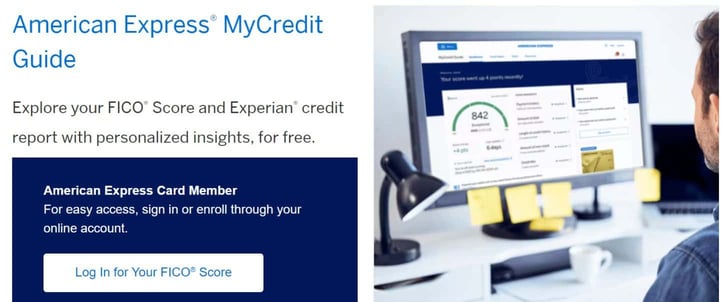 But there are certainly other places where you can safely pull your credit scores and leave behind harmless soft inquiries. All three of the credit bureaus will happily either sell you or give you free FICO or VantageScore credit scores via their websites.
And, if you don't mind spending a little money, you can get several dozen of your FICO scores (yes, you have several dozen FICO scores) through the FICO website here.
If you're on the fence about whether to check your FICO scores or your VantageScore credit scores, allow me to provide a little advice. Check both!
FICO scores are still certainly the most commonly used score brand in the US credit market. But VantageScore credit scores, which are built by the credit bureaus, are certainly gaining market share traction and will soon be used for all mortgages guaranteed by Fannie Mae and Freddie Mac. And it doesn't cost you anything but time because they're all free.
Check Your Credit Frequently
Checking your credit reports and scores from authorized sources will have no impact on your credit scores. And by doing so frequently, you will be as knowledgeable about your credit status as your current and prospective lenders are, which is certainly an empowering position.
If 75% of consumers understand that checking their credit will not hurt their scores, then we've certainly come a long way. Before 2003, only a handful of states had laws providing their residents with the right to free credit reports, and those had to be requested by mail. 
Now that credit report disclosures — those that will only result in benign soft inquiries — will be permanently free on a weekly basis to over 200 million people in the US, there's really no reason not to become actively engaged in our credit reports.