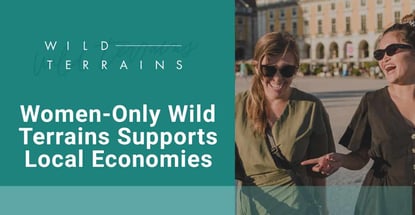 Our experts and industry insiders blog the latest news, studies and current events from inside the credit card industry. Our articles follow strict editorial guidelines.
In a Nutshell: Women-only group tours are gaining popularity, but many of them are prepackaged and offer limited options. Wild Terrains is one of the only women tour services that supports women business owners at travel destinations. The company focuses on enriching cultural experiences and encourages women of all ages to participate. Wild Terrains offers luxury tours at affordable prices.
Women seeking group tours often find few options. Many women group tours are segmented into sub-categories like yoga retreats, sailing adventures for younger millennials, and seniors trips to wine vineyards.
Boxing women into these simplified constructs appears to be the trend among travel agencies, and broader options are either in limited supply or hard to find. That's what Lauren Bates discovered as she was looking for a trip that included a little bit of everything – outdoor activities, food, art, history and other unique experiences.
"Five years ago, there weren't that many options for women travelers. You could find yoga retreats, surf camps, and wellness experiences that were very niche, but there really weren't women-only tours highlighting food, art, culture, design, and wellness all on one itinerary, and being transparent about who your tourism dollars were supporting locally," said Bates. That's when she began developing an idea for a travel business of her own.

The result of Bates' research is Wild Terrains, a travel company that designs small group tours for women of all life stages, and supports women-owned businesses in its destinations. As the Founder and CEO of the company, Bates wanted to create a more uplifting experience for women travelers.
"When I started really digging into how the travel industry works, I realized how much women were still really at the sidelines, said Bates. "What makes Wild Terrains unique compared to other travel companies is that every aspect of our trips supports women-owned businesses."
Forming Friendships and Helping Local Businesses
Wild Terrains believes that cultivating meaningful connections among women can be transformative.
The tours are often multigenerational and inclusive to women in all stages of life. Offering trips with a broad range of experiences also allows multigenerational families to enjoy tours together. The company frequently sees daughters, mothers and grandmothers going on trips together.
Bates said that travelers on most of the trips are evenly distributed by age. The tours are capped at 12 travelers who tend to range in age from 25 to 85 . "It creates a really nice dinner table conversation that isn't focused on one stage of life," she said.
"What's nice about the group being so diverse is that the conversation is much more about life and interests and friendship. So I think we're an awesome option, especially for older women who feel very young at heart," said Bates.
There's a big movement in the travel industry toward more responsible travel that benefit local peoples and culture. Aside from creating a more enriching experience for women travelers, Wild Terrains' other mission is to help promote women-owned businesses in all of the travel destinations the company works in.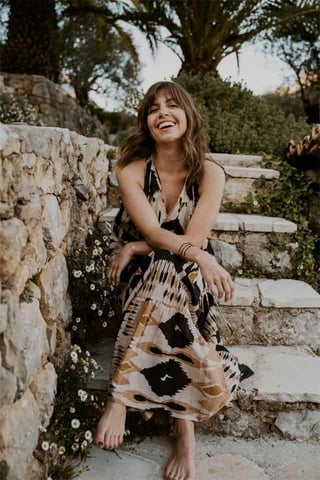 "The hotels we stay in are woman-owned, all the activities are curated by women artists and designers, and all the meals are prepared by women cooks/chefs," said Bates.
The truth is that most travel agencies don't provide many details about what goes into a trip. Unfortunately for consumers, that means they don't really know where their tourism dollars are going. Wild Terrains' goal is to be as transparent as possible while supporting women doing interesting things.
"We enter our destinations with a lot of respect and understanding of the culture. And we are very intentional about who we work with on the ground," said Bates.
Wild Terrains' team usually spends months investigating a new destination. And during that time period, the team is building relationships on the ground, having meetings with all the women artists, hotel owners, restaurateurs and so forth.
Benefits of Using Cards for Travel
Consumers who are racking up air miles can take full advantage of their tour bookings by accumulating or using saved up points. Since Wild Terrains tours do not include flight tickets to and from destinations, customers can get the most out of their point rewards through direct flight booking.
Airline miles can often be redeemed for flights and cabin upgrades, and travelers can typically earn airline miles by getting a co-branded credit card with their favorite airline.
Wild Terrains doesn't have any partnerships with specific card companies, but the company does allow customers the flexibility and security of booking trips with their credit cards.
"We were not the type of travel company where you have to book with a bank transfer. We let everyone book with a credit card," said Bates. "It allows you to have peace of mind that there's some security behind that payment."
If a credit card company features flexible travel points, consumers can gain the most redemption rewards by using them for car rentals, cruises, flights and hotel stays. And many of these credit cards also allow you to transfer your points to airline and hotel partners.
But again, Wild Terrains customers can only use travel points for flights, not for the tour itself.
Experiencing Luxury at Affordable Prices
The company strives to form meaningful human connections by treating its clientele as friends rather than tourists. That means travelers won't be seeing many cookie-cutter style tours.
Wild Terrains has put in the research to create a fully immersive experience so the local women-owned businesses it works with can provide exclusive services that are unique to Wild Terrains.
"We are truly collaborating with local women in each of our destinations, which has built a lovely community," said Bates. "The feeling you have when you go on our trips is that you're going into a community of people who already know each other, and love working together."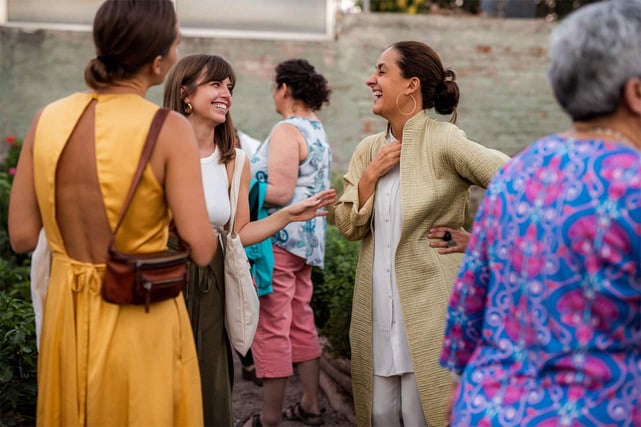 Safety is also a priority when traveling to unfamiliar destinations, especially places with different cultural views on women.
To create a more enriching and safer experience, Wild Terrains works with trip leaders who are local to each country. "They speak the language, they understand the cultural customs and they can read a situation in a way that someone who's not local might not be able to," said Bates.
There are a number of destinations that travelers can choose from including Argentina, France, Iceland, Mexico, and Portugal. Prices generally range from $2,400 to $6,900, which gives travelers several options to consider.
"On every trip, you'll see a private room price and a shared room price. Selecting a shared room can help you save on costs, if you're traveling with a friend or don't mind sharing with another traveler," said Bates.
Bates described the tours as "affordable luxury" because the quality of the experience is elevated, but it's not as expensive as many high-end packages on the market.