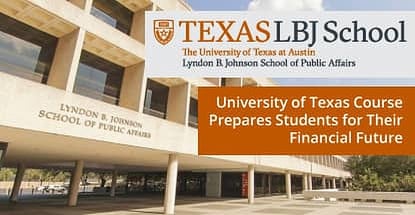 In a Nutshell: Many public affairs students at the University of Texas at Austin eye futures in government or nonprofit organizations. But before embarking on that journey, they must first grasp the intricacies of financial management and accounting that those jobs require. Led by distinguished professors, UT's mandatory Public Financial Management Course covers the finer points of government revenues and expenditures, liabilities, managing assets, budgeting, and pensions, among other topics, over one semester. The understanding students gain from the course will serve them in their professional careers, regardless of where they land. And, maybe more importantly, it will help guide their personal financial choices throughout their lives. //
Lyndon Johnson did more for public education than almost any other US president. He credited his own education as his ticket out of a poverty-ridden life and to a political career that culminated in the White House. He fought for funding for educational institutions at every elected office or platform he held before, during, and after his presidency.
That passion is why the LBJ School of Public Affairs is located next to his presidential library on the campus of the University of Texas at Austin. In a town as eclectic as any you'll find (or "weird" as locals affectionately call it), Johnson's traditional principles are handed down to students who walk the building's halls each year.
First-year Public Affairs students receive an early introduction to life in the business and government world. Michael Granof, a distinguished professor, has led the three-credit, required Public Financial Management Course for more than 15 years. The task forces him to pack a tremendous number of topics into one semester.
The job isn't easy, but it's a far cry from his accounting days.
"Before I got my Ph.D., I worked at a CPA firm in New York," he said. "I took the subway every day from the Bronx down to Wall Street. Every day it would get stuck. In the summer it would be hot as hell. I knew then there had to be a better way to make a living. So I went back for a Ph.D."

Michael's background helps his students get an in-depth education in basic accounting practices. Work starts on the first day when the group focuses on financial statements.
"To understand financial statements, you have to know at least a little something about accounting," Michael said. "I spend time with them on the basics of accounting. I try to empower students. If they don't understand these basics, they're going to get taken advantage of when they leave here."
The class also spends significant time understanding government revenues, expenditures, basic bonds, liabilities, managing assets, budgeting, and — one of Michael's favorites — pensions.
"I spend more time than probably anyone in the country on pensions," he said. "That's because pensions are a major problem today for all governments."
Understanding Financial Activities at All Government Levels
Many students enter the LBJ School aspiring to work in government or non-profit organizations. Michael prepares his students with a heavy focus on the financial structure and activities of governments from local municipalities to federal agencies. He said students are often surprised with their discoveries.
"The federal government probably produces the most forthright financial statements you'll ever see," he said. "It actually says — not once, but many times — that the federal government is not fiscally sustainable. Students get a kick out of seeing the projections of where the federal government is headed."
The section of the course on financial statements is followed by studies on the different forms of government revenues that go into those statements.
"Here, we not only talk about how they're reporting but more importantly the types of revenues," Michael said. "We talk about advantages and disadvantages of different kinds of revenues — The advantages of a sales tax compared to an income tax or a sales tax versus a value-added tax."
Michael prepares for each class as if his audience were an assembly of future government leaders or members of boards of directors. He leaves his mark on the future of American finance by leading his students to knowledge they'll need to succeed.
The whirlwind of topics requires heavy preparation. Michael stresses students should get an early start on their coursework.
"I send a memo out before each semester," he said. "I urge every student to take a recommended computerized course in basic accounting. I can only spend about three class sessions on accounting. I've taught in the MBA program here for many years and I can tell you that it takes students at least seven weeks before they get a grasp on basic accounting. There just isn't enough time."
Michael convinces students to take the early course with hints of a quiz on basic accounting planned for the third week. He also proctors a midterm and final exam to go with weekly written assignments.
A Staff That Teaches from Experience and Understanding
Michael's résumé reads like one you'd expect from a distinguished professor at one of America's top universities.
His research areas include government and not-for-profit accounting and he's authored textbooks on governmental and financial accounting along with a book on costing labor contracts. He is the recipient of numerous teaching awards and a member of The University of Texas Academy of Distinguished Teachers. In 2007 he received UT Austin's Civitatis Award, which is presented to faculty members who demonstrate exemplary campus citizenship throughout their careers at the university.
That work culminated in August of 2017 when he was given the AICPA Distinguished Achievement in Accounting Education Award by the American Institute of CPAs.
In an effort to strengthen the faculty in the area of financial management, the school added Martin Luby in 2017 to take on added units of the class. Luby has an extensive background in municipal bonds and focuses heavily on debt in his courses.
Information Students Will Use Down the Road
If the course seems like a lot of information crammed into a short period — that's because it is. Michael has lobbied the university for years to break the curriculum up into two sections so he can take more time on each topic. The pleas haven't worked so far.
"It can sometimes be a superficial course," he said. "We just don't have sufficient time to cover topics in depth. I've argued with our faculty to convince them that the course should be expanded to, at least, two semesters."
Michael said he understands that many students may not end up in public service, but the course still provides information they will need no matter where life takes them.
"I try to emphasize that issues we talk about are relevant in their personal lives," – Michael Granof, Distinguished Teaching Professor of Business and Public Affairs
"I try to emphasize that issues we talk about are relevant in their personal lives," he said. "Statistically, several people in the class — if they aren't already divorced — will one day be divorced. There are going to be issues with dividing up the property. How do you evaluate the house? Do you use market value or tax-appraisal? They need to know how to ask the right questions."
Whatever path students take, the education Michael gives them provides a basis of understanding that will help them make informed financial decisions for years to come. His work is a continuation of the goals that Lyndon Johnson set for himself — and others — on his road to the White House.
Advertiser Disclosure
CardRates.com is a free online resource that offers valuable content and comparison services to users. To keep this resource 100% free, we receive compensation for referrals for many of the offers listed on the site. Along with key review factors, this compensation may impact how and where products appear across CardRates.com (including, for example, the order in which they appear). CardRates.com does not include the entire universe of available offers. Editorial opinions expressed on the site are strictly our own and are not provided, endorsed, or approved by advertisers.