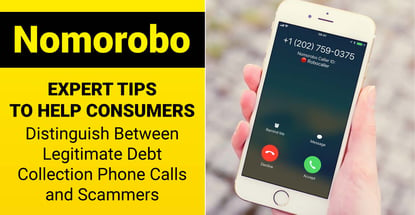 In a Nutshell: Unwanted robocalls are on the rise, despite continuing efforts to combat them. Common robocall scams include callers purporting to represent debt collectors or even the IRS. The scams prey on vulnerable consumers who may expose their sensitive information to criminals because they don't recognize the ruse. We recently spoke with Aaron Foss, the Founder of Nomorobo, to learn more about the robocall problem and gain insight on how consumers can identify illegitimate calls. In the meantime, lawmakers are coming together to pass legislation that addresses these calls. And Nomorobo, which was launched with seed money won from the FTC Robocall Challenge, remains at the forefront of the battle blocking over 1 billion robocalls since 2013.
Despite ongoing efforts, robocall scams continue to be a problem for many Americans.
Just last week, the FCC issued a warning about a new racket known as the One Ring phone scam that's been escalating on smartphones throughout the country in the past few weeks. A person will receive a phone call, most often originating from West Africa, but the caller will hang up after just one ring. The perpetrator may do this several times in a row.
The idea is that the call recipient will be curious enough to call the number back. And in doing so, the victim will incur high toll charges similar to those associated with a 900 number.
"More vulnerable populations, including those in difficult financial situations, may be more likely to fall victim to robocall scams," said Aaron Foss, Founder of Nomorobo, a service that combats robocallers.
Foss said when consumers who are in dire financial situations receive phone calls telling them how they can easily get out of debt or reduce their credit card payments, they may be more willing to listen to what the caller has to say and be fooled by the scam.
We recently sat down with Foss to learn more about the robocaller problem and gain some insight into how consumers can be vigilant against these continuing scams. Since launching Nomorobo in 2013, the company has stopped more than 1 billion robocalls.
Phony Debt Collection and IRS Calls Are Among Today's Most Common Scams
Foss said one of the most common tactics that pulls scam victims in is when the scammers introduce themselves with a first name.
"I don't know why — it must be because it works — but when the call is introduced by a woman's voice and a common female name, like Alice or Rebecca, that's tipoff No.1," Foss said. "That's not Alice. That's not Rebecca."
Also, if a caller claims to be a representative from your credit card company and offers a lower interest rate, Foss said to be suspicious. "Your credit card company is never going to call you to tell you they're lowering your interest rate; that's not something they do," he said.
Another common red flag is when a caller asks the recipient to press 1 to verify information or enter other sensitive data.
"There are a lot of places that will call you up and say they are from Bank of America or Chase, and that your account has been locked due to security breaches. It will ask you to type your pin number in to reactivate your account, something like that," Foss said. "Then, they just record your pin, they know your phone number, and then boom, they can go and get into your account."
Consumers should simply hang up the phone at any of these red flags, he said. And if consumers are concerned that there is a legitimate issue with their credit card account or bank, they should just contact the credit card company or bank directly.
Another common scam tactic involves callers claiming to be from the IRS. The government agency has issued numerous warnings to help raise awareness of the ongoing problem, which continues even after the peak of tax season.
"Victims are told they owe money to the IRS and it must be paid promptly through a gift card or wire transfer. Victims may be threatened with arrest, deportation or suspension of a business or driver's license," according to the IRS. "In many cases, the caller becomes hostile and insulting. Victims may be told they have a refund due to try to trick them into sharing private information."
Again, recipients of these calls should simply hang up, and if they receive a voicemail, do not call it back. The IRS does not contact taxpayers in this way regarding tax issues.
Foss said the scams aren't limited to calls claiming to be a credit card company or the IRS. Scammers commonly claim to represent health insurance companies, insurance companies, and other industries that require an individual's personal information.
Gearing Up for Legislative Action Against Scam Callers
U.S. consumers received 48 billion robocalls on their mobile phones in 2018, which was a nearly 57% increase over the previous year.
Unwanted phone calls are the top consumer complaint to the Federal Communications Commission (FCC) and the commission's top consumer protection priority. "The FCC is committed to doing what we can to protect you from these unwelcome situations and is cracking down on illegal calls in a variety of ways," according to the FCC website.
The commission has issued hundreds of millions of dollars in enforcement actions against illegal robocallers, and it allows phone companies to block certain types of calls that are most likely illegal robocalls before they reach consumers.
The FCC also encourages consumers to use call labeling or call blocking services — such as Nomorobo — for their home and cellphone numbers.
Lawmakers have also taken notice of the increasing automated calls, as they are subjected to the calls just as much as any other consumer.
"Bipartisanship may be in short supply in the 116th Congress, but Republicans and Democrats have found a common enemy," according to a recent New York Times article. "Swamped by complaints from peeved constituents — and tormented themselves by an onslaught of pesky and fraudulent calls — lawmakers from both sides of the aisle in both chambers are promising action to halt the influx of automated calls."
Frank Pallone Jr., a Democrat House of Representatives member for New Jersey, is leading the charge for legislation that aims to create stronger penalties for scammers and make it mandatory for telecom providers to use authentication tools to better identify a call's origins.
In the Senate, Senators Charles Grassley, John Thune, and Edward Markey are bringing a similar bill that would make it easier for federal regulators to pursue and prosecute illegal robocallers.
And in mid-May, FCC Chairman Ajit Pai proposed a declaratory ruling that would allow phone companies to detect, analyze, and block robocalls from reaching consumers' phones, similar to how email providers block spam.
Experts agree that the solution to this ongoing problem is multifaceted, but are hopeful to see some bipartisan legislative action to help move the conversation forward.
How Nomorobo Fights Scammers and Earned Recognition Through the FTC Robocall Challenge
Nomorobo's origins are actually directly tied into the Federal Trade Commission's (FTC) efforts to stop robocallers.
In 2013, the FTC issued its first Robocall Challenge in an effort to generate new ideas on how to block unwanted calls.
Out of nearly 800 submissions, Foss's Nomorobo idea tied with one other company, and each idea was awarded $25,000.
"If you read between the lines, they kind of wanted some ideas from outside the telecom industry," Foss said. "Telecom companies and other insiders just weren't looking at the issue with fresh eyes. I came up with a unique way to address the problem."
The other company never came to fruition, but Foss used his winnings as seed money for Nomorobo, and within six months he had launched a publicly available version of the product.
So what was Foss's big idea?
Nomorobo makes use of a feature called Simultaneous Ring. When Nomorobo subscribers receive a phone call to their number, the call rings in to a Nomorobo line at the same time. Nomorobo intercepts the call, and its programs determine if the call is legitimate or an illegal robocall.
Legitimate calls are allowed to pass through and scammers are disconnected.
Nomorobo offers its services for free on VoIP landlines and for $1.99 per month, per mobile phone. The company website also notes that the service is accurate, which means it allows legitimate automated calls, such as school closings or prescription reminders, to pass through to the intended recipient.
"I'm highly biased here, but I think (the Robocall Challenge) is the best public-private partnership that's ever been done," Foss said. "You put up a prize and find somebody who's going to look at the problem in a different way, and now we've stopped 1 billion robocalls."
Foss said Nomorobo maintains close relationships with the FCC and FTC, helping out law enforcement when it can and looking for other ways to add value and continue the fight against robocalls.
Foss told The New York Times that the scammers are always going to try to stay a step ahead of lawmakers and regulations. By the end of this year, half of all calls are predicted to be robocalls.
Knowing that lawmakers are coming together to address the issue offers hope, but the enactment of new laws is not a speedy process. So, in the meantime, the FTC, FCC, and companies like Nomorobo, continue to fight the good fight to protect consumers.
Advertiser Disclosure
CardRates.com is a free online resource that offers valuable content and comparison services to users. To keep this resource 100% free, we receive compensation for referrals for many of the offers listed on the site. Along with key review factors, this compensation may impact how and where products appear across CardRates.com (including, for example, the order in which they appear). CardRates.com does not include the entire universe of available offers. Editorial opinions expressed on the site are strictly our own and are not provided, endorsed, or approved by advertisers.