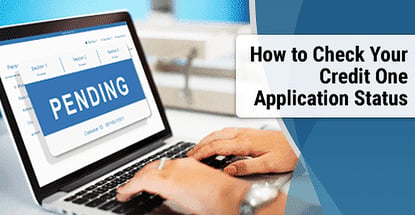 In a world that's gone digital, it's becoming harder to go through day-to-day life without a credit card. If you have less-than-stellar credit, though, finding an issuer willing to take on the risk can be difficult. Credit One Bank specializes in poor credit, or subprime, borrowers, and serves more than 7 million cardholders nationwide. If you've recently submitted an application, keep reading for how to check your Credit One application status.
Even with the knowledge that you are applying for a credit card from an issuer more likely to approve applicants with low credit scores, waiting for your online credit card application to be approved or denied can be stressful. And the process only becomes more stressful when the screen finally changes — only to reveal an "application pending" message. In this article, we'll take a look at how to check your status online and how to reach Credit One Bank via phone. We'll also present some of our top choices for alternative credit cards that may suit your needs.
Online Option | Phone Option | Alternative Cards
1. Use the Online Form to Check Your Application Status
Most online credit card applications can be approved or denied in minutes through the use of an automated algorithm that analyzes your credit information and determines your risk. In some cases, however, the program is unable to make a decision and your application must be reviewed by hand.
The hand-review process can be completed within a few hours to a few days, depending on the reason your application couldn't be completed online. The most common reasons for a pending application are the need for more information and/or the verification of information from your application. Once you have supplied the necessary information or documentation, your application can be processed. Because your decision is mailed to you, it will generally take between 7 and 10 business days to receive a decision on your pending application.
If you don't wish to wait for your response to be mailed, you can check your application status at any time through Credit One's website. Simply complete the online form by inputting your last name and Social Security number, then click "Check Status." Keep in mind that your status may take some time to update, so you may want to wait at least 24 hours after applying to check the status of your application.
2. Call the Application Information Line
For those who don't want to use the online portal to check their application status — or would simply prefer to speak to a human — Credit One offers the option to call customer service via the Application Information Line. The Application Information line can be reached by dialing:
1-800-752-5493
Unlike the online portal for checking your application status, the customer service line is not available 24 hours a day. Instead, you can only reach a representative between the hours of 5 a.m. to 9 p.m., Monday through Friday, and 6:30 a.m. to 5 p.m. on Saturday and Sunday (all times are PST).
While having your application status up in the air can be stressful, it isn't the fault of the customer service representative — so don't take it out on them. Companies keep records of their customer interactions, and you could be jeopardizing your future relationship with the company if you develop a record of being a rude customer. You'll always have the best results if you treat customer service representatives in a friendly and respectful manner.
Denied? Check Out These Alternative Credit Card Options
Unfortunately, not every application can be approved. If your Credit One application status has gone from "pending" to "denied," it's time to check out some alternative options. Those with lower credit scores will have the best results by applying for credit cards designed with them in mind, but that doesn't necessarily mean you'll be automatically rejected by other credit card issuers.
Most issuers have a pre-approval process that can give you a good idea of whether you're likely to be approved for a credit card from that issuer. Credit card pre-approval application will result in a soft credit pull, which will not impact your credit score.
Good Credit (700+) | Fair Credit (650-699) | Bad Credit ( | No/Limited Credit
Card Options for Good Credit (FICO Score 700+)
The credit cards aimed at those with good credit usually have the best perks and lowest interest rates. If you have poor credit, you are the least likely to be approved for these cards, so you may want to go through the pre-approval process before filling out a formal application.
+See More Cards for Good Credit
Card Options for Fair Credit (FICO Score 650 – 699)
Credit cards designed for people with fair credit won't have interest rates as high as a subprime card, but are more selective. These issuers may be more likely to approve applicants with lower credit scores who exceed other qualifications, such as income, or who show a recent history of improved credit use. If you've been rebuilding your credit, you may qualify for one of these cards.
+See More Cards for Fair Credit
Card Options for Bad Credit (
Depending on the state of your credit, your best option may be to apply with another issuer who specializes in subprime credit cards or to choose a secured credit card. Although these types of cards require a deposit equal to your credit limit, secured credit cards act the same as unsecured credit cards for making in-store or online purchases. For instance, a secured MasterCard will be accepted at any location that accepts MasterCard credit cards.
+See More Cards for Bad Credit
Card Options for No or Limited Credit
One common reason for denying credit card applications is the applicant's lack of a well-established credit history. Without enough in your credit report, it's difficult for issuers to determine your potential credit risk. To eliminate this hurdle, you can apply for a credit card designed for those with no or limited credit.
+See More Cards for Limited Credit
The Right Credit Card for You is Out There
Credit cards are all but a necessity in today's world, which can be a problem for those struggling with their credit. But in the modern era, the range of credit cards is much more abundant than it has been in the past. From the top-ranking credit scores all the way to the lower tier scores, there is likely a credit card designed to meet your needs. If you happen to be in one of those lower tiers, you may just have to dig a little deeper to find the right card for you. That credit card may be from Credit One Bank — or it may not. Either way, be sure to use your new card responsibly, including paying your bill in full each month, to improve your overall credit.
Advertiser Disclosure
CardRates.com is a free online resource that offers valuable content and comparison services to users. To keep this resource 100% free, we receive compensation for referrals for many of the offers listed on the site. Along with key review factors, this compensation may impact how and where products appear across CardRates.com (including, for example, the order in which they appear). CardRates.com does not include the entire universe of available offers. Editorial opinions expressed on the site are strictly our own and are not provided, endorsed, or approved by advertisers.