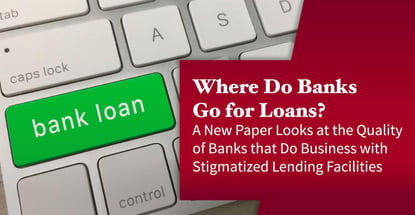 In a Nutshell: Just like other businesses, banks need extra cash on occasion. But a bank that takes out a loan can be perceived as being a weak institution, so banks generally try to conduct their borrowing activities behind the scenes. A recent paper, "The Quality of Banks at Stigmatized Lending Facilities," by Federal Reserve Board economist Sriya Anbil and Claremont McKenna College Economics Professor, Angela Vossmeyer, Ph.D., explores how an emergency lending facility that is not confidential can attract a different caliber of bank asking to borrow money. The researchers looked at two emergency lending facilities during the Great Depression — one that remained confidential and one that was exposed. Anbil and Vossmeyer's research concluded that an exposed emergency lending facility can impact the quality of banks that approach them.
Let's talk about bank loans. But not the kind you're probably thinking about. Let's talk about loans that banks get from other lending facilities.
The topic isn't something the average consumer likely thinks about very often. But, just like any other business, banks need an infusion of funds from time to time whether it's to meet the daily reserve requirement or to cover other unexpected expenses.
At the same time, banks can be (understandably) a little touchy about having to borrow money. The issue is more complex, but on the surface, the immediate question from consumers and other businesses may be "Who wants to do business with a financial institution that can't handle its own finances?"
It's like going to a department store to buy a shirt, but you discover the store is out of shirts. But the sales clerk runs to the store next door, borrows a shirt, then sells it to you. You probably wouldn't leave the store with a great impression of the business and probably wouldn't shop there again.
Similarly, banks try to avoid having such a stigma attached to them.
A recent academic paper explores this behind-the-scenes world of banks that take out loans from emergency lending facilities, and how the quality of the bank can be deduced by which lending facilities they turn to.
"The Quality of Banks at Stigmatized Lending Facilities" was written by Federal Reserve Board economist Sriya Anbil and Claremont McKenna College Economics Professor Angela Vossmeyer, Ph.D. We recently spoke with Vossmeyer about this impactful corner of the finance world.
Exploring the Stigma Associated with Lending Facilities
Banks generally take out loans behind the scenes in one of a variety of ways.
A bank's daily reserve requirement is the amount of liquid funds it must have on hand at the end of each day. When the bank does not meet the requirement, it may take out an overnight loan from another bank, or it may borrow funds from the Federal Reserve Discount Window.
The interest rate at the discount window is slightly higher than the rate from other banks. The Federal Reserve sets the rate higher because it would rather banks borrow from one another. Therefore, if a bank must borrow from the discount window, it may be seen as a weaker bank because it can't get a loan from a peer institution.
Because of this, some view the discount window as a stigmatized lending facility. Banks also use other emergency lending facilities, but again, once the facilities have been revealed they can have a stigma attached to them, which may make them less than ideal for banks with good reputations.
"Coming into this paper, I had written previous papers on one of the facilities — the Reconstruction Finance Corporation — and came up with some econometric models about how banks choose to go to a facility," Vossmeyer said. "And then, on the other end, how the central bank decides which banks are the best to bail out in a crisis."
This means that, when a financial crisis arises, the Federal Reserve may be able to assist some banks to keep them afloat. But in evaluating which banks are worthy of bailing out, it may consider how often a bank has needed to borrow from an emergency lending facility.
Vossmeyer said she and Anbil were discussing the topic after they met at a conference and realized that, even as economic experts, they still had a lot of questions surrounding the issue of banks, stigma, and emergency lending facilities.
"We really didn't know the answers to some really basic questions," Vossmeyer said. "We didn't know exactly how banks choose which facility to go to, or even just how many banks would go to all facilities. Why wouldn't you, if you needed help? Why wouldn't you go to them all? So, we said, 'Let's dig into this.'"
During the Great Depression, Some Banks Were Hesitant to Approach Stigmatized Lending Facilities
"With this paper, we basically wanted to know if and how that pool would change if the facility suffered from the stigma problem where banks feel reluctant to ask for assistance because it might be taken as a sign of financial weakness," Vossmeyer said.
In the paper, Anbil and Vossmeyer noted they were not able to study the recent financial crisis because the current standing facility, the discount window, was arguably already stigmatized when the 2008 crisis began.
Instead, Anbil and Vossmeyer looked back to the Great Depression — specifically, 1932.
"We study the two lending facilities available to banks during the Great Depression — the Reconstruction Finance Corporation (RFC) and the Federal Reserve's Discount Window (DW)," according to the paper. "Upon the RFC's establishment in February 1932, both facilities were confidential and engaging in collateralized lending."
But the authors note differences between the two lending facilities.
"First, the DW's interest rate of 3.5% was 1-1.5 percentage points lower than the RFC's; second, the RFC was both willing to accept worse collateral and more flexible in making its decisions," Anbil and Vossmeyer wrote.
In the first half of 1932, banks approached both facilities nearly equally, but they used their best collateral for a better rate at the discount window and their inferior collateral at the RFC.
"However, an unexpected event occurred on August 22, 1932, that changed the cost of approaching the RFC," according to the paper. "A partial list of bank names that had received RFC assistance was leaked and published in the New York Times, stigmatizing the RFC."
Through their research, Anbil and Vossmeyer were able to determine that after the leak, 44 banks approached the RFC, while twice as many approached the non-stigmatized discount window.
Conclusions Reveal That Stigma Can Impact the Caliber of Bank Clients
"So, what we're finding is that, once the second facility is no longer confidential, the type of bank that's approaching — and essentially how that bank is using the emergency assistance — is different from the original pool of banks," Vossmeyer said.
She said the banks that continue to go to the stigmatized facility are either unable or unwilling to maintain liquidity buffers, which means keeping a stock of safe assets on the balance sheet.
Vossmeyer noted it's not really possible to distinguish between the banks that were unable to maintain the buffer from the banks that were unwilling to do so. But, rather than buying safe assets, the unwilling category comprises banks that are taking assistance and generally operating at a level of much higher risk.
"It's very possible that that latter scenario is driving a lot of this because when we look at these banks, and we follow them over time, the confidential facility continues to have these very high levels of participation," she said.
Essentially, the facility that remained confidential continued to attract a pool of high- and low-caliber banks at a normal rate, while the stigmatized facility saw lower participation numbers. And the banks that did approach the RFC could generally be perceived as being of lower quality because of their inability or unwillingness to maintain liquidity buffers.
"In this paper, we find that the quality of banks that approached a stigmatized facility is very different from that of banks that approached a facility that maintained confidentiality," according to the paper's conclusion. "Once stigma was introduced at the RFC, stronger banks reduced their participation while weaker banks continued borrowing. These weaker banks maintained smaller liquidity buffers, signaling to the regulator that they might require closer monitoring."
Anbil and Vossmeyer wrote that the paper's findings have implications for how emergency lenders should be designed in some cases.
"If the goal of a facility is to mitigate banking panics, our results suggest that a confidential lending facility will attract both stronger and weaker banks, allowing the lender to inject much of the banking sector with liquidity," according to the paper.
But, recent policy changes mandate that the Federal Reserve must release the names of borrowing banks, which means the standing facilities may always be stigmatized.
"Therefore, our results suggest that a stigmatized lending facility may help examiners identify weaker banks that require closer monitoring," wrote Anbil and Vossmeyer.
Advertiser Disclosure
CardRates.com is a free online resource that offers valuable content and comparison services to users. To keep this resource 100% free, we receive compensation for referrals for many of the offers listed on the site. Along with key review factors, this compensation may impact how and where products appear across CardRates.com (including, for example, the order in which they appear). CardRates.com does not include the entire universe of available offers. Editorial opinions expressed on the site are strictly our own and are not provided, endorsed, or approved by advertisers.