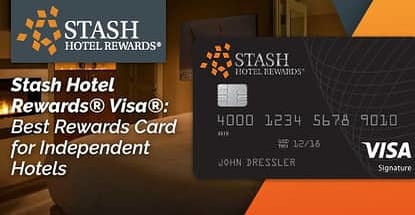 In a Nutshell: When you dream of your perfect getaway, that ideal destination, what do you picture? Is it a cookie-cutter chain hotel that makes you feel like you're in Generic City, U.S.A. — or a one-of-a-kind independent hotel that makes you feel like a local? For those travelers who prefer an authentic hotel experience, there is the Stash Hotel Rewards program. Stash's philosophy is simple: think about what the chain hotel programs would do — then do the opposite. Bringing together more than 150 independent hotels, Stash is the only major independent hotel loyalty program to offer a rewards credit card, the Stash Hotel Rewards Visa, as well as being the only program that offers rewards for every hotel stay — even stays at competitor hotels. You'll never be bogged down by blackout dates, expiring points, or diminishing values, either. In fact, between unparalleled rewards and some of the best-rated hotels in the country, the Stash Hotel Rewards program offers an experience as special as its partners. //
Imagine this: you're on vacation in a beautiful tropical country, surrounded by white sandy beaches, an amazing blue ocean, and swaying palm trees. You check into a local independent hotel and are welcomed by the owner — who greets you by name. When you walk into your room, you find hand-crafted furniture made of native materials and a show-stopping view.
Now, imagine that same tropical location, but this time you check into your usual Big Brand hotel — and feel like you may as well be in Milwaukee. Not only are you greeted by the same staff uniforms you've seen on every business trip this year, but everything from the breakfast menu to the on-screen TV menu is identical to those in every other Big Brand hotel in which you've ever stayed.
While not every independent hotel offers the same perks and amenities, they do all have one thing in common: the experience. Staying at a hotel owned by people, not board members, can provide an authentic, one-of-a-kind environment that is impossible to duplicate at your average chain hotel.
"Independent hotels are just better experiences," said Jeff Low, Founder and CEO of Stash Hotel Rewards, a loyalty program for independent hotels. "It's my opinion, of course, but it's actually true, too; if you look at the metrics, the top-rated hotels in the world are all independent."
Jeff, whose background includes four years with popular travel site Expedia, was inspired by his own love of independent hotels to start Stash. And, in traditional startup style, it all began in a shed in his backyard.
"I had a shed behind my house where I would think through ideas," he explained. "And it occurred to me — we know points are really important for travelers, especially for business travelers. The idea of a loyalty program for independent hotels seemed almost obvious. However, I've learned that whenever there is an apparently obvious solution — there is probably a reason why it hasn't been done before."
The reason turned out to be almost as obvious: independent hotels are, well, independent. Each hotel had its own systems and procedures, and getting everyone on the same page took some work. Jeff launched Stash 2010, and, over the next six years, the company has added more than 150 partner hotels to their roster, as well as becoming the first to offer a rewards credit card for independent hotels.
"Our goal, on the hotelier side, is to help the smaller independent hotels compete with the big chains," said Jeff. "Increasingly, a big part of that ability to compete is attracting the frequent travelers — and that's where Stash comes in."
Reserve Any Room, Any Time with No Blackout Dates & Points that Never Expire
Just like the independent hotels they bring together, Jeff and his team at Stash work to make sure their service provides a great experience. For the team, that means not only trying to help the independent hotels, but also the travelers who love them.
"On the consumer side, we spent about a year and a half talking to travelers," Jeff described. "We asked them, 'What's your frustration with current loyalty programs?'"
The answers they received made the issues clear; people hated the expiring points, blackout dates, and changing point values of their chain loyalty programs. So, as they designed the Stash program, the team sought to address those issues with one simple philosophy: figure out what the big chains would do — then do the opposite.
"Stash is one of the few major hotel loyalty programs where loyalty points don't expire," explained Jeff. "It's also the only program that allows you to book any room, at any time (as long as the room is vacant) on any part of the site. In addition, the currency value of your points won't diminish."
Unlike the average loyalty program, the price, in currency or points, of a hotel room isn't fixed for Stash partners. Stash chose the model to reflect the way that hotel prices fluctuate already, said Jeff, because locking in a fixed room price can cause a disparity between supply and demand.
"Our pricing is dynamic," he added. "Hoteliers are able to yield manage the rates of their rooms, which unlocks a lot of value for both parties."
Stash is also the only major independent hotel loyalty program to offer a rewards credit card, the Stash Hotel Rewards Visa Card. The card allows Stash members to earn an additional three points per dollar spent at Stash partner hotels, two points on dining and gas, and one point on everything else. As if that weren't enough, the Stash card offers another example of the Stash philosophy of being better than the big chains.
"We don't have a partner hotel in every city," said Jeff. "And, we know people don't travel to cities based only on the fact that there's a Stash partner hotel. So, one thing that is truly innovative about the Stash Visa Card is it's the only hotel loyalty card where you earn multiple points (more than just everyday spend) at any hotel — not just the hotels in the Stash network."
That's right. No matter which hotel you stay in, big brand or little, a Stash partner or not, you can earn two points per dollar spent on your stay when you use your Stash Visa. You may need to stay in the Big Brand hotel for your business travels, but that doesn't mean you'll be stuck there on vacation, too.
"You can be dreaming of that great independent experience — and earning points toward it — even when you're staying at what might be a much less interesting hotel," said Jeff.
Have a Truly "Authentic" Experience at Over 150 Independent Hotel Locations
While the many features of the program help Stash compete with their branded competitors, the real difference will always be the experience at a Stash partner hotel. And the team works hard to make sure the Stash hotels always live up to that experience.
"We're hyper-selective in the hotels that join our program," said Jeff. "Only about 1 in 10 of the hotels that approach us actually make the cut." To start, each hotel must be classified as 3.5 stars or higher to join; they also have to have a great reputation.
"What we're really maniacally focused on," Jeff explained, "are the ratings of the travelers who have stayed at each location. We look at what the last 100, the last 400 travelers thought about that hotel. We look closely at TripAdvisor ratings — and, as a result, the average TripAdvisor rating of a Stash partner hotel is higher than any other major loyalty program. We only seek out and partner with amazing independent hotels."
Don't assume that such high standards mean all of the Stash partner hotels will cost you an arm and a leg. It's not just plush accommodations that earn you high ratings — or entrance to the Stash program. It takes more than glitz or glam to be a top hotel.
"Sometimes these are not the ultra-luxurious hotels," said Jeff. "Instead, it's often the hotels where they exceed expectations, and there's also often a memorable connection with a real person."
According to Jeff, that's the real difference of an independent hotel. "It's not this cookie-cutter experience, where you have a front desk agent following the guidelines of a 200-page manual. People don't want that anymore; people want authentic experiences. Because of the way independent hotels are structured, that's their real core advantage."
For one of the best examples of what makes an authentic independent hotel experience, just imagine a trip to Stash's first truly international offering, the Casa Cayuco Eco-Adventure Lodge in Bocas del Toro, Panama. This resort epitomizes unique experience.
"Last year, we added our first international partner, a six room Eco-resort in Panama," described Jeff. "First, you fly to Panama City, then you take a plane to the middle of nowhere, then a guy picks you up in a small boat and takes you another hour from the middle of nowhere. You wind up on this beautiful island. The resort is run by this amazing couple, and you connect with them in a way that's just really impossible in a big, branded property."
Stash Hotel Rewards: Helping Independent Hotels Compete with Big Chains
Whether your dream vacation takes you to that beautiful tropical paradise you've always envisioned, or the icy mountain getaway you've been dreaming of, staying at an independent hotel can often provide added depth and authenticity to the experience. For Jeff, the team at Stash, and their like-minded loyalty program members, the Big Brand cookie-cutter chain hotels pale in comparison to the unique environment of an independent hotel.

"All of our partner hotels are independent. We'll never be affiliated with any chain or big brand. In fact, if one of our partner hotels joins a chain, they have to exit our program," said Jeff. "Our mission is to help the one-of-a-kind hotels compete. That's really our passion because we think the spreading homogeneity around the world is a real loss — the interesting hotels are disappearing."
Ready to join Stash Hotel Rewards and have a truly authentic hotel experience of your own? Head over to Stash using this link and you'll receive 1,000 bonus points for being a loyal Cardrates.com reader!
Advertiser Disclosure
CardRates.com is a free online resource that offers valuable content and comparison services to users. To keep this resource 100% free, we receive compensation for referrals for many of the offers listed on the site. Along with key review factors, this compensation may impact how and where products appear across CardRates.com (including, for example, the order in which they appear). CardRates.com does not include the entire universe of available offers. Editorial opinions expressed on the site are strictly our own and are not provided, endorsed, or approved by advertisers.