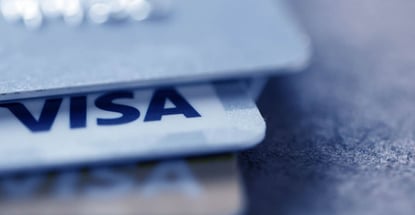 Visa is one of those feel-good brand names that inspires consumer confidence. Cardholders and merchants readily trust credit cards bearing the Visa logo. That's important for cards from no-name banks.
This review explores Visa credit cards for bad credit, most of them from lesser-known issuers. We also tackle some of your most vexing questions about subprime Visa cards. If you are rebuilding credit, an unsecured or secured Visa credit card may address your needs perfectly. 
Unsecured Visa Credit Cards For Bad Credit
Each unsecured credit card in this group welcomes applicants with poor credit who don't want to put down a security deposit. That doesn't mean these cards are cheap to own, but they are relatively easy to obtain and put the power of Visa in your wallet.
The Revvi Card is unusual in that it offers cash back rewards. It also comes with a user-friendly mobile app, $0 fraud liability, and monthly reporting to each credit bureau to help you build credit.
The purchase APR is high, but you can avoid it by paying your entire balance each month. It charges annual and setup fees but waives the monthly servicing and cash advance fees for the first year. It is the best credit card in the unsecured group, thanks to cash back rewards.
This bank's preapproval process can quickly prequalify you for the Mission Lane Visa® Credit Card. The card targets subprime consumers looking for an easy-to-get, no-frills credit card, making it the runner-up for the best unsecured credit card.
The card offers a few basic benefits, such as automatic credit line reviews, free credit scores, access to educational articles, and a mobile app. It has a reasonable annual fee and doesn't charge for signup or monthly maintenance.
The Total Visa® Card offers a quick application process, followed by an immediate decision. The card's APR is higher than some others in this review, so you'll want to pay your entire balance each month to avoid interest charges.
The card charges a one-time program fee and an annual fee, but it waives the cash advance and monthly servicing fees for the first year. The initial credit limit is low, so you should be able to manage your monthly payment requirement with ease.
The First Access Visa® Card routinely approves consumers with poor credit, although you must have a checking account to qualify. Decisions are fast, so you should receive one in about a minute. If approved, you can choose among different card designs at no extra charge.
Card features include manageable monthly payments, free credit scores, and reporting to each major credit bureau.
Secured Visa Credit Cards For Bad Credit
Secured credit cards make a lot of sense for consumers with subprime credit. What you lay out in refundable deposits, you save in fees.
The OpenSky® Secured Visa® Credit Card is highly uncommon because it does not require a credit check and features a low minimum deposit, APR, and annual fee. This secured Visa credit card can help you build credit by reporting your on-time payments to all three credit bureaus.
But it can also damage your credit if you miss payments by 30 or more days, not to mention the late fees you'll incur. Always pay on time to improve your credit score over time.
The U.S. Bank Cash+® Secured Visa® Card accepts security deposits of up to $5,000, depending on your qualifications. The bank places your security deposit in a locked savings account, where it earns interest while your account remains in good standing.
The reward card's perks include cash back, secondary auto rental insurance, $0 fraud liability, online banking access, and automatic bill payment.
If you belong to the Navy Federal Credit Union, check out the nRewards® Secured Credit Card. Its reward program lets you redeem your points for merchandise, cash back, and gift cards, among other things.
The card features low interest rates and fees. In addition, the card provides complimentary cellphone protection and rental car insurance.
The Applied Bank® Secured Visa® Gold Preferred® Credit Card features a very low APR, but be aware that there is no grace period on this account. It will begin charging interest on purchases starting from the transaction date.
The card doesn't charge for monthly maintenance, and the annual fee is moderate. You can add deposits any time after account approval for a maximum amount of up to $5,000.
What Is Bad Credit?
Bad credit refers to a low credit score. The primary credit scoring system in the US is FICO, first developed in the 1970s. The company that invented this score, Fair Isaac, Corp., says 90% of top lenders use it to help make billions of credit-related decisions yearly.
Most FICO scores range between 300 (worst credit) and 850 (best credit). VantageScore is another popular scoring system, with the same range of scores but slightly different interpretations.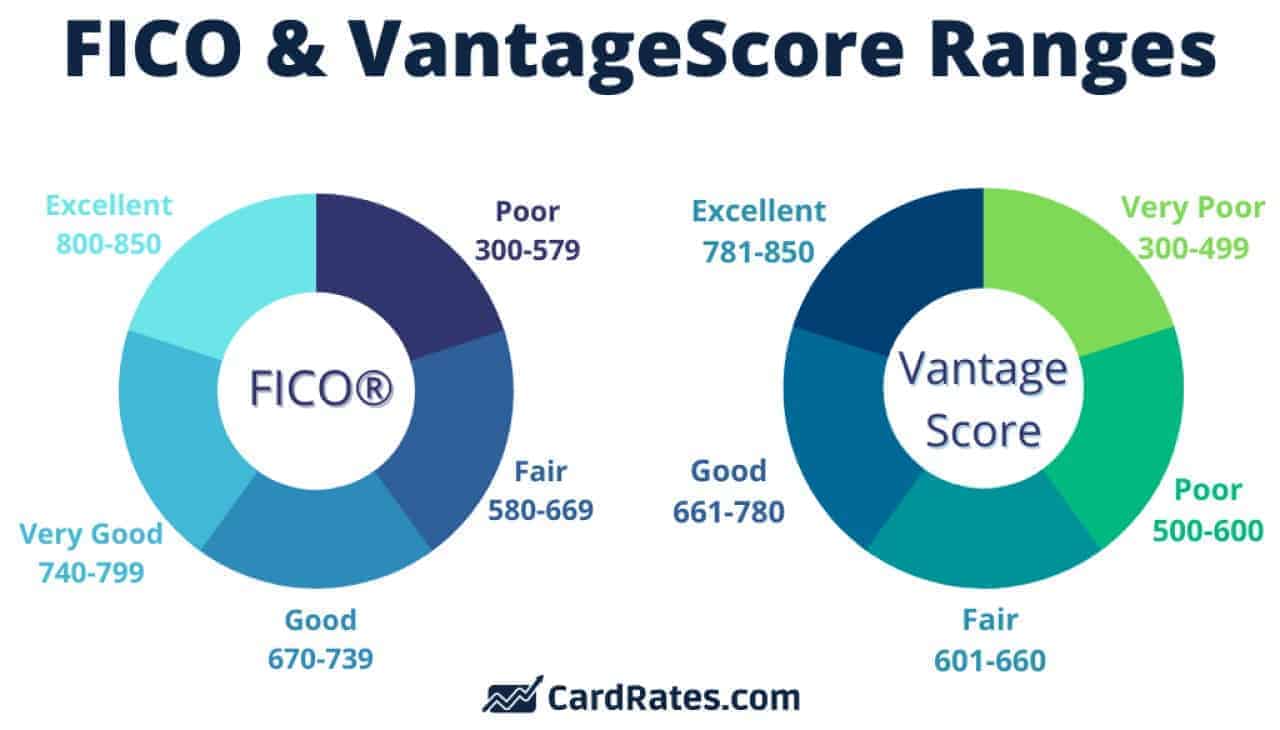 The three credit rating agencies use somewhat different methods to calculate scores, which is why credit scores vary from one bureau to the next. The average credit score for Americans is around 700.
If your credit score is below 700, expect to pay higher credit card interest rates. FICO scores below 580 mean you have bad credit, consigning you to high-cost, low-benefit credit cards.
A higher score doesn't necessarily mean you'll be a creditor's best customer. It only means you're more likely to repay your debts and make your payments on time. Some card issuers prefer less-risky customers with very high scores. Other issuers market to consumers who have below-average credit scores. Many major banks and credit unions offer credit cards to folks of all credit stripes.
Fair Isaac explains that each creditor has its own strategy, including the level of risk it finds acceptable for a given credit product. There is no single cutoff score used by all creditors.
Most consumers have three credit reports compiled by Equifax, Experian, and TransUnion. Each report details your debt levels and how responsibly you've used that credit. Essentially, your credit scores summarize the information in each credit report.
These scores help creditors and lenders get a quick snapshot of your credit without reviewing all your credit report details. Credit scores allow lenders to approve or reject new account applications instantly. 
You may have a bad credit score for various reasons, including:
Late and missed payments
High credit utilization
Loan defaults 
Collections
Repossessions
Mortgage foreclosures
Settlements
Bankruptcies
These negative items can remain on your credit reports for up to 10 years and decimate your credit score, but the impact will begin to wane after a few years.
Many credit cards, including those reviewed here, target consumers with bad credit. Although secured cards for bad credit are reasonably easy to get, you can also get an unsecured card despite not having good credit. 
Generally, subprime unsecured cards share specific characteristics:
Low credit limits, as low as $200
APRs between 25% and 36%
High costs, including signup fees, annual fees, and charges for cash advances, foreign transactions, and late payments
Meager or no perks, although exceptions exist, such as the Revvi Card.
Activity reporting to all three credit bureaus, building credit through creditworthy behavior
The cards in this review can help with rebuilding credit if you practice responsible financial habits. Raising your score makes you eligible for cards with a larger credit limit, lower APR, and greater rewards and benefits.
What Credit Score Do You Need For a Visa Credit Card?
A few credit cards do not require a credit check, including at least one with the Visa logo. By far, the vast majority of Visa card issuers perform hard credit inquiries on applicants. The minimum score varies by card, but very few accept credit scores below 550.
A low score is less problematic for secured credit cards. The issuers assume applicants have bad, limited, or no credit. The security deposits on these cards cushion issuers against losses when cardmembers default on their debts. 
Student credit cards are distinct from other unsecured cards because their issuers don't require applicants to have any credit history. That's why student cards are probably the best bargains in the industry.
But remember that having no credit is very different from bad credit. Students with credit problems may find it challenging to obtain a credit card. 
Is Visa the Card Issuer?
Visa does not issue credit cards; it processes credit card payments. In fact, Visa is the largest payment network, widely accepted by more than 80 million merchants. Cards with the Visa logo offer a wide range of benefits. 
Visa and Mastercard differ from the other two major payment networks, American Express and Discover, which issue the credit cards they process.

Visa doesn't earn direct revenues from the interest and fees that issuers charge cardmembers. Instead, it makes money by charging financial institutions and merchants for its services, including those for authorization, clearing, and settlement. In effect, Visa is an intermediary between banks and merchants.
What Are the Differences Between Unsecured and Secured Credit Cards?
Most credit cards are unsecured, meaning you don't have to deposit cash collateral to get them. Aside from the security deposit requirement, secured cards look and act like unsecured cards. But the deposits impact several secured card characteristics.
Compared to unsecured credit cards, secured cards:
Are easier to get: Applicant credit scores are less important because the security deposits cushion the costs of cardmember defaults. In almost all cases, the cardmember's credit line equals the amount on deposit. The credit card issuer taps the money in the security accounts whenever cardmembers fail to pay their bills on time. Not only are secured-card issuers protected against loss, but they also needn't deal with expensive collections — they simply close the accounts of repeat offenders.
Cost less: Generally, secured cards charge lower APRs than do unsecured cards for bad credit. Additionally, secured cards have fewer fees. For example, you won't encounter signup or monthly maintenance fees from a secured card. Whereas secured cards eventually refund your deposit, unsecured cards never refund your fees.
More likely to offer rewards: Several secured cards offer cash back rewards on eligible purchases, something you're very unlikely to find from a subprime unsecured card.
Have higher credit limits: While several poor-credit unsecured cards restrict your initial credit limit to $200 or $300, most secured cards are more flexible — you simply increase your deposit to get a higher credit line.
Are discreet: You won't find the word "secured" on any of these credit cards.
Want to promote you: Almost all secured cards offer to graduate cardmembers to an unsecured card after a trial period of timely payments. You may end up with an unsecured card previously out of reach.
For these reasons, I advise subprime consumers to rebuild credit with a secured credit card and then move on to an unsecured credit card of equal or better quality.
What Type of Visa Card Can I Get With Bad Credit?
Although Visa does not issue credit cards, it does offer benefits to owners of cards bearing the Visa logo. Visa has three tiers of benefits, Traditional, Signature, and Infinite. Cards for bad credit invariably belong to the Traditional tier and provide the following benefits:
Auto rental collision damage waiver (CDW): This secondary car insurance is active only after you exhaust your primary insurance. It protects you against vehicle damage or theft for rental periods of up to 15 days. To take advantage of this benefit, you must refuse the rental agency's CDW offer, report the incident to Visa Card Benefit Services within 45 days, and file a claim within 90. You have up to one year to turn over any required documents. Coverage excludes certain large, expensive, and off-road vehicles and does not include liability protection.
Cardholder inquiry service: If you need information about your Visa card, you can contact this service and ask about the card's features from the credit card issuer and the Visa network.
Stolen/lost card reporting, emergency card replacement, and emergency cash: Should your card be lost or stolen, you can ask Visa to cooperate with the card issuer to expedite card replacement and, if necessary, an emergency cash advance.
Roadside assistance: You can call 800-847-2869 if you need roadside help. Services include tire changes, towing, unlocking, jump starts, fuel delivery, and winching. Limits apply to some services. For example, towing is free for only the first five miles. Also, you can get delivery of up to five gallons of gas (which you must pay for, along with a service fee). 
Zero fraud liability: Visa proclaims, "You won't be held responsible for unauthorized charges made with your account or account information. You're protected if your Visa credit card is lost, stolen, or fraudulently used, online or offline." Contact the Consumer Financial Protection Bureau to report fraud. 
Most cards with the Visa logo are Traditional. The card issuer, not Visa, decides which additional features to offer, such as introductory APR promotions and rewards program terms. Visa Traditional provides savings from Hertz, Conrad Los Angeles, Green Chef, Blacklane, Casa Cipriani New York, Fanatics.com, and other merchants.
Can I Rebuild Credit With a Visa Credit Card?
Anyone can have bad credit at some time in their lives. Life is unpredictable, with many surprises that are not always pleasant.
Whatever the root cause, you can use a credit card from Visa or anywhere else to rebuild credit. Pay attention to the following factors to re-establish your credentials as a creditworthy consumer.
Timely Payments
Paying your bills on time is the most significant factor supporting your credit score. FICO bases 35% of your score on your payment history. Nothing has as much impact on your credit score as it sets the stage for far worse outcomes, from collections to bankruptcy.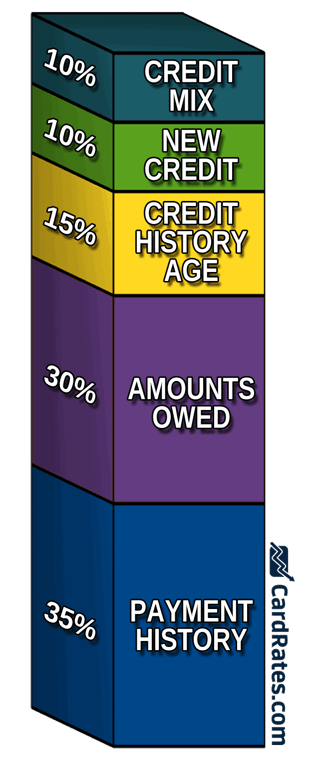 And it's not just credit card payments that get reported to the credit bureaus. Your cellphone and cable bills, loan payments, and even your rent can impact your credit and require timely payment. 
Keep a Lid on Your Debt
Another critical factor for building credit is the total amount of revolving credit you use compared to how much you have available. This factor, your credit utilization ratio (CUR), accounts for 30% of your FICO score and can do significant damage if it's too high.
So, how much debt is too much? Imagine you have a single credit card with a $1,000 limit. If you owe $800 on that card, you have a CUR of 80%. FICO wants a CUR below 30% because anyone overusing their credit cards may be in financial distress and not a good credit risk.
Keep Your Old Credit Cards Active
The length of your credit history accounts for 15% of your FICO score. Ironically, even if you don't use an old credit card with a high interest rate and no rewards points, it could still be helping your score.
Keeping old cards active will lengthen the average age of your credit accounts. FICO associates the ability to maintain credit accounts over long periods with creditworthy behavior. Keeping cards open can also help lower your credit utilization ratio by contributing unused available credit. 
Some issuers will cancel a credit card, and FICO may disregard it, if it is inactive for too long. So, use old cards occasionally, say once a year, and pay them off immediately to keep the accounts alive.
Have a Broad Mix of Credit Accounts
The types of credit you have can impact your credit score. A mix of revolving and installment credit accounts is more desirable than having only credit cards and counts for 10% of your FICO score.
Theoretically, you can improve your score when you get your first personal loan or store credit card. But the effect is minor, and in any event, it's not a good idea to open new accounts you don't need.
Moderate Your Requests For New Credit
A creditor will likely inquire into your credit when you apply for a loan or credit card. If you open multiple credit accounts within a short period, these creditor inquiries can negatively impact your FICO score. Creditors may assume you desperately need more credit and are a risky borrower.
There are two types of credit inquiries — soft and hard — that are requests for your credit reports and scores. A soft credit pull does not affect your credit score, but hard pulls do.
A person or company may issue a soft inquiry when considering you for hire or renting you an apartment. Soft credit pulls don't involve requests for new credit. 
A hard inquiry occurs when you apply for a loan or a credit card. These show up in your credit reports, where they remain for two years, and too many hard inquiries may give you a bad credit score. But their impact is uncertain, as other changes may offset them by lowering your CUR or broadening your credit mix.
Which Visa Card For Bad Credit Is Easiest to Get?
Of the products we selected for this credit card review, the OpenSky® Secured Visa® Credit Card is hands-down the easiest to obtain, as it is the only card that doesn't check your credit when you apply for a new account. These offers are exceedingly rare.
While it's not 100% certain that OpenSky will accept your application, the chances are pretty good. Things that could interfere with the process include being underage or having a prior (and unhappy) relationship with the issuer.
As mentioned earlier, secured credit cards are much easier to obtain than their unsecured cousins. Perhaps the most accessible cards are those for students since they don't require a credit history. Of course, you must be a student and satisfy other criteria to get one of these.
What Are the Fees For a Subprime Visa Card?
Subprime unsecured credit cards, whether Visa or some other type, are the most expensive cards relative to their credit lines. Sure, some premium cards may cost more than $1,000 a year, but they usually have high credit limits. Subprime unsecured cards seldom have limits exceeding $2,000, and some start with tiny $200 credit lines.
Secured credit cards usually have lower APRs and fees, but you should always check a card's Schumer Box for the exact figures.
The following table summarizes typical costs for subprime credit cards.
| | | | |
| --- | --- | --- | --- |
| Cost | Description | Unsecured | Secured |
| APR | The annual percentage rate of interest, compounded daily, on cash advances and unpaid purchase balances. | 24% to 36% | 10% to 31% |
| Penalty APR | APR triggered by late fees | 29.99% | 29.99% |
| Annual Fee | Yearly fee to own the card | $0 to $149 | $0 to $49 |
| Security deposit | Refundable collateral | N/A | $200+ |
| Late Payment Fee | Missing a payment due date | $40  | $20 to $41  |
| Overlimit Fee | Spending beyond your credit limit | $0 to $35 | $0 to $35 |
| Foreign Transaction Fee | The foreign transaction fee applies to international purchases | 0% to 3% | 0% to 3% |
| Signup Fee | The initial charge for a new account | $0 to $99 | N/A |
| Monthly Maintenance Fee | Nuisance charge usually waived the first year | $0 to $10 | N/A |
| Cash Advance Fee | Fee for each cash advance | 3% to 5% | 3% to 5% |
| Balance Transfer Fee | Fee for each balance transfer | N/A | 3% to 5% |
| Expedited Payment Fee | The fee to avoid late payment | $10 to $20 | $10 to $20 |
| Returned Payment Fee | Bounced payment | $40  | $20 to $41  |
| Authorized User Fee | Adding an authorized user | $0 to $39 | $0 to $30 |
| Premium Design Fee | Choosing a special card design | $10  | $10  |
| Credit Limit Increase Fee | A one-time charge for a credit line increase | 0% to 20% | N/A |
| Express Delivery Fee | Express delivery of your card | $35  | $0 to $35 |
| Copying Fee | Fee for duplicate statements | $3 to $10 | $3 to $10 |
Are There Any Visa Business Cards For Bad Credit?
Though hard to find, subprime Visa business credit cards do exist. For example, the MidFirst Bank Business Secured Credit Card offers secured credit limits of up to $50,000 for business owners with bad credit.
You'll need to make a personal pledge to get a business card for bad credit. This means you're personally liable for payments, and the issuer can take steps against you (i.e., collection, lawsuit) for failure to pay.
Compare Visa Credit Cards For Bad Credit
Visa credit cards for bad credit are available with and without security deposits. Generally, these cards have high costs, but some offer rewards and other valuable benefits. All bear the Visa logo, assuring worldwide acceptance. We advise you to consider a Visa secured credit card first, as it is easier to obtain and probably has lower costs. 
Advertiser Disclosure
CardRates.com is a free online resource that offers valuable content and comparison services to users. To keep this resource 100% free, we receive compensation for referrals for many of the offers listed on the site. Along with key review factors, this compensation may impact how and where products appear across CardRates.com (including, for example, the order in which they appear). CardRates.com does not include the entire universe of available offers. Editorial opinions expressed on the site are strictly our own and are not provided, endorsed, or approved by advertisers.