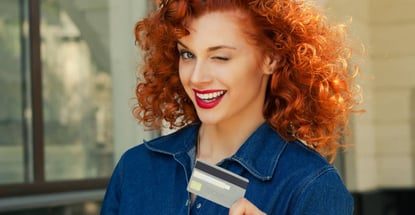 The world is slightly nicer when you have a Visa Signature card in your wallet. This type of credit card provides valuable core benefits and a handsome credit line. 
Issuers such as Capital One and Chase enhance their Visa Signature cards with additional perks to create unique blends of relationship rewards, bonuses, and costs. We've evaluated nine of the best — any one of them may be a perfect fit for your lifestyle.
These Are the Best Visa Signature Cards
Six of the following nine Visa Signature cards come from Chase Bank, the credit card issuer with the highest number of cardholders in the United States. Chase offers in-person and online banking. 
Capital One is also a credit card and online banking powerhouse, with one entrant in this group. Fidelity and US Bank round out the list. Although all nine share the Visa Signature designation, each card offers a unique balance of costs and benefits.
The Chase Sapphire Preferred® Card reserves its highest bonus rate for travel purchased according to the Chase Ultimate Rewards program terms. Streaming services, online grocery shopping, and restaurant dining also earn bonus points. The card provides an annual hotel credit, trip cancellation and baggage delay insurance, and an anniversary bonus point boost.
Your Ultimate Rewards program points are worth 1.25X more when you redeem them through Chase Travel. You can transfer points to all participating frequent travel programs at a 1:1 value. The signup bonus lets new cardmembers earn a large sum of bonus points credited to their account after they spend the required amount on net purchases during the initial three months of card ownership.
The Chase Freedom Unlimited® offers an excellent reward rate on travel booked through the Chase Ultimate Reward portal. Furthermore, this no-annual-fee card provides remarkable travel benefits, including trip cancellation/interruption insurance, travel and emergency assistance services, and auto rental collision damage waiver. 
If you also own a Chase Sapphire Preferred® Card, you can transfer your Freedom card's Ultimate Reward points to it and gain extra redemption value at Chase Travel. In addition, Chase Freedom Unlimited provides purchase protection, zero liability protection, fraud monitoring, extended warranty protection, identity restoration services, and free credit score access. 
The Capital One Venture Rewards Credit Card pays a generous signup bonus when you spend a set amount on purchases during the first three months after account opening. The card provides complimentary airport lounge visits and lets you redeem your rewards to pay for previously purchased travel expenses or to book new reservations in Capital One Travel.
You also get special deals when you book hotel stays and car rentals through Capital One Travel. 
In addition, cardmembers can take advantage of exclusive offers from Capital One Entertainment and Capital One Dining. The card doesn't charge foreign transaction fees, provides extended warranties on eligible purchases, and protects you with travel accident insurance.
Chase Bank's Ink Business Preferred® Credit Card offers much value for a moderate annual fee. You earn bonus points on travel and select other business purchases, a generous signup bonus, and a 25% increase in Chase Ultimate Rewards value when you redeem your points through Chase Travel.
The Ink Business Preferred® Credit Card's high reward rate extends to net purchases for online advertising, shipping, and connectivity (i.e., cable, internet, and phone services). This Visa Signature card provides 1:1 point transfers to participating frequent travel programs and doesn't charge a foreign transaction fee on international purchases. If you frequently travel, the Ink Business Preferred® Credit Card is the best credit card in the Ink collection.
Foodies will enjoy owning the U.S. Bank Altitude® Go Visa Signature® Card, thanks to its generous rewards on dining and grocery purchases. The bank doesn't charge an annual fee yet provides ample perks and a low variable APR relative to the Prime Rate. 
New cardmembers can receive a signup bonus and a 0% APR on balance transfers and/or new purchases for a set period after account opening. There is never a foreign transaction fee, and you can redeem your rewards online or through mobile banking for cash back, travel, gift card options, and merchandise.
The Fidelity® Rewards Visa Signature® Credit Card offers flat-rate rewards on all eligible purchases. You can link this Visa Signature credit card to any five Fidelity accounts, including those for retirement, brokerage, cash management, and college savings. 
The card has no restrictive categories on everyday purchases, no reward limits, no annual fee, and a good credit line. It supports mobile banking. You can take advantage of car rental deals, lost luggage reimbursement, and travel insurance. Card protections include zero fraud liability, purchase security, and emergency card replacement.
The Amazon Prime Rewards Visa Signature Card from Chase pays bonus cash rewards to Prime members for purchases from Amazon.com and other select merchants, including Whole Foods. Prime Video is Amazon's streaming service and comes with Prime membership at no extra cost. You can add other streaming services via the Amazon website or app.
The card's signup bonus is unique because you don't have to spend any money (other than your Prime membership fee) to get it. 
Undergraduates can get the Chase Freedom® Student credit card card even if they don't have any credit history. Its modest signup bonus and cash back rate befit its role as a no-annual-fee student card.
Cardowners get free credit scores from Chase Credit Journey. You also get automatic fraud alerts, purchase protection, extended warranty protection, and trip interruption insurance. Redeem your points for cash back, travel, gift cards (including Amazon gift cards), and purchases at Amazon.com and the Apple Ultimate Rewards Store.
The United℠ Business Card welcomes you with a surplus of bonus miles when you meet the spending requirement within the first three months your account is open. Chase Bank offers this co-branded card with United Airlines.
You can save up to $140 per round trip thanks to the free first checked bag on United flights. If you carry a personal United credit card, you'll also receive 5,000 bonus miles each card anniversary.
Benefits of Visa Signature Cards
Visa Signature benefits vary by card issuer but may include:
Airline incidental fees: You may be entitled to rebates for air travel-related fees such as accelerated airport security, checked-luggage charges, and in-flight food.
Baggage delay reimbursement: If a carrier delays or misdirects your checked baggage for more than four hours, you can receive reimbursement for necessities you purchase with a Visa Signature card (up to $300).
Cellphone protection: Insurance covers your phone for loss or damage when you use a Visa Signature card to pay the wireless bill. A $50 deductible applies.
Emergency evacuation: When you use your covered Visa Signature card for a qualifying purchase of travel tickets, this benefit can transport you to the nearest medical facility for treatment if you are sick or injured ($10,000 maximum).
Extended warranty protection: This benefit extends the life of a manufacturer's warranty but doesn't improve the terms. The warranty period doubles if the original warranty is for less than one year. You get one extra year of coverage when the original warranty period is one to three years. Longer original warranties get no boost. Coverage limits are $10,000/claim and $50,000/cardmember. Coverage excludes certain purchases, including computer software, vehicles, and real estate.
Global Entry Credit: Pay your Global Entry fee with a Visa Signature card and receive a $100 reimbursement as a statement credit.
Hotel theft protection: Provides reimbursement for personal belongings stolen from your room. Specific terms, conditions, and exclusions apply. For coverage to apply, you must use your covered card to secure transactions.
Lost luggage reimbursement: When you use the card to make a qualifying purchase of tickets, you're eligible for reimbursement on lost luggage, checked or carry-on.
Price protection: If an item you purchased with your covered Visa Signature card appears in a print advertisement at a lower price, you can receive a reimbursement for the difference.
Priority Pass lounge access: You can enjoy VIP access to more than 850 airport lounges worldwide.
Return protection: Use your covered Visa Signature card and get extra return protection anytime you make an eligible purchase of an item worth up to $250. Coverage extends for 90 days after purchase when a merchant refuses to accept a return.
Travel accident insurance: Purchase your airline ticket with your covered Visa Signature card, and you can enjoy travel accident insurance. Specific terms, conditions, and exclusions apply.
Travel and emergency assistance: This benefit includes access to pre-travel information, legal help, medical and dental support, and logistical assistance. If you used your Signature card to purchase the travel tickets, you can receive reimbursement of up to $2,500. 
Trip cancellation/trip interruption reimbursement: When you purchase your travel ticket with a covered Visa Signature card and must cancel or interrupt your trip, this benefit can help reimburse for the non-refundable cost of your passenger fare. This coverage also applies to travel via ferry, rail, bus, or cruise ship.
Trip delay reimbursement: Covers delays when you purchase air travel with your covered Visa Signature card. You can receive up to $300 when your delay lasts more than 12 hours due to a covered hazard.
Visa Signature Concierge: This is a 24/7 service where you can get help with personal tasks, such as arranging a trip or making a dinner reservation. Naturally, you will have to pay for any resulting purchases.
Year-end spending summary: You'll receive an annual report detailing your card usage. This information may help you file your income tax return and plan your budget.
In addition, if you are a Visa Signature cardholder, you receive all the benefits from the Visa Traditional tier.
Comparing the Different Types of Visa Cards
Visa offers three credit card tiers: Traditional, Signature, and Infinite. All Traditional benefits are available to the higher tiers, and the Infinite level also includes Signature benefits.
Visa does not issue credit cards — it processes payments. As the leading credit card payment network, Visa is responsible for ensuring merchants receive their payments on time. It makes money by charging merchants a fee for its services, typically around 0.15% per transaction. 
The other large payment processors are Mastercard, Discover, and American Express. The latter two also issue credit cards, but like Visa, Mastercard does not issue credit cards.
Note that benefits vary by card issuer, but each Visa tier generally provides the following advantages.
Visa Traditional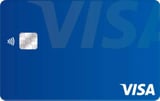 Most cards carrying the Visa logo are Traditional. The card issuer, not Visa, determines the additional features such as rewards program terms and introductory APR promotions.
The Visa logo on your credit card means you will be getting the following Traditional benefits:
Lost/stolen card reporting, emergency replacement, and emergency cash: Should your card be stolen or lost, you can call Visa USA Inc, which will cooperate with the card issuer to expedite replacement and, if necessary, an emergency cash advance.
Roadside assistance: You can call for help (800-847-2869) if you need roadside help. Services include towing, unlocking, tire changes, jump starts, winching, and fuel delivery. Limits apply to some of these services. For example, you can get up to five gallons of gas and must pay for it, along with a service fee. Towing is free for only the first five miles.
Zero fraud liability: According to Visa, "You won't be held responsible for unauthorized charges made with your account or account information. You're protected if your Visa credit card is lost, stolen, or fraudulently used, online or offline." Contact the Consumer Financial Protection Bureau to report credit card fraud. 
Cardholder inquiry services: If you ever need information about your Visa USA Inc card, you can call this service and ask about the features you get from the issuer and the Visa network.
Unique Visa Traditional savings are available from Blacklane, Casa Cipriani New York, Conrad Los Angeles, Fanatics.com, Green Chef, Hertz, and other merchants.
Visa Signature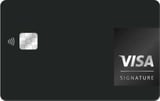 Signature is Visa's middle tier, used primarily by cards for good to excellent credit. The minimum credit line for Visa Signature is $5,000.
Benefits include the Traditional benefits above, plus:
Auto rental collision damage waiver (CDW): This secondary coverage kicks in only after you exhaust your primary car insurance. It covers you in case of vehicle theft or damage for rental periods of up to 15 days. You must decline the rental agency's CDW offer, report the incident to Visa Card Benefit Services within 45 days, and file a claim within 90 days. You have up to a year to provide any required documents. Coverage does not include liability protection and excludes certain large, expensive, or off-road vehicles.
Travel and emergency assistance services: Your Visa Signature card provides access to a 24/7 multilingual call center for additional services when you're away from home.
These cards also offer special guest status at 900+ Visa Signature Luxury Hotel properties worldwide. You can tour Sonoma wine country, save on golf fees, and enjoy exclusive shopping deals.
Visa Infinite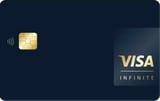 Visa Infinite is the top tier available to issuers of Visa credit cards. Infinite cards generally require cardholders to have excellent credit. The luxury cards in the Visa Infinite tier usually charge substantial annual fees.
This tier includes the benefits from Visa Traditional and Visa Signature. It differs from Visa Signature in the following ways:
Luxury Hotel Collection added benefit: Each property offers a special amenity to guests who pay with a Visa Infinite card.
Minimum initial credit limit: $10,000
Rental car privileges added benefit: You are eligible for additional savings and amenities when you use the Infinite card to rent from Hertz, Avis, Silvercar, or National.
Trip delay reimbursement: Up to $500
Visa Infinite Concierge Services: An unspecified upgrade in services across the globe.
As you can see, the step up from Traditional to Signature is much steeper than the one from Signature to Infinite. This may be because the issuers of Infinite cards usually provide their own extensive list of perks.
What Credit Score Do You Need to Get a Visa Signature Card?
Each issuer sets the credit score requirements for its cards, but generally, you need a good score, around 700 or higher, to be eligible for a Visa Signature card. Other conditions may pertain to your income, credit history, and existing credit access. 
Some card issuers allow consumers to include household income when they apply for a Visa Signature card. Income may include Social Security benefits, rental income, and retirement account payments.
How Does World Mastercard Compare to Visa Signature?
As with Visa Signature, World Mastercard occupies a middle tier. Although its benefits closely align with those of Visa Signature, World Mastercard differs in a few ways — but remember that credit card issuers determine each card's benefits, so you will have to compare specific cards to decide which is best for you.
World Mastercard may vary in a few ways:
No roadside assistance
Global Entry reimbursement
Different insurance details
Different shopping discounts
Provides a guarantee for the lowest hotel rates 
It's more important to check out the costs and rewards of competing credit cards than to focus solely on the benefits that the payment networks provide.
What Is the Credit Limit For a Visa Signature Card?
Visa Signature credit cards have a minimum credit limit of $5,000. Many cardholders have higher credit lines, but it's impossible to say where the upper limit lies or even if there is one. 
That's because the card issuers, not the payment network, decide credit limits on a case-by-case basis. 
The minimum credit limit for the Visa Infinite tier is $10,000. This higher limit makes it harder to qualify for a Visa Infinite card. Besides the credit limit difference, the benefits from Visa Infinite are marginally better than those from Visa Signature. Keep this in mind when you consider the higher annual fees that usually accompany Visa Infinite cards.
Sign Up For a Visa Signature Card
You may have no idea what tier your Visa card occupies. That's only a problem if you aren't aware of all the benefits you have if you own a Visa Signature card. The card issuers usually mail out a pamphlet to new cardholders explaining benefits, and it's worth a look. 
Qualifying for a Visa Signature card is no small feat, and you deserve all the benefits due you. You can call Visa and your card issuer if you have questions about your credit card perks. 
More importantly, it's wise to read reviews like this one and the card's disclosures before signing up, especially if it charges a significant annual fee. 
Advertiser Disclosure
CardRates.com is a free online resource that offers valuable content and comparison services to users. To keep this resource 100% free, we receive compensation for referrals for many of the offers listed on the site. Along with key review factors, this compensation may impact how and where products appear across CardRates.com (including, for example, the order in which they appear). CardRates.com does not include the entire universe of available offers. Editorial opinions expressed on the site are strictly our own and are not provided, endorsed, or approved by advertisers.