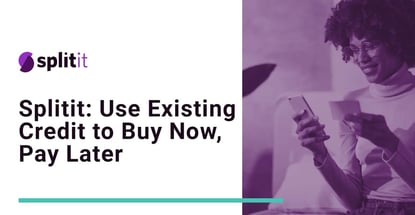 In a Nutshell: Consumers and merchants both see the benefits of buy now, pay later purchasing. But most installment models require an application for new financing at the point of sale, which adds friction and can impact the shopper's credit score. Splitit takes an entirely different approach, letting customers use a card that's already in their wallet to pay for purchases over time without adding interest or fees. And because it uses existing credit accounts, Splitit lets shoppers take advantage of the benefits they have on their cards, including purchase rewards.
More and more consumers are choosing buy now, pay later purchasing plans because, on the surface, at least, they seem like a no-lose proposition. After all, it's hard to find fault with a plan that lets the customer take a purchase home on day one and then pay for it in biweekly or monthly installments with no extra charge.
However, anyone who digs a little deeper soon finds out there can be downsides because today's popular plans all involve applying for financing, purchase limits, and challenging lengths of repayment. The merchant pays a fee to offer an installment option at the point of sale as an enticement for shoppers to purchase.
But because the application for new credit goes to the bureaus for a check, it may actually do more harm than good, negatively impacting the shopper's credit score through inquiries and potentially involving penalties for missed or late payments. Plus, that new credit won't come with any perks, so the shopper can't take advantage of rewards and other purchase benefits that some credit cards offer.
For consumers with healthy credit and a few cards already in their wallets, Spilitit is a better option. Instead of requiring an application for new financing, Splitit sets up installment plans using the credit the customer already has.
As with the other plans, there's no added interest or extra charges. But Splitit requires no application or credit check either, and the customer is free to use whichever card carries the best rewards and perks.
Now that really is a no-lose proposition.
"There's literally one extra step," said Splitit's Chief Commercial Officer Melanie Vala. "You choose Splitit at checkout and populate your card details exactly as if you're doing a normal transaction. And then you choose how many installments you want to pay — that's it."
Consumers Can Earn Rewards and Save On Interest
More than 2,800 merchants and counting connect Splitit to their checkout process and serve Visa, Mastercard, and UnionPay International shoppers in 100+ countries. But to really understand Splitit's appeal, it's important to understand that it's not for everybody.
Shoppers interested in leveraging a buy now, pay later option to extend their available credit aren't as great a fit as shoppers looking to leverage the benefits of their existing credit. Splitit is perfect for that latter group of shoppers who want to maximize the value inherent in big-ticket purchases.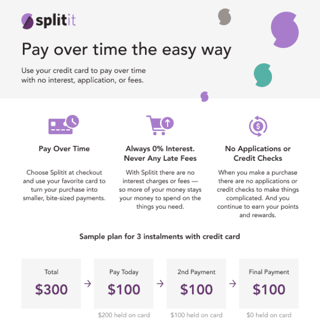 That's why, Vala says, Splitit's competitors are more like peers because they play a different part in the installment space.
"Our average order value is about $1,000, compared to our peers where it's between $150 and $200," she said. "Our customer is a slightly more mature, more established adult who has two or three credit cards in their wallet and healthy credit availability."
The order value points to why using existing credit rather than new financing is such an advantage.
"Let's say you spend $1,000 on Splitit, and you're splitting that over 10 months," Vala said. "We hold the full amount on the card, but we only process $100 each month, and you only need to pay out that $100 to avoid your usual credit card interest."
Splitit users get to take advantage of their card's purchase rewards and protections, including extended warranties if provided by their card issuer, all without paying interest.
"You still get your rewards, but you don't have that big hit at the end of the month," Vala said. "Our customers also tell us they're excited about getting the insurance and other protections that come with their card."
Merchants Can Increase Conversions and Order Value
For merchants with big-ticket items to sell, a partnership with Splitit is a no-brainer, demonstrably improving conversions and the average order value. It more than makes up for the small flat fee charged by the service.
Splitit offers two service tiers — a standard package that returns customer payments to merchants in installments and a funded package where merchants receive the entire customer payment upfront.
"We've grown 167% year over year, and we're continually expanding our merchant partner base," Vala said.
Part of the conversion improvement for merchants arises from reducing the cart abandonment rate, which stands at about 70% in overall retail e-commerce.

"That's $3 or $4 trillion globally," Vala said. "When merchants are paying to bring customers to their site, that's just money leaking out the bottom."
And the increase in average order value results from additional incremental sales and more frequent trips to checkout. Merchants also choose how many installments they want to offer, with the two service tiers accommodating anywhere from two to 24 or more monthly payments.
"We can do a little bit more on the non-funded plan where the merchant gets paid over time," Vala said. "Of course, that's cheaper from the fees perspective because we don't carry the cost of the funds — it's purely the platform they're paying for."
Splitit: Shoppers Leverage the Credit They Have
Splitit isn't standing pat — it's growing its merchant partner base and innovating from a product standpoint. One of the results is Splitit InStore, an installment option tailor-made for brick-and-mortar selling.
"The difference between Splitit InStore versus our peers is that it's 100% sales associate driven," Vala said. "The associate can meet the customer literally where they are in the store — all they need is a WiFi connected device."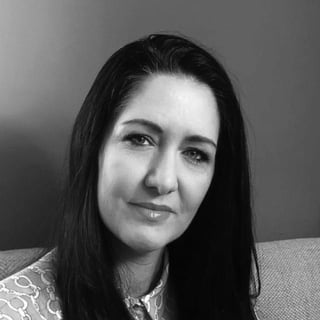 It's easy to imagine how that may impact whether the customer decides to go through with a purchase — the associate can offer an installment option at the moment when they're both standing in front of the product.
For example, a couple may be contemplating purchasing a new mattress, debating whether to go all-in on a deluxe model for $2,500, or compromise on a lower-priced option at $1,600. Offering an installment plan on the deluxe option may be what the associate needs to put that sale over the top.
"The associate either pulls up a QR code or sends a pay link to the customer's smart device," Vala said. "We're currently integrating with Apple Pay and Google Pay so the customer can instigate a plan within a couple of clicks."
Splitit is expanding to other card networks beyond Visa and Mastercard and forging white-label relationships with other buy now, pay later providers. Comprehensive support and a solid customer experience help Splitit achieve high approvals as well.
"Our peers are essentially financing options at the point of sale, while we're a technology layer that gives customers the ability to leverage credit they already have," Vala said. "We are absolutely for the customer who wants to manage cash flow."
Advertiser Disclosure
CardRates.com is a free online resource that offers valuable content and comparison services to users. To keep this resource 100% free, we receive compensation for referrals for many of the offers listed on the site. Along with key review factors, this compensation may impact how and where products appear across CardRates.com (including, for example, the order in which they appear). CardRates.com does not include the entire universe of available offers. Editorial opinions expressed on the site are strictly our own and are not provided, endorsed, or approved by advertisers.