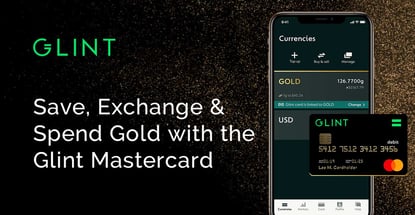 In a Nutshell: Glint allows customers to buy, sell, and spend physical gold instantly through its multicurrency app and debit card that links to the Mastercard network. Users can buy any amount of gold through the app and link both their currency and gold account to the debit card — which allows them to spend either with little, or no, fees. And, as the price of gold increases, the account holder profits — not the bank.
The gold standard was a system under which nearly all countries directly linked the value of their currencies to that of gold.
But as the shiny metal steadily increased in value, and paper currency kept the printers running around the clock, it became impossible for the two to remain linked. By the 1930s, the U.K. and U.S. had mostly abandoned the gold standard. By 1971, the U.S. government had completely severed the link between the dollar and gold.
Since then, the value of gold has skyrocketed, while the value of dollars, euros, and other physical currencies lags well behind. But Jason Cozens, CEO and Founder of Glint, said he wants to change that.
Cozens hatched the idea for Glint shortly after seeing images of Lehman Brothers' employees leaving their offices with boxes of personal possessions. That's when the world's largest and most successful banks declared bankruptcy, causing the firm's stock to plummet. The moment, which is seared into the collective public memory, all but commenced the Great Recession of 2007-2008.
"Like many, it was the first time I realized that a bank is not always a safe deposit place for funds," said Cozens. "Once you put your money in a bank it ceases to be yours."
Cozens, an architect by trade, designed Glint as a way to return to a personal gold standard and take the risk out of banking. Glint allows account holders to buy, sell, and spend physical gold instantly through a debit card that links to the Mastercard network and its multi-currency app.
The service currently works for consumers in the U.K., the European Economic Area, and the U.S.
"I know that there are government guarantees with most deposits," Cozens said. "But, fundamentally, I knew there had to be a way to store and deposit your money without taking any risk at all."
Cozens said that, since the early 1970s, the U.S. dollar has lost 86% of its purchase power due to inflation. If consumers had held their wealth in gold during that period, they would have increased their purchase power by as much as 505%, adjusted for inflation.
"Gold is a fantastic source of wealth that's been used as currency for over 4,000 years," said Cozens. "We're trying to democratize access to gold and let anyone of any means prosper. You can even link your card to your gold account and pay for any purchases using your gold."
Users can deposit any amount of approved currency, from $0.01 to more than $1 million, to open an account. The new account holder's mobile application will show two different accounts — a currency account and a gold account. Users can then convert the money they deposited to gold and spend from either account using the Glint Mastercard they receive upon account opening.
Cozens noted that he uses his currency account to pay his monthly bills and swaps the rest of his savings for gold. He then uses his linked card to make his everyday purchases from the gold account.
"Everything from my coffee to a flight gets paid with gold," he said. "And I can use it not only in the United States but anywhere in the world."
Fighting Inflation with a Personal Gold Standard
To explain the value of gold, Cozens laid out a scenario that just about anyone can understand. He said that in 1970, a cheeseburger would cost someone in the U.S. approximately $0.55. Today, that same cheeseburger will cost you $3.47.
"But that depends on where you go," he said. "When I was in Los Angeles in January, that cheeseburger cost me $10. That's what annual inflation has done to the U.S. dollar."
But what about gold? In 1970, a gram of gold had enough value to purchase two cheeseburgers. Today, the value of a gram of gold could purchase 16 cheeseburgers at $3.47 apiece. No matter how you look at it, the value of gold almost always beats out the value of fiat currency.
"For me, Glint is about giving everybody an equal opportunity to prosper," Cozens said. "I don't think the way the mainstream system works does that."
Glint requires no minimum amounts to create an account or purchase gold which means that just about anyone can take part in this wealth-building opportunity. That got the attention of consumers who helped Glint see a more than 700% increase in gold buying during the early stages of the coronavirus pandemic in March 2020.
"The first step in building a world that has a level playing field is delivering a reliable form of money to people," Cozens said. "We need a return to a personal gold standard, which is why we back your gold account with real gold that you own and held in a very secure and insured vault."
When the gold linked to a debit card is used to make a purchase, Glint converts the value of the held metal into the merchant's local currency and automatically deducts the total from your balance. As the value of gold increases, so does the balance in a user's gold account.
"And the real value in this is that gold tends to appreciate in value over time as the U.S. dollar depreciates," Cozens said. "Recently, there's been a huge debate over the debasement of global currency, including the U.S. dollar. That bodes well for the gold's future."
Low or No Fees Make it Easy to Grow Your Savings
Just as with a bank debit card, the Glint Mastercard can be used to withdraw money — even from the gold account — from any ATM for a $1.50 fee. Cozens said another of Glint's goals is to keep transaction fees low so everyone can build wealth.
"When you buy or sell gold, we charge 0.5% as a fee," he said. "But if you spend your gold in your home country, we don't charge any conversion fees to move your gold into the currency you usually use."
That buy/sell fee is substantially less than the premiums that are often required when selling or buying bullion at a physical location. In Glint's case, its users often pay close to spot price for any gold they buy. In today's market, that's virtually impossible to find.
"We also only charge 0.5% when you use your Glint card to pay, using gold, in foreign currencies," Cozens said. "Some banks can charge up to six times more than that."
And, since Glint has no account minimums or start-up charges, users can create an account in a matter of minutes with no upfront expense. Cozens said that roughly 90% of all applicants receive automatic approval when applying for an account online. The other 10% must go through a fairly quick manual process that requires extra identification documents.
P2P Payments and Other Advancements on the Way
The company plans to continue its growth trajectory by adding several new features that will make account holders happy.
That includes a person-to-person (P2P) payments system that's set to launch by mid-2020. The feature will work through the Glint Pay app and allow users to send and receive gold and currency to and from other Glint users.
"It's going to allow you to send money as easily as you'd send a text message," Cozens said.
Along the way, the Glint team will continue to monitor the world's quickly shifting economic structure — as well as the steady rise in the value of gold. If the precious metal continues to outpace the U.K. and U.S. currency — as it has for decades — Glint could become a standard choice for consumers who want to take the risk out of banking.
"We want gold's behavior to be as close to money as possible," Cozens said. "I think we've achieved that. There's no friction to spend your gold. It won't cost you any more. If it appreciates in value, then you profit — not the bank."
Advertiser Disclosure
CardRates.com is a free online resource that offers valuable content and comparison services to users. To keep this resource 100% free, we receive compensation for referrals for many of the offers listed on the site. Along with key review factors, this compensation may impact how and where products appear across CardRates.com (including, for example, the order in which they appear). CardRates.com does not include the entire universe of available offers. Editorial opinions expressed on the site are strictly our own and are not provided, endorsed, or approved by advertisers.