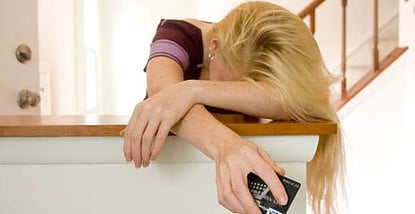 Some people intentionally max out because they need to make a purchase and have no other access to funds. Others max out by mistake because they keep high balances and underestimate how high their interest charges or fees will be. As soon as it processes, they are pushed over the limit.
If you are a credit card user, one of the worst things you can do is max out your card. Maxing out simply means spending over your credit limit. It can have terrible repercussions on your credit score.
So what happens when you max out your card?
1. Fees
You'll likely be charged an over-limit fee (you can check the terms and conditions for your card to see if you are subject to this.)
If you did get penalized with an over-limit fee, you can call your credit card company and ask for the fee to be removed.
Some issuers may be lenient if it is your first time and remove it for you, but some are not tolerant of maxing out and will not remove the charge.
2. Account freezing

Additionally, some issuers will freeze the account until you repay a certain portion of your balance, but others will freeze it until you repay the full balance.
If you can't be without a credit card, make sure you have another account in good standing because you may not be able to rely on having an account once you max out.
Try to avoid living on credit if you can help it.
3. Lower credit limits
If you max out your card, especially more than once, your credit card issuer may lower your credit limit.
It may seem ironic that it is being lowered when you maxed out because you needed more credit, but your irresponsible behavior made you a risky customer.
A lower credit may also hurt your credit score, since it'll your debt utilization ratio (one of the factors used in the credit scoring process) will likely jump.
4. Penalty rates
Your lender also may choose to charge you a default interest rate on all future purposes as a penalty for maxing out.
Penalty interest rates are often around 30 percent, so you will not want to carry a balance on the card if your rate skyrockets.
5. Account closure
If you max out your credit card, especially more than once, your issuer may actually close the account. You still must repay the money you owe, or you will risk debt collectors coming after you.
6. Credit score damage
One thing you can expect for certain after maxing out: your credit score will fall.
Your debt utilization rate, meaning how much credit of your available credit you actually use, is an important factor in your credit score.
Using more than 30 percent of your available credit can lower your credit, so maxing out your card — in other words, using 100 percent of that card's available credit — can make your score sink.
What can you do now?
Your next steps may depend on what your credit card issuer decides to do.
If they close the account, you will have to rely on your debit cards or other credit cards as a last resort. Whether the account is closed or not, you need to begin to pay down your balance, as you still owe the money.
The credit card issuer will let you know how quickly you need to repay your balance. They may give you a specific amount you need to pay to unfreeze the account.
Begin to pay down the balance as quickly as possible to reduce your debt load, especially if the card's interest rate has increased.
To avoid further damage to your credit, make sure you are paying all bills on time and not carrying high limits on other credit cards if possible.
What should you do to avoid this again?
Moving forward, you should always keep your balances low. Not only will this help you avoid maxing out again, but it also will help your credit score since you will keep a lower debt-to-credit ratio.
If someone else on your account is solely responsible for maxing it out, like your child, then you need to have a conversation with this person about changing spending behavior.
Inform them that spending beyond your credit limit risks closure of the account and will hurt both of your credit scores.
If you need more credit to work with, avoid maxing out your existing cards and open a new line of credit instead.
Photo source: blogcdn.com
Advertiser Disclosure
CardRates.com is a free online resource that offers valuable content and comparison services to users. To keep this resource 100% free, we receive compensation for referrals for many of the offers listed on the site. Along with key review factors, this compensation may impact how and where products appear across CardRates.com (including, for example, the order in which they appear). CardRates.com does not include the entire universe of available offers. Editorial opinions expressed on the site are strictly our own and are not provided, endorsed, or approved by advertisers.