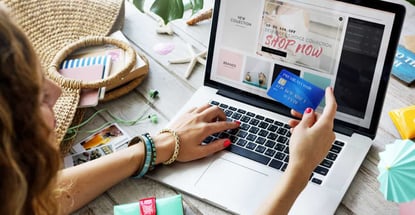 Opinions expressed here are ours alone, and are not provided, endorsed, or approved by any issuer. Our articles follow strict editorial guidelines and are updated regularly.
More people than ever shop online for everyday purchases. After all, it's a convenient way to get what you need without leaving your home. Plus, you can access a wider selection of goods and easily compare prices across various retailers to help you save on each purchase. 
But comparing prices isn't the only way you can save money when shopping online — your credit card can also help.
Here are seven online shopping hacks every credit card user should put into action today.
1. Cash Out a Signup Bonus
While opening new credit cards on a regular basis is generally ill-advised, doing so before a big ticket online purchase — such as a new couch or computer — can significantly reduce your overall spending.
That's because many cash back cards offer signup bonuses when you spend a certain amount within the first few months of account opening.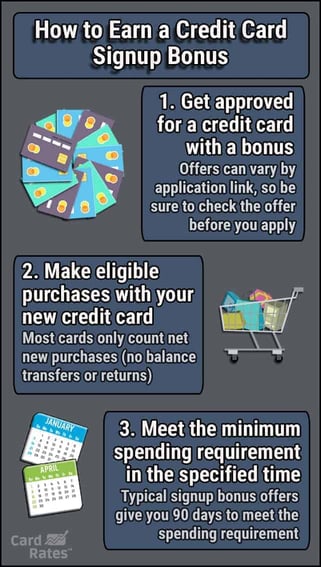 This nice chunk of change can then be applied as a statement credit to cover a portion of the purchase, reducing what you have to pay out of pocket.
For example, a certain card may offer $200 when you spend $500 in the first 90 days from account opening.
If you buy a new item worth $500 or more online, you will qualify for the signup bonus, which is like getting a rebate on your order.
2. Seek Out Retail Credits
Credit card companies offer many perks, including various credits, the most common of which are for travel expenses, to encourage people to apply. Some even offer retail credits that can help offset some of your online spending. 
For instance, the Business Platinum Card® from American Express currently offers up to $200 in semi-annual statement credits for purchases made at Dell.
Meanwhile, The Platinum Card® from American Express offers up to $50 in statement credit semi-annually for purchases made at Saks Fifth Avenue. And it offers up to $155 in credits for Walmart+ memberships, which covers the cost of monthly member fees.
3. Rake in Extra Rewards
Consumer prices are up across the board, but you can take the sting out of rising costs by stacking cash back on purchases. Start by signing up for free loyalty programs offered by retailers to earn money back to the store.  
For example, joining the ON Navyist loyalty program will get you 1 point for every $1 spent at GAP, Old Navy, Banana Republic, and Athleta, which can be redeemed toward future purchases at these stores.

Next, shop through a cash back portal like CouponCabin.com, where you can earn even more money back for your online purchases. Meanwhile, linking your email to the free rewards app Fetch will earn you points for your online purchase receipts. Points can then be redeemed for free gift cards to a variety of stores including Target, Walmart, and Amazon, which can help you save on future online shopping needs. 
Finally, check your credit card for bonus rewards to get an extra 5% to 10% back at select stores. Such bonus reward programs require you to opt-in to the deal to qualify, but this can provide a significant boost to your earnings that can be applied as a statement credit to help pay off purchases.
4. Reap Exclusive Cardmember Deals
The best store credit cards offer extra savings on top of rewards when shopping online. For example, the Target RedCard offers 5% off online or in-store purchases and an exclusive 10% off coupon each year on top of other perks. 
If you shop at Gap or their other stores often, the Gap Good Rewards Mastercard can help you save big, offering 5 points for every $1 spent at Gap, Old Navy, Banana Republic, and Athleta, which can be redeemed for credit at these stores. 
Plus, cardmembers can access extra discounts during sales and clearance events when they pay with their store-branded card. The Lowe's Advantage Card is another top pick since it offers cardmembers unlimited 5% savings on all purchases and special financing options for big-ticket purchases that can help you save on potential interest fees. 
If you shop at one specific retailer often, opening a store-branded card makes sense since you can reap the exclusive savings benefits. Just take note of the hefty interest fees most retail cards charge and be sure to pay off your card balance each month to avoid interest charges that will offset your rewards.
5. Get Extra Protection For Free
You might consider adding an extended warranty when shopping for big-ticket purchases, such as household appliances or a big-screen TV. These policies don't come cheap, but they can give you peace of mind that your purchase will be protected if it breaks down after the standard manufacturer's coverage expires. 
But this is one cost you can avoid when you pay with a major credit card that offers extended warranty protection, giving you added protection for no added cost. These policies may offer reimbursement for repair or replacement costs or may reimburse the original purchase price depending on the situation.
Most major credit cards add just one year of extra coverage, but some cards from Citi offer an extra two years of protection.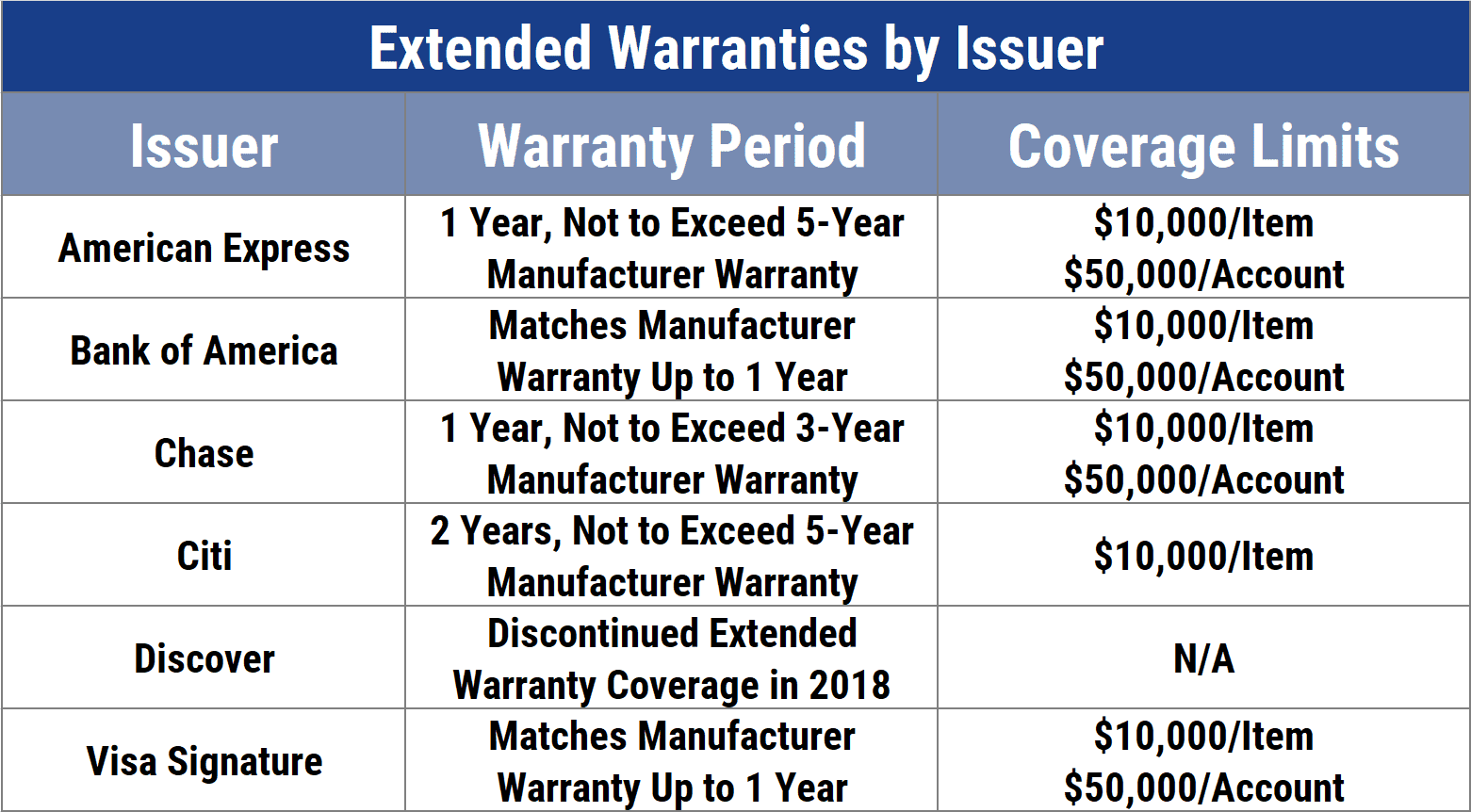 For example, select Citi cards offer an extra 24 months added to your warranty to protect your purchases. This means if the manufacturer offers a one-year warranty, you get three years of coverage when you pay using this card. 
Check the terms of your credit card to see which one has the best extended warranty protection or look at getting a new one that offers more coverage.
6. Dodge Shipping Fees
Although buying everyday items such as groceries and cleaning supplies online saves you a trip to the store, delivery fees can add up fast. Luckily, you dodge this extra cost by meeting the retailer's minimum purchase requirement to qualify for free shipping or snagging a free shipping coupon by signing up for a store newsletter.
In some cases, your credit card can help you avoid this fee, too. Many store-branded credit cards provide free shipping to cardholders when they use the card to make a purchase online. 
For example, you can get free two-day shipping on select items from Target when you pay with a RedCard. Meanwhile, American Express cardholders get a free membership to ShopRunner, a shipping program that offers free two-day delivery and free return shipping from partner stores, including 1-800 Flowers, Saks Fifth Avenue, and Under Armour.
7. Set Sale Alerts and Price Check Everything
Online retailers are notorious for fluctuating prices. In fact, word has it Amazon changes its prices more than 2.5 million times a day. In some cases, a retailer may change prices based on your past browsing and purchasing history. 
That's why tracking prices is the key to getting the best deal and saving money. Though a little time-consuming, various tools can help with this, such as a free price comparison plug-in like PriceBlink.
The site alerts you when it finds a lower price for the item you're browsing for. You can also set sale alerts using Karma — just add items to your "wish list" to find out when the price drops.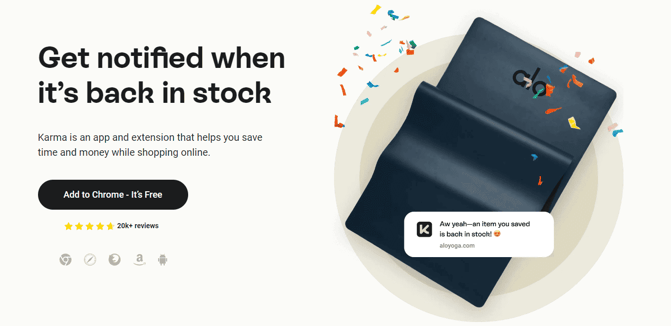 But don't stop tracking prices after you make a purchase — many stores will issue price adjustments in the event something you recently bought goes on sale (usually within one to two weeks). If you notice a price drop past the retailer's price adjustment window, your credit card may be able to help you. 
Some credit cards offer a perk called price protection that allows you to file a claim for credit in the event you find a lower price after you've purchased an item. While there aren't many cards left that provide this benefit, a few options exist, including the Capital One Savor card, which says cardmembers get price protection of up to $250 per eligible item when the price drops within 120 days from the original purchase date.  
The Capital One Walmart Rewards Card, Navy Federal More Rewards American Express Card, and UBS Visa Infinite Credit Card are among the others that feature a similar perk.
Don't Overlook the Power of Credit
There are so many ways to find deals online, but don't overlook the power of using your credit card to help you save more. Familiarize yourself with your credit card's reward program, purchase and price protection perks, and online exclusive rewards and deals that can help you stretch your budget further.