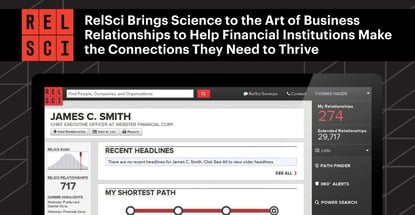 In a nutshell: Relationships are critical to success in business. Relationship Science (RelSci) empowers financial institutions to make smarter business decisions by leveraging an underused asset: their web of connections to influential decision-makers. RelSci calls this asset relationship capital. The company's proprietary technology aggregates and analyzes key data and information on individuals and business, across multiple industries: from energy and media, to manufacturing and technology. Clients use RelSci to identify new prospects and opportunities, uncover warm connections at a target company, and enhance deal discussions with deep intelligence on key executives and companies. RelSci's clients also use the software's news and alerts feature to stay updated on board and executive moves, investments, IPOs, M&A, and other events.
We know that human relationships are crucial to business success. Whether you're a consumer-facing company or you operate a B2B model, maintaining healthy connections to your customers, partners, vendors, and other stakeholders is essential.
But how do you keep track of these connections, curate them, and leverage them to benefit your business?
RelSci has the answer to these questions.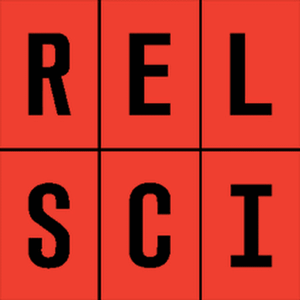 Neal Goldman founded RelSci in 2011. Goldman was previously the founder of Capital IQ, the analytics and financial intelligence platform, which was acquired by Standard & Poor's (now part of McGraw-Hill) in 2004.
Domenic Graziosi, who has been RelSci's CEO since 2016, said that after Goldman left Capital IQ, he explored other areas where extensive data on individual and company profiles could benefit businesses.
Graziosi explained that at the time there were no tools in the market to aggregate and analyze detailed profiles on individuals across industries.
"The idea behind RelSci was about being able to create a platform for who knows who, and looking at questions like 'How do I gain access to a particular person or organization?'" Graziosi said. "In the fundraising stage, it's all about introductions and this person knows this person. And they make those introductions. But how do you systematize that?'"
RelSci solves that problem by helping individuals and businesses leverage their relationships to gain a competitive advantage.
How RelSci's Curated, Data-Driven Approach Benefits Clients in the Finance Industry
According to the company's website, "RelSci gives you the information you need to be successful. Close a deal. Win a client. Raise capital. Get the inside track. Meet new partners. Enter a new market. Achieve a new level of influence. Pinpoint the right board member or executive."
RelSci accomplishes this through its proprietary software and a team of dedicated researchers and developers.
Although financial institutions are a key focus for RelSci, the company also populates its platform with decision-makers and organizations in the broader business community, law, politics, and the nonprofit sector.
"We have more than 9.8 million profiles of individuals and their organizations," according to the company. "We are not about connecting you to every person or organization in the world. Just the ones most important to you."
Graziosi highlighted some of the platform's considerations: if, when, or how long individuals have worked together; whether they served on boards or committees together; personal relationships, family relationships, and even picking out from the public domain the likelihood of people knowing each other.
"There are many different kinds of relationship types that we look for, and we capture all that data from public sources, Graziosi said. "And we build out the profiles of these 9.8 million individuals and 1.8 million organizations to establish: one, a dossier on these individuals; and two, calculate algorithmically the likelihood of people knowing each other."
For the finance industry in particular, RelSci's data helps clients use their relationship capital in competitive situations that require access to capital, an important deal, or key decision-makers.
The company states that, "Mutually beneficial relationships start with understanding. Our deep profiles help you understand what makes certain people tick – their experiences, affiliations, interests, and relationships – and, most importantly, how you can access them."
News Alerts Help Enrich the RelSci Experience so Users Can Gain Even More Value from the Data
As Graziosi puts it, "The other thing that people really love about our tool is getting a news digest every day of their network – people in their contacts. Let's say you're on my calendar and we've exchanged some emails. It starts to generate a score. There's a news item that's published. I would get an alert on that."
This unique feature launched in 2017 for RelSci's nonprofit clients and has since expanded to other client segments.
"The right prospect. The right opportunity. At exactly the right time. Never miss another opportunity to connect with your target prospects," the company says. "RelSci Reports delivers timely newsletters with actionable information on your target prospects and organizations based on your industry use case, location, and much more!"
RelSci's alerts include stories sourced from local, national, and international news sources, as well as industry and trade publications, business journals, database changes, and newswires.
The news digest alerts come with all premium tiers of the RelSci platform.
Raising Awareness About RelSci and Helping Potential Clients Understand the Value of Relationship Capital
From Graziosi's perspective, "It's shocking to me that not every company that's selling B2B has some software similar to ours that harnesses the relationship capital within the firm."
He pointed out that RelSci is working to get the word out to firms that could benefit from the company's extensive services.
"It's not expensive to get on the platform. As far as value, we had a client that launched one deal that paid for the service 10 times over, Graziosi said. "When people use RelSci, they get tremendous value."

When raising awareness about the platform, the RelSci team emphasizes how its technology is different than a workflow tool such as LinkedIn, as well as the importance of relationship capital.
For RelSci, "relationship capital is all the relationships within and between organizations. It's often an intangible element of your company's capital and notoriously difficult to measure, yet it is universally agreed to be critical to the success and growth of any venture."
Graziosi said there's a lot of untapped potential in people's contact lists and the connections that fan out from there, connecting people within finance and other industries.
"Every organization selling B2B should have something like this and the visibility that comes with it," he said.
Businesses or individuals interested in learning more about RelSci's services can send a request on the company's website.
According to RelSci's website, "The best way to understand the power of RelSci is to see it in action. Let us show you RelSci during a personalized in-person or virtual demonstration that will take 15 minutes."
For those who understand the value of business relationships and are looking for an extra edge to benefit from those relationships, RelSci's software may be just what they need.
Advertiser Disclosure
CardRates.com is a free online resource that offers valuable content and comparison services to users. To keep this resource 100% free, we receive compensation for referrals for many of the offers listed on the site. Along with key review factors, this compensation may impact how and where products appear across CardRates.com (including, for example, the order in which they appear). CardRates.com does not include the entire universe of available offers. Editorial opinions expressed on the site are strictly our own and are not provided, endorsed, or approved by advertisers.