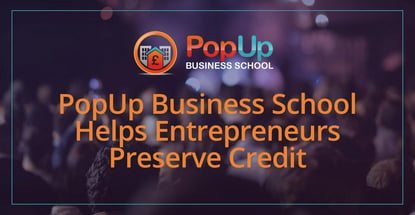 In a Nutshell: Maxing out a personal credit card to start a business may seem like a viable funding decision, but it typically just leads to debt, according to Alan Donegan, Co-Founder of PopUp Business School. The school's free online and in-person workshops have helped thousands of entrepreneurs gain the confidence and knowledge they need to grow ideas, sell products, and keep their cards in their pockets. PopUp Business School teaches participants to start with sales and then build out their business based on profits, not loans.
The hardest thing about running a business can be closing the sale. Alan Donegan has learned that during his career as an entrepreneur and as Co-Founder of PopUp Business School. The school is based in the UK and provides free in-person and virtual business training events that offer innovative entrepreneurship lessons.
Since 2012, PopUp Business School has helped thousands put their ideas in motion by giving entrepreneurs the knowledge they need to stop preparing and start selling.
Each year, PopUp Business School offers dozens of in-person and live online events in the UK, Commonwealth nations, and the U.S., among other global locations. In 2019, PopUp Business School helped nearly 3,000 event participants launch close to 1,000 businesses, and 33% of participants made a sale during the event they attended.

In 2020, the PopUp Business School team deftly converted many events into virtual live formats, and the school helped more than 2,400 individuals with practical business acumen.
According to Donegan, all courses and events aim to help people move on from the preparation phase and directly into sales. He also teaches entrepreneurs that they don't need a credit card or a business loan to start a business. The only thing they need is a customer who will buy what they're selling.
"Find people with problems, help them fix them, and then earn money for it," Donegan said. "That's just fundamental capitalism."
Helping Entrepreneurs Learn By Doing, Not By Asking
The impulse to spend upfront often leads entrepreneurs to put their credit on the line to start their businesses. That's a romantic notion, but typically counterproductive.
"They say to themselves, 'Before I sell something, I must have a perfectly designed website. I must have a logo in place. I must have all of this done and ready. Otherwise, don't talk to a customer,'" Donegan said. "I would say the exact opposite. Talk to a customer before you do anything else."
Donegan said he learned his philosophy the hard way by working with a public support agency in the UK that was so consumed with loans and planning that the experience put him off. He and Co-Founder and CEO Simon Paine started PopUp Business School to share that lesson with others.
Watch on
"The first time I sold a PopUp class, I went to the customer with the idea, but I hadn't written the course," Donegan said. "We tell people to speak to the customer first because, quite often, the customer wants something different. And at that moment, you have a choice between sticking with what you've spent money planning or selling what people actually want."
Entrepreneurs should be careful, though, because asking friends doesn't provide the same quality of feedback. The best way to determine customer preferences is to ask a prospect to buy a product.
"Don't ask them if they like it — ask them to buy," Donegan said. "That's the real mistake because the only moment of truth is when you ask someone to pull out their wallet and give you money. Up until that point, people will be nice to you, and that does not help you."
Partnerships Make Education Free and Available to All
PopUp Business School offers events for free thanks to sponsorships from economic development and housing agencies, philanthropic organizations, and corporations that have included Microsoft, Bluehost, and Betterment.
Those stakeholders have a community interest in leveraging PopUp Business School to teach skills that help people generate income while realizing their ambitions. When entrepreneurs learn PopUp Business School's product-first philosophy, they benefit their communities as well as themselves — and they keep their credit intact.
"We are trained to believe that it takes money to make money, and we need to go out and find money before we do anything," Donegan said. "But if you can add value to the world, the money will follow. The way to truly get wealthy is to improve the lives of other people through your product or your service or whatever you do."
PopUp Business School courses and online resources reinforce that philosophy by providing inspiration, practical help, and a supportive community. Many entrepreneurs first need to realize that anyone can start a business and make money doing what they love.
The school converted to a primarily online approach during the COVID19 pandemic. Donegan said he and the rest of his PopUp Business School team have gained important insights into how passion trumps presence and how to make onscreen appeals more productive.
"The key is video. When people can see your face, they can see your passion and energy," Donegan said. "It's your passion for your product that's going to sell it 100 times better than a piece of content."
Let Customers, Not Credit Cards, Build Your Business
Donegan said he has heard plenty of feedback on his sales-first strategy. And those experiences point away from the credit card startup strategy.
"One guy we met at the course didn't want to tell us what his idea was," he said. "Generally, I find that to be a bad sign. He's afraid that if he lets his idea out, it's so unique and special that someone's going to steal it."
The truth, however, is that new business ideas are quite rare. And when the individual finally spilled the beans, the idea — a dating website that rewarded women for signing up — was more mundane than Donegan imagined.
"He was continually plowing money into website development, but he was too scared to put it out there," Donegan said.
Another individual who attended a PopUp Business School event did things the right way. He launched a course to teach people how to create podcasts and then built from there.
"He sold it without having created any of the content, and then he had to stay a week in front of his customers as they took the course, which he managed to do," Donegan said. "If you think your idea is that special, build the web page to pitch it, put it out there, and see if people sign up."
The ultimate question entrepreneurs need to answer is whether they want to use their own money to build their business or use money from real customers.
"Quite often, we've found all entrepreneurs care about is getting the money first, when they should get the customers first, and the money will follow," Donegan said. "Use your customers' money. They don't charge you interest like a credit card does, and they want your product."
Advertiser Disclosure
CardRates.com is a free online resource that offers valuable content and comparison services to users. To keep this resource 100% free, we receive compensation for referrals for many of the offers listed on the site. Along with key review factors, this compensation may impact how and where products appear across CardRates.com (including, for example, the order in which they appear). CardRates.com does not include the entire universe of available offers. Editorial opinions expressed on the site are strictly our own and are not provided, endorsed, or approved by advertisers.