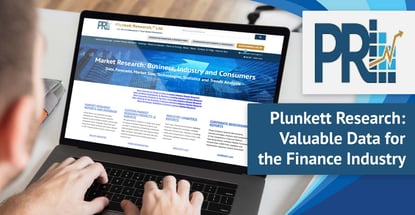 In a Nutshell: Companies come and go, but the most successful businesses stick around in part because they understand their customers and the industry within which they operate. The finance industry is particularly competitive, and Plunkett Research helps companies maintain their competitive edge by supplying vast amounts of detailed data about the market and its leaders. Plunkett Research provides an array of off-the-shelf online and print reports and analytics. It also specializes in customized reports with a fast turnaround. Armed with data from Plunkett Research, companies in the financial industry can be better positioned to become market leaders or maintain their leading positions.
Many successful businesses owe at least a portion of their profitability to their efforts in differentiating themselves in the market, meeting customer demands, and staying a step ahead of the competition.
And no, these businesses don't keep fortune tellers on staff.
But they do gain what may seem at times otherworldly insights by staying abreast of the latest industry trends through companies, such as Plunkett Research, that provide in-depth research, analysis, and stats.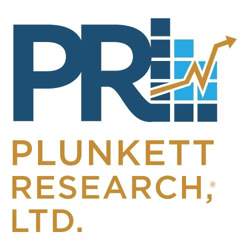 "We are a specialty market research company, very focused on understanding the trends that are changing in industries," said Jack Plunkett, CEO of Plunkett Research. "So we're very focused on trends analysis and on putting together unique interviews and surveys, either with consumers or with business executives."
Plunkett said his company — which has been in business since 1985 — excels at developing unique lists of business executives and drilling into surveys and interviews with them to get the insights the company's clients need.
"Plunkett Research, Ltd. is the leading provider of industry sector analysis and research, industry trends and industry statistics," according to the company website. "Our research reports and online subscription service are used by the world's top corporations, consultants, universities, libraries, and government agencies."
The company's client list includes many big names in the finance industry, such as Fidelity, Stifel, Barclay's, and Deutsche Bank, as well as household names like Motorola and Microsoft across a number of other industries. Plunkett Research's products can also be found in virtually every major university in the U.S. and Canada, according to the company.
With insights from Plunkett Research, companies are able to access competitive intelligence, market research, marketing data, and industry trends analysis with ease.
"We're a closely held, family-run company," Plunkett said. "We really run the company to take care of our clients and not to worry about that stakeholder return on investment. We really, really care about doing a great job. That's all we care about. And by the way, we make money in the process of doing a great job."
An Extensive Business Database Provides Valuable Data and Profiles of Public and Private Companies
"We run a bunch of really sophisticated databases and unique proprietary databases," Plunkett said. "When we started the company back in 1985, databases were dinosaurs compared to today. Database technology has come a long way."
And Plunkett Research has remained at the forefront of database developments as well as research tactics over the years, which is why the company's data is the go-to source for so many leading organizations.
Plunkett said the company's methods have changed dramatically over the years. Today Plunkett Research relies on a lot of custom algorithms and what Plunkett said many would call machine learning programs, although he makes sure a human element is present in the process.
"I'm a big believer that human filtering and human input is a big value add, so we are really very much on top of human supervision of our data," he said.
Plunkett Research's in-depth work within the banking, mortgage, and credit industry includes access to business statistics, industry trends analysis, top companies, benchmarks and forecasts, report builder, and data export tools.
With few exceptions, the banking and lending industry has rebounded to a much healthier condition after suffering intensely from the Great Recession that officially ended in 2009, along with the related financial meltdown that brought the world of banking into a state of crisis. Meanwhile, global financial regulators have steadfastly continued the struggle to improve banking reserves and oversight to the point that future meltdowns might be avoided. — Plunkett Research Industry Trends Analysis Preview
Companies can gain access to Plunkett Research's products through a number of avenues. On the company website, customers can choose from a selection of online subscriptions, Plunkett's Industry Analytics & Benchmark Reports, printed almanacs, ebooks for single or enterprise-wide use, and multiuser subscriptions.
Customized Market Research Projects with a Quick Turnaround for Clients
In addition to the in-depth, award-winning off-the-shelf research products available, customers can also order custom market research projects and surveys.
"We specialize in medium to large size, quick turnaround market research projects and surveys in industries, competing companies, technologies, market size, and opportunities," according to the Plunkett Research website. "Both domestic and global markets. We also identify prospects and building executive contact lists."
The company has team members located around the world in every major business and consumer region.
"Whether you need a survey of consumers in North America, or deep strategic analysis of competitors and market sizing in Europe, Asia/Pacific or around the globe, the Plunkett Team of experienced professionals will design and execute a project for you, almost anywhere in the world," according to the company.
The organization also includes customization options within its off-the-shelf products.
Plunkett offers a Build-a-Report tool that allows clients to create custom industry reports and summaries.
"With a few clicks of the mouse, you can create a custom Industry Guide or Executive Summary in PDF format. Access to this tool depends on the level of subscription," according to the website. "Subscribers to the Professional Editions and Enterprise/Library Editions of Plunkett Research Online have access to our fantastic Build-a-Report SM."
This means that those in the finance industry can really dig into the data that is most important to them, to give them a competitive edge and help them best serve their own customers.
Plunkett Research has been conducting customized research since 1998 and the clients who use these products include numerous Fortune Global 1,000 firms, venture-funded startups, and government agencies.
How the Finance Industry Leverages the Data Provided by Plunkett Research
Ultimately, no matter how much or how rich the data Plunkett Research provides to a company, it's up to the company to use the data to its benefit. And companies can leverage the data in a number of different ways, depending on their specific needs and goals.
One of Plunkett's product lines is the Industry Analytics Reports.
"The endpoint of creating these industry and analytics reports is to give that financial company benchmarks about that industry," Plunkett said.
He said this includes research that explores questions surrounding operating ratios, sales growth, the return on equity, and the amount of money invested in research and development within the industry. Overall clients can expect to see about 300 points on financial data, Plunkett said.
"We also give a revenue and profits history of that industry, and then we forecast revenues going forward seven years," he said.
For example, a major investment bank recently bought reports from the company on two different industries because the bank was helping a client make a merger and acquisition decision.
"They can either spend hundreds of hours doing this themselves, or they can buy our analytics report for $2,000 per industry," he said. "So, it's an easy choice to buy a report."
Plunkett said companies will also use the company's reports to benchmark its own firm. And he has seen businesses within the financial sector frequently cite Plunkett Research data in their annual reports.
Plunkett Research also spends a great deal of time exploring how it can leverage its diverse and rich data in as many different ways as possible, Plunkett said. He said one way the company achieves this is through distribution partners, such as Thomson Reuters (now Refinitiv), who resell its data and help the company reach a larger audience.
So, while companies within the finance industry may not be able to see the future, they can get a pretty good idea of what it may look like based on the abundance of data accessible through Plunkett Research.
Advertiser Disclosure
CardRates.com is a free online resource that offers valuable content and comparison services to users. To keep this resource 100% free, we receive compensation for referrals for many of the offers listed on the site. Along with key review factors, this compensation may impact how and where products appear across CardRates.com (including, for example, the order in which they appear). CardRates.com does not include the entire universe of available offers. Editorial opinions expressed on the site are strictly our own and are not provided, endorsed, or approved by advertisers.