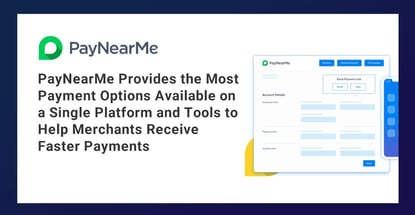 In a Nutshell: PayNearMe offers merchants and recurring billers a platform that accepts virtually every type of payment method within one interface. PayNearMe's software solution accepts cash, credit, debit, ACH, and mobile payments, while processing the transactions and offering a white-label dashboard that allows customers to seamlessly move between payment options each month.
A recent trip to the grocery store brought about an unexpected social experiment. As I stood in line to purchase my items, I watched as one customer paid her bill by writing a check. Two other customers swiped cards and another used his phone to pay for his food.
As I handed over cash for my items, it occurred to me just how many different payment methods a merchant has to juggle just to stay current in today's marketplace. When it comes to payments, it's not just about how many you accept, but how you accept them.
Every merchant knows the frustration of juggling multiple vendors and reconciliation files. PayNearMe knows that frustration, too.
PayNearMe is a payment solution provider that innovated in the market by enabling merchants to remotely accept cash payments from their customers at over 27,000 participating retail locations nationwide, including 7-Eleven. Over the past decade, clients have said they wanted more payment methods to be added to the platform. And the current version of the software is exactly what PayNearMe clients asked for.
"We're essentially the only payments platform in the industry that allows customers to pay in all of the tenders they'd expect to pay in," said Michael Kaplan, Chief Revenue Officer at PayNearMe. "That includes traditional credit, debit, and ACH, but also includes cash payments as well as a host of mobile payment options."
After building a clientele of more than 5,000 U.S.-based merchants and billers with its cash acceptance solution, PayNearMe added credit, debit, and ACH capabilities a little more than two years ago. Recently, the company expanded to add the popular Apple Pay program. Google Pay acceptance is coming soon.
"That was born from requests from several of the merchants we service," Kaplan said. "A lot of merchants, particularly in the lending market, pushed us to add more forms of payment because they enjoyed the convenience, reliability, and flexibility the platform offered both their business and customers."
Merchants can partner with PayNearMe to add the company's software capabilities to existing software systems. It also provides the merchant's customers with a clean interface where they can choose among a host of payment options to make one-time or recurring payments.
Customers can choose to pay with a debit card one month and Apple Pay the next. The power is in their hands — and with that ease of use typically comes faster payments for merchants.
"We work in a number of industries that traditionally send out recurring bills to a consumer," Kaplan said. "This can include lending, utilities, government entities, or property management."
But not all of PayNearMe's clients are recurring billers. One of the company's first customers was Greyhound Bus, which tapped into the software so that consumers could pay for bus fare with cash 24/7 at neighborhood retail locations.
Accept & Process Payments While Engaging Customers
Recurring payments come with their own unique challenges, such as customers forgetting when payments are due. Merchants can use PayNearMe's customer engagement engine to send reminders to customers that it's time to submit a payment.
"This allows merchants to send text reminders to consumers," Kaplan said. "A lot of people are going completely digital with their payments and this makes it easier and more convenient for the consumer to make a completely PCI-compliant payment with two clicks."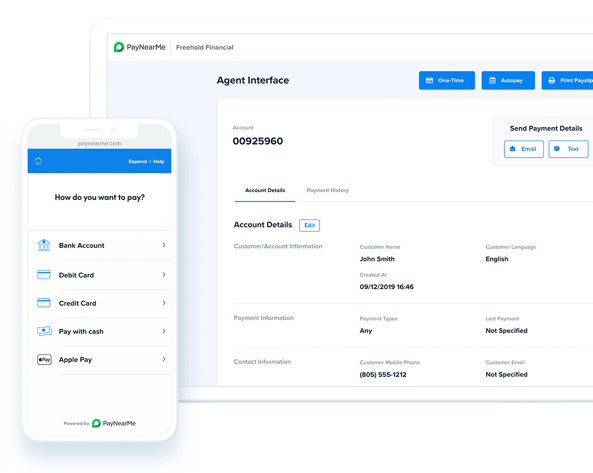 Billers can also direct the consumer to their payment interface, which functions on both mobile and desktop devices, so customers can make payments via the web, email, text message, phone, or in-person with cash at a nearby retail location.
And since the all-encompassing platform accepts and processes payments, billers don't have to deal with multiple vendors to receive payment or document income. That not only saves merchants time but also money and headaches when it comes time to reconcile monthly payments.
"We want to provide a platform that can address all of the ways people want to pay — including cash," Kaplan said. "Having all of that in one service is not only important to the consumer, but it's very important to the biller, who doesn't want to have to manage multiple payment vendors."
A Custom White-Label Solution for Billers
When customers access a company's dashboard to make a payment, they may never know that PayNearMe processes their money.
That's because PayNearMe provides a completely white-label solution that adds the merchant's branding to the interface to give the product an extra touch of professionalism.
"This is generally a white-label solution, but we like to control all of the payment flows," Kaplan said. "We can brand the interface for the biller, but we keep the layout and feel of the interface the same across the board."
So no matter how a customer chooses to pay, they will see a company's logo and branding during each step of the payment process. That never changes, even as a customer's payment behaviors evolve over time.
"We see a lot of consumers who want to pay in different ways each month," Kaplan said. "But no matter how you pay, the interface will always look and feel the same way."
And, since PayNearMe can tailor its solution to every biller's needs, they won't have to worry about unnecessary features or options that they — or their customers — will never use. As part of the seamless onboarding process, PayNearMe examines the needs of each business and makes suggestions based on the available technology.
"We're very proud that we've built this as a platform that allows the biller to integrate it in a way that makes the most sense for their business," Kaplan said. "It's highly customizable to the client. In many ways, the sky's the limit as far as the ways we can roll out a solution."
And with that flexibility comes new opportunities. While PayNearMe is already a wildly popular choice for recurring billers, the company is gaining traction in other marketplaces as well.
"One market that we've gone heavily into, from the cash side, is the gaming market," Kaplan said. "That includes online sports betting and casino spaces."
PayNearMe is also expanding into the mortgage and credit union space, with new products and features planned to meet the needs of those unique industries.
PayNearMe: A Software Company Innovating Payments
PayNearMe has grown in both size and reputation over the years, thanks to its expertise in both payments and software technology.
"There are a lot of payment companies trying to develop technology, but their main expertise is payments," Kaplan said. "We're a software company that happens to be in the payment space. Our DNA is around the development of software that solves problems."
Among those problems is the need for some billers to not only accept money but also send it. This may happen if a merchant needs to send a refund or if a lender needs to send funds to fulfill a loan. PayNearMe's software can handle that too.
With the company's growing card disbursement product, a merchant can send funds directly to a consumer's linked debit card without the need to send a check or have the customer visit their location in person.
"We continue to build features and functions that our billers want to leverage to make it easier for their customers to pay," Kaplan said. "We focus most of our time and energy on figuring out new ways to make it easy for a consumer to pay their biller."

As I observed different customers using various forms of payments for their groceries, I figured there must be many vendors behind the scenes collecting fees and complicating things from a paperwork perspective.
It turns out that, with the right vendor, businesses can handle all the payments they need to with minimal fees and nearly no friction at all.
"Payments have evolved," Kaplan said. "Everyone used to write checks, but that's changed over time. As checks and money orders became antiquated, people moved to ACH, and then to debit cards, and now people want to pay with their phones.
"But it's not just about if you accept mobile payments, but how you accept them. Customers expect you to work with their phone and their operating system. There's so much to deal with out there. That's why we're here."
Advertiser Disclosure
CardRates.com is a free online resource that offers valuable content and comparison services to users. To keep this resource 100% free, we receive compensation for referrals for many of the offers listed on the site. Along with key review factors, this compensation may impact how and where products appear across CardRates.com (including, for example, the order in which they appear). CardRates.com does not include the entire universe of available offers. Editorial opinions expressed on the site are strictly our own and are not provided, endorsed, or approved by advertisers.