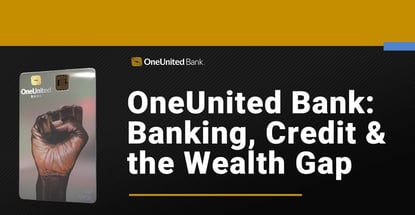 In a Nutshell: Racial inequality is evident in the U.S. not only in the power structures in place, but in the racial wealth gap. OneUnited Bank takes on these inequities by offering affordable financial products and services aimed at members of the Black community. From its BankBlack Checking Account to the Solidarity Card, OneUnited Bank is leveraging technology and expertise to empower the Black community through the world of finance. Financial literacy is also a key element to the bank's strategy. It provides a wealth of resources, from seminars and workshops to a financial education center on its website.
In case it was not already very clear, events in recent years have further underscored just how much racial inequality still exists in the U.S. This comes as no surprise to millions of Black people across the country. But thanks to the internet, smartphones, and social media, some other people are seeing the flaws in the fabric of our society for the first time.
OneUnited Bank — the nation's largest Black-owned bank — is addressing these longstanding problems head-on by leveraging technology, banking products, and education to improve the lives of people in the Black community.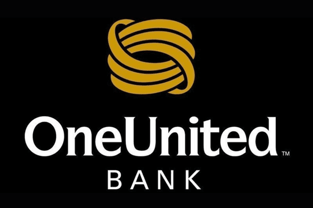 "The concept for the bank actually originated right at the end of slavery," OneUnited Bank CEO Kevin Cohee said. "There were a number of initiatives. One was called the Niagara Movement. And that was when a bunch of Black intellectuals of the time — people like W.E.B. DuBois — came together and talked about what was needed for Black Americans to successfully integrate into this society."
Cohee explained that although slavery came to an end, Black people weren't provided any kind of education or money to help them find their way in the U.S.
"In fact, what we were met with was a series of laws designed to deprive of us economic opportunity, amongst other things," he said. "People think of banks as a place where you deposit money and get loans. Black Americans have long seen banks as much more than that."
Cohee said Black people see banks as a way to garner the economic spending power of Black people, and to channel that money back into the Black community for the good of the community.
"Martin Luther King, in his 'I Have a Dream' speech, literally talked about the importance of Black-owned banks and the role that they could play in making Black Americans more effectively integrate into American society from a political, social, and economic standpoint," Cohee said.
These important ideas formed the basis of OneUnited Bank. The institution's roots date back 50 years to the Unity Bank and Trust in Boston. OneUnited Bank, as it is known today, was established by combining this and a number of other Black-owned banks across the country.
Focusing on Improving Lives in the Black Community
OneUnited Bank maintains six branches around the country in Los Angeles, Miami, and Boston.
Cohee said the institution is primarily an online bank, so its membership is not limited to any particular geographic area.
"OneUnited Bank is very much a fintech in that 90% of our customers are coming from online," he said. "About a decade ago, we realized that our business model was going to have to change, and that we were going to have to put together the technology to be able to effectively serve people who don't want to go into bank branches, is what it comes down to."
With this tech-oriented approach and mission focused on the Black community, OneUnited Bank has worked to enrich the lives of its members financially and otherwise.
"Black buying power in America today is over $1.2 trillion dollars," according to the bank. "When focused on improving our neighborhoods and supporting Black-owned businesses that are more likely to hire Black people, those dollars become a powerful force. We want you to stand up and represent."
By participating in BankBlack® and #BuyBlack movements, people can demonstrate the economic power of the Black community, according to OneUnited Bank.
"We are committed to serving the needs of urban communities that are more diverse today than any time in history," according to the bank. "We are young and old, multiethnic, multiracial, immigrants and families who have been here for generations and nonprofits and businesses. In other words, the new America!"
OneUnited Bank demonstrates its commitment in a variety of ways, including offering affordable financial services for all, treating all customers with respect and dignity, and providing financial literacy resources.
Addressing Wealth Inequity via Banking Services, Credit Cards, and Home Loans
Cohee said a huge part of OneUnited Bank's mission is to close the racial wealth gap. The bank works toward this goal through education but also through the financial products and services it offers.
One of the most powerful and visually striking products is the bank's recently launched Solidarity Card. Proudly adorned with a clenched Black fist, the card is geared toward tech-savvy customers who are effectively managing their cash flow, Cohee explained.
"As the largest Black-owned bank in the country, OneUnited Bank introduces our first vertically designed card with a Black power fist to make a statement that we have come together in Solidarity!" according to the bank. "To honor the growth of the movement, we offer the Solidarity Visa Debit Card with powerful features for you, such as BankBlack Early Pay, so you can get paid up to 2 days early, and AutoSave to automatically save your change."
The bank also offers a secured credit card to help customers establish or rebuild their credit.
"More than just another credit card. With the UNITY Visa® Secured Card you get reporting to the 3 major credit bureaus, the How to Rebuild Credit Program, and so much more," according to the institution. "If you are looking for a tool to help you rebuild or strengthen your credit, the UNITY Visa Secured Card is a great place to start."
OneUnited Bank also provides BankBlack Checking, which comes with a Tap to Pay Visa debit card, no fee with a monthly direct deposit and 10 card purchase transactions, and free mobile banking.
The institution also specializes in mortgages for customers in certain regions.
"OneUnited Bank offers some of the best mortgage loan programs for residential and commercial property in the Boston, Los Angeles, and Miami areas," according to the bank website. "We offer single family residential loans, multifamily real estate loans, and commercial real estate loans with great rates, quick and convenient service, and customer-friendly loan consultants."
Prioritizing Financial Education
In addition to addressing the racial wealth with its products and services, OneUnited Bank strives to provide financial literacy resources to its customers and the Black community, in general.
The institution demonstrates this in a variety of ways, including workshops and events such as, "BankBlackMiami, Smart Money Summer School Workshops, the OneUnited Mural Project, and the Money on My Mind symposium in conjunction with the African American Film Critics Association.
OneUnited Bank also maintains a financial literacy blog that helps educate customers on topics that range from basic budgeting skills to cryptocurrency. It also highlights important financial news, including the latest developments around stimulus payments.
Watch on
Conferences, such as the free virtual OneTransaction conference that features an array of voices from the Black community, also help spread financial awareness among bank customers.
And the OneUnited Bank Financial Education Center consists of a variety of playlists customers can access and listen to at any time.
"We believe you have the ability to grow, strengthen, and financially empower yourself and your community," according to the bank. "These playlists will help you gain the critical knowledge and skills you need to make the financial decisions that are best for you."
Ultimately, OneUnited Bank delivers valuable financial products and services to Black consumers to empower them and demonstrate the spending power of the Black community.
"Together, we can close the racial wealth gap," according to the bank. "We can galvanize our community to share critically needed information and make financial literacy a core value of the Black community. Join the movement. BankBlack®."
Advertiser Disclosure
CardRates.com is a free online resource that offers valuable content and comparison services to users. To keep this resource 100% free, we receive compensation for referrals for many of the offers listed on the site. Along with key review factors, this compensation may impact how and where products appear across CardRates.com (including, for example, the order in which they appear). CardRates.com does not include the entire universe of available offers. Editorial opinions expressed on the site are strictly our own and are not provided, endorsed, or approved by advertisers.