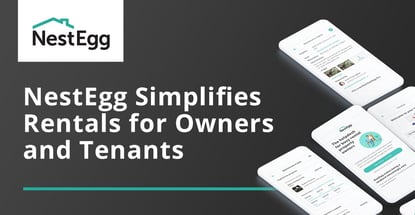 In a Nutshell: More than 12 million independent property owners often struggle to manage their small rental properties and tenant relationships. NestEgg launched in 2017 to improve those relationships with tech and credit tools that stimulate growth for landlords and increase flexibility for tenants. NestEgg allows property owners to automate maintenance, leasing, collection, and payments so they manage their operations more efficiently. Its robust payment features also increase security and convenience for renters.
In 2017, Eachan Fletcher and his wife managed a handful of rental units. They were struck by how difficult it was to grow their investment portfolio while dealing with the properties they already owned.
Fletcher had a tech and product background which included stints at travel platforms Expedia and Hotwire. So, he was in a prime position to take a high-level look at the challenges in the property management industry.
His findings inspired NestEgg, the first end-to-end automation platform aimed at small rental portfolio owners. The platform helps landlords improve cash flow, coordinate maintenance, and even retain credit-qualified tenants with less effort.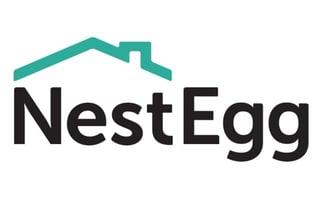 Those efficiencies add up because NestEgg puts more cash at property owners' disposal. That can help owners purchase their next units earlier and grow their businesses faster.
"Something like 90% of single-family rental homes are owned by mom-and-pops like we were," said Fletcher, who also serves as NestEgg CEO. "There weren't a lot of good infrastructure tools for managing all the issues that go with that."
Large institutional property investors who own the high rises and high-end homes often work with teams of people who manage all the details on enterprise platforms.
NestEgg is there for the smaller investor when the phone rings at 2 a.m. because a tenant's toilet is overflowing.
And NestEgg looks at the market and adds features in response to trends and user feedback. Since 2017, the company has grown into an indispensable solution for owners around the U.S.
"It shows that landlords need the type of help we can deliver," Fletcher said.
Flexible Payment Options Reduce Operational Overhead
NestEgg's maintenance marketplace was the first prominent feature Fletcher and his team wanted to bring to market. The middle-of-the-night broken toilet scenario is precisely the use case it was created to address.
"When we looked at the existing market, we saw a lot of companies doing the easy online things — rent payments at a basic level, tenant background checks, e-signing leases — that sort of stuff," Fletcher said. "But as soon as you have a leak under a sink or a key snaps off in a lock, those platforms disappear."
NestEgg's maintenance marketplace deals with the unexpected in an on-demand way. It effectively provides owners with a 24/7 maintenance crew that dispatches with a single click.
Watch on
"You only pay for what you use, and only when you need it," Fletcher said. "It's a little bit like Uber for plumbers, you could say."
Tenants simply photograph their problems and upload them to the platform for automatic diagnosis based on the picture and a few questions.
"We figure out what's wrong, what it's going to cost to fix it, and who we need to send out," Fletcher said.
By using another innovation known as NestEgg Pay, owners can choose to pay the resulting bills — and any other expenses — over time, with no interest charged and no credit check required.
"That can help a ton," Fletcher said. "Because if you have a month where you've got to renew your insurance and one or two little maintenance issues pop up, that can wipe you out."
Secure Online Rent Collection Caters to Tenant Needs
NestEgg Pay also preempts owners from dipping into their personal credit to keep things moving. NestEgg's automated rent collection platform guarantees landlords get paid on the first of every month regardless of when the tenant pays, which helps cashf low become more predictable. Its payment environment is also more flexible for tenants.
Fletcher and his team realized they could either add an easy online solution for rent collection or address the systemic challenges holding back capital accumulation for small investors.
"We decided to build a set of financial services for landlords that allows them to unlock more of the income from their properties earlier. They can use that to reach their next down payment earlier and then bring on that next unit sooner," Fletcher said.
The problem was that lease contracts have traditionally tied landlords and tenants to a unitary schedule and payment method. However, the two groups tend to have quite different personal financial circumstances.
Landlords need rent by the first of the month because they have loans and other expenses to pay. But tenants, particularly those living paycheck-to-paycheck or whose incomes vary from month to month, may occasionally have issues paying rent on time.
That's why NestEgg decouples the timing of the landlord payments from when and how tenants pay.
"When you as a landlord sign up for NestEgg and put your properties on our platform, we instantly give you all the money due to you in rent at the beginning of each month," Fletcher said. "And then we take care of automating collection from your tenants on a schedule that works for them."
That's a game-changer for landlords because it gives them money earlier and allows them to get to that next deposit sooner. It also benefits tenants because it simplifies paying in installments, or even splitting payments between cash and credit.
NestEgg Eases Processes for Owners and Renters
Another valuable feature NestEgg offers small landlords is its leasing service. NestEgg helps market properties and screen applicants for background, credit status, and income. It builds a lease that's compliant with all local laws and includes any terms the landlord adds. If the tenant breaks the lease for any reason during the first year, NestEgg will find a new tenant for free.
"In conjunction with NestEgg Pay, that means when you fill a unit through NestEgg, you're making income from the first day the tenant moves in," Fletcher said. "By getting you income now and pushing out your expenses, that is going to help get you to that level of financial independence and continue to grow."
It also helps retain qualified and desirable tenants because the flexibility works both ways.
"If you allow tenants to structure how and when they pay you, so it aligns with how they earn their income, then they are much more likely to stay on top of the rent," Fletcher said. "Plus, you stay on good terms. Who wants to have an adversarial relationship with a tenant?"
NestEgg isn't done innovating in the industry. Now, the team is looking at tools to help tenants build stronger credit histories so they can eventually purchase homes of their own.
And for landlords, NestEgg is exploring ways to extend its cash flow methodology over an entire year, not just a month.
"By continually giving people access to more of their future income and keeping all the expenses in the future, they don't have to save for that," Fletcher said. "That creates a virtuous cycle that makes that next unit closer and closer every time you go around."
Advertiser Disclosure
CardRates.com is a free online resource that offers valuable content and comparison services to users. To keep this resource 100% free, we receive compensation for referrals for many of the offers listed on the site. Along with key review factors, this compensation may impact how and where products appear across CardRates.com (including, for example, the order in which they appear). CardRates.com does not include the entire universe of available offers. Editorial opinions expressed on the site are strictly our own and are not provided, endorsed, or approved by advertisers.