In a Nutshell: Credit cards open up a world of financial possibilities to cardholders. But using credit cards wisely is only one component of a healthy financial plan. Preparing for the future is key, and investing is an important part of a well-rounded strategy. We recently spoke with Maverick Trading CEO Darren Fischer about the importance of understanding investments and how Maverick Trading operates. The company hires and trains its own traders through in-house educational programs that ensure they are ready to employ Maverick's trading strategy in the real world. It also emphasizes continuing education so traders can keep their fingers on the pulse of the market.
It should come as no surprise that we are committed credit card enthusiasts here at CardRates. Credit cards empower consumers by allowing them to make large purchases and pay them off over time. And with the credit card points and rewards available these days, savvy consumers can get more value from their plastic than ever before.
But any good financial strategist understands the importance of planning for the future and using credit cards responsibly. Nobody wants to face down an unexpected expense with no other tools besides a credit card.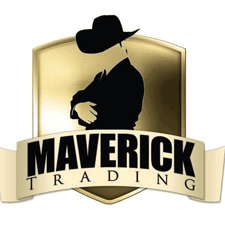 In fact, about 40% of Americans in 2018 would not be able to cover a $400 emergency expense without going into debt, according to the Federal Reserve. The COVID-19 pandemic has cost millions of U.S. residents their jobs or significant reductions in income — not to mention a general uncertainty about the future of the U.S. economy.
That's why saving and investing are key components to financial well-being, perhaps now more than ever.
To learn more about the benefits of investing as part of a successful financial plan, we turned to Maverick Trading and the company's CEO Darren Fischer. Fischer discussed the importance of successful investment strategies as well as Maverick Trading's innovative approach to onboarding new traders.
The company employs traders all over the country, allowing them to tap into Maverick Trading's capital while keeping most of the profits. Maverick Trading trains and certifies its traders through its own in-house curriculum, preparing them to become experts in the market.
The Importance of Building an Investment Strategy
Fischer stressed how important it is for people to learn at least the basics of trading. And the earlier in life that takes place the better.
"If I could mandate that a curriculum similar to Maverick's be a high school graduation requirement, I would," the CEO said. "Even if someone doesn't have the disposition to actively trade and manage their personal portfolios, knowing how the markets work, how to manage risk, and how to allocate capital early on in life provides a valuable foundation for financial success later in life."
He said that he anticipates late-life debt to become a bigger concern for many individuals over the next 20 years.
"The time to fix it is, of course, early on. But sometimes that's just not an option," Fischer said. "If you find yourself in debt late in life, the best time to fix it is now. I think you have to look at it holistically."
It's important for people in these kinds of situations not to become apoplectic, he said. People should devise a plan and structure their finances in such a way that they can tackle their debt piece by piece in an effort to regain firm financial footing.
For those interested in taking a deep dive into how they can enact their own trading plan, Maverick Trading outlines its own strategies in the book "Maverick Trading: Professional Techniques to Create Generational Wealth." The book, co-authored by Fischer, Jon Frohlich, and Robb Reinhold, brings professional trading strategy to the average person.
"Wall Street's dirty secret is out — you don't need a professional to manage your money, and you can beat the market on a consistent basis," according to the book description. "All that's required are three things: personal dedication, a sound risk management strategy, and the trading system outlined in this book."
Traders Can Take it to the Next Level by Applying to Work with Maverick Trading
Maverick Trading specializes in training and onboarding their own traders. This approach not only ensures that Maverick maintains high-quality traders but it also gives market-savvy folks a path to entering the trading industry.
Traders hired by Maverick gain access to the company's capital with which they can trade using Maverick's investment strategies. Traders get to keep 70% to 80% of the profits and get paid monthly, according to the company.
"People come to Maverick for a variety of reasons," Fischer said. "I would say the predominant reason is the opportunity to trade the firm's capital. On top of that, we provide an in-depth and detailed Qualification Program to our traders with a structured coaching component as well."
Maverick Trading emphasizes continuing education as well with initiatives including Weekly Trading Room webinars and Mid-Week Updates to keep traders' fingers on the pulse of the markets, Fischer said.
This allows them to adjust their outlook and strategy as the market changes.
"In short, we offer the opportunity to trade larger amounts of capital remotely, but not alone," he said.
The company not only prioritizes delivering quality training but it also makes sure its traders are satisfied and able to perform their job.
"Maverick Trading is 100% committed to provide its community of traders with all of the support, technology, training and service that they need to become the best traders possible. We know that Maverick Trading's success ultimately depends on our trader's success." — Maverick Trading Mission Statement
That also means listening to its traders for ways to improve.
"Along with a detailed curriculum, we offer our traders a structured coaching program, so our coaching and support staff has the ability to collect feedback on a daily basis," Fischer said. "This occurs not only during the firm's Qualification Program, but carries on into live trading as well. The feedback has been overwhelmingly positive."
An Innovative Trading Company that has Evolved to Meet Today's Market
Maverick Trading goes back more than 20 years, but it takes full advantage of the technology available to modern traders.
"Maverick Trading was started in 1997," Fischer said. "It started as a result of demand from day traders in the late 1990s. As the markets and appetites of the traders have changed, Maverick Trading has changed alongside."
The company now has two divisions. Its Stock/Options Division concentrates on swing and position trading U.S. equities and their derivatives. And its FX Division focuses on shorter time frames and trades the eight major currencies, Fischer said.
"At Maverick Trading, our staff members hail from all areas of the trading and investing world and have years of experience in the markets," according to the company. "Their goal is to assist Maverick's traders in achieving the highest profits possible while controlling risk."
The best thing about Maverick is that every staff member is an active trader trading the markets side by side with other company traders, according to the Maverick Trading website.
Fischer said one of the company's most exciting recent announcements is its partnership with the nonprofit Wall Street Bound to assist with its Diverse Trader Training Program.
"In this program, well-qualified minority candidates are given the opportunity to complete the firm's Qualification Program at no cost to them and are then given the further opportunity to trade the firm's capital to develop a verified track record in live trading that they can then take to potential employers," Fischer said.
The idea behind the program is that, if a firm has two equally qualified candidates, but one has connections to the industry and the other has a track record, rather than defaulting to the candidate with connections, the business calculus becomes such that it is a less risky decision to take on the candidate with a verified track record, Fischer said.
Advertiser Disclosure
CardRates.com is a free online resource that offers valuable content and comparison services to users. To keep this resource 100% free, we receive compensation for referrals for many of the offers listed on the site. Along with key review factors, this compensation may impact how and where products appear across CardRates.com (including, for example, the order in which they appear). CardRates.com does not include the entire universe of available offers. Editorial opinions expressed on the site are strictly our own and are not provided, endorsed, or approved by advertisers.