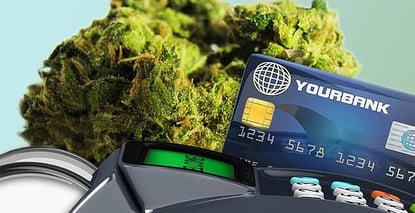 If Colorado thought the legalization of marijuana was the end of a fiery debate with the government, it is sorely mistaken.
Financial institutions are becoming increasingly uncomfortable with the pot business as multiple marijuana dispensaries have turned to credit and debit cards for sales in Denver. The biggest issue being federal regulators consider these transactions illegal.
The Treasury Department and Justice Department have issued statements assuring banks they won't into conflict with federal law if they work with dispensaries in states where marijuana is legal. However, lenders say these guidelines are not secure and give no guarantee that banks won't face legal consequences.
The chief obstacle for marijuana is it is classified as a schedule 1 drug by the Controlled Substances Act, along with heroin and LSD, meaning it can only be controlled by federal oversight.
But in Colorado, marijuana was legalized for recreational use in 2012, causing state law to come into an unresolved conflict with federal law.
Business owners begin taking credit cards
Fox31 Denver investigated the situation recently and discovered 27 of the 78 state-licensed dispensaries they polled have started accepting Visa or MasterCard credit cards as payment, while 10 others will accept bank-issued debit cards.
Because the sale of marijuana is illegal according to federal law, dispensaries are making an effort to use financial tricks to hide from the federal government. They are essentially setting up their own generic groups or hiring entities that sound harmless so that when credit is run through, the bank statement seems normal.
The investigation found on receipts and in credit card history, there were no signs of cannabis transaction. For example, they bought marijuana products at the Ball Park Holistic Dispensary in Denver, but the credit card receipt said "Indoor Garden Products."
There are two distinct sides here, with the largest and most powerful opposition coming from the federal government and other unsupporting entities like credit card companies. It has made using credit for marijuana purchase illegal for a reason, so even MasterCard and Visa are telling customers they want banks to monitor for illegal activities, according to Fox31 Denver.
Barbara Walker, executive director of the Independent Bankers of Colorado, told Fox31 the third-party entities providing the credit card services to marijuana dispensaries are willing to help because they get high fees, but the issue is they are still taking substantial risk by doing so.
On the other side of the fire are marijuana users, dispensary workers and owners, as well as other cannabis-supportive organizations.
One argument for the continuation of this payment method is convenience. Carrying around one card is easier than having to lug cash around and risk losing it. Fox31 spoke to a group of marijuana users at iBake Denver, who all said they wished more places accepted cards for their personal ease and to help the growing industry.
Marijuana dispensaries have limited access to financial institutions
Paul Armentano, Deputy Director of the National Organization for the Reform of Marijuana Laws (NORML), provides another angle to the argument regarding the use of credit cards in marijuana purchases by emphasizing that companies need access to banking and other financial entities in order to succeed.
"No industry — be it the production and sale or marijuana or the production and sale of widgets — can operate safely, transparently or effectively without access to banks or other financial institutions," Armentano said. "While it is encouraging to see that a small but growing number of financial operators are beginning to provide necessary services to those engaged in state-compliant cannabis commerce, it is self-evident that this industry will remain severely hampered without better access to credit and financing."
"No industry — be it the production and sale or marijuana or the production and sale of widgets — can operate safely, transparently or effectively without access to banks or other financial institutions."
Other marijuana advocates, according to Fox31 Denver, further stressed the issue of financial safety that Armentano mentioned. A lot of owners are putting their cash in various bank accounts because there is no where else to put it, not to mention the collection of cash is not beneficial for regulators or the police.
"You don't want just huge amounts of cash in these places," U.S. Attorney General Eric Holder said during an appearance at the University of Virginia. "They want to be able to use the banking system. There's a public safety component to this. Substantial amounts of cash, just kind of lying around with no place for it to be appropriately deposited, is something that would worry me, just from a law enforcement perspective."
Arguments aside, it's still unclear how the federal government will respond. Federal law considers these transactions illegal, but several attorneys told Fox31 Denver the legal risks to customers were extremely low.
Technically, if a bank was able to tie a transaction to an illegal sale, they would be able to suspend use of the card that was involved. However, it's still unclear whether this will happen, considering the way dispensaries can hide their credit card transactions with the help of third-party entities.
Looking to open a new credit card yourself? Check out our hand-picked selection of 2015's best.
Photo credit: marijuanacreditcardprocessing.com, kdvr.com, cato-unbound.org
Advertiser Disclosure
CardRates.com is a free online resource that offers valuable content and comparison services to users. To keep this resource 100% free, we receive compensation for referrals for many of the offers listed on the site. Along with key review factors, this compensation may impact how and where products appear across CardRates.com (including, for example, the order in which they appear). CardRates.com does not include the entire universe of available offers. Editorial opinions expressed on the site are strictly our own and are not provided, endorsed, or approved by advertisers.