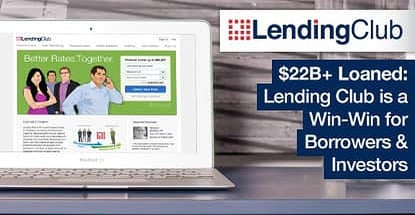 In a Nutshell: The internet has changed a lot of things; you can order pizza with a computer, shop for shoes on a tablet, and stream TV to a phone. You can also take out a personal loan — or invest in one — without the hassle and anxiety of dealing with Big Bank by using peer-to-peer giant, Lending Club. Offering competitive interest rates as low as 6% to qualified borrowers, while providing historical annual returns between 5% and 7% for investors, Lending Club is a win-win, providing a platform to make a change in your life — or the life of someone in need. //
Many moons ago, when I was but a teenager, I had my heart set on a brand new computer. It was a top-of-the-line PC, boasting a full 256K of RAM and a giant 10 GB hard drive. Unfortunately, it would have taken me months to save up my chore-based income to purchase that sweet machine.
So, what did I do? Well, I leveraged my personal credit history with every member of my immediate family to borrow the funds I needed. It took a lot of phone calls — and a number of heated negotiations — but I finally secured financing, and at a rate I could pay back on my do-the-dishes salary.
Hence, peer-to-peer lending was born.
Alright, so I didn't actually invent peer-to-peer lending — especially not the modern online iteration. The first internet-based platform for connecting borrowers and investors was actually founded in the United Kingdom in 2005, and the first U.S. companies were right on their heels in 2006.
One of those pioneers was Lending Club, who has been one of the top peer-to-peer lenders — also known as marketplace lenders — in the world for almost a decade.
"We've been around for nearly ten years," agreed Avia Kay, VP of Borrower Marketing for Lending Club. "Our online credit marketplace is backed by years of experience analyzing data and fine-tuning the underwriting model that powers our platform."
Their process is certainly effective. Lending Club has helped borrowers and investors make over $20 billion in loans to date, with competitive rates and solid investment returns making peer-to-peer a win-win for everyone.
Get Financing — Or Refinancing — With Up-Front Rates and No Hidden Fees
When it comes to getting a loan, whether it's to refinance an auto loan or pay off your credit cards, dealing with the banks can be tough.
That's where peer-to-peer lending comes in. Lending Club helps creditworthy borrowers get access to credit without charging you an arm and a leg in interest or fees. "We offer very competitive interest rates with APRs as low as 6%," said Avia.
Loan terms are offered in three- and five-year periods, but you can pay them back sooner without worrying about it costing extra. "We don't have any hidden fees," Avia explained. "That includes prepayment fees. If someone wants to pay off their loan early — they can."
With a wide network of investors providing the capital, Lending Club can help a broader range of borrowers across the credit spectrum than traditional financial institutions. Of course, as with anything else in finance, a higher credit score is always better.
Applying for a loan through Lending Club is quick and easy, and can be completed entirely online through the Lending Club website. You'll start by filling out an online survey covering the basics and get to your offers almost right away. A few more verification steps, and you can have $1,000-$40,000 in about seven days.
In addition to traditional personal loans, borrowers can also apply for auto refinancing loans, business loans, and elective medical procedure financing. More than half of Lending Club borrowers are looking to pay off or refinance existing debt with a lower-interest Lending Club loan, but other users have financed home improvement projects, large purchases, relocation, and even vacations — items that can be challenging to get funding for through a bank.
"Many borrowers choose Lending Club because it offers a lower interest rate and less hassle than traditional financing options."
Help Change a Life (While Growing Your Own Portfolio)
Of course, the borrowers only put one "peer" in "peer-to-peer lending." The other comes from Lending Club's investing platform. "For investors, we have an individual retail product," explained Avia, "where anyone can join and invest in Lending Club loans."
And "anyone" is about right. With as little as $25, investors can start investing in Lending Club loans — and their borrowers. "I think it's the coolest thing about Lending Club," said Avia. "Previously, consumer credit was an asset class that was only available for institutional investors to invest in, and now, with Lending Club, someone like you and me can invest in this asset class — all while helping someone who needs a loan."
Each $25 purchases a Lending Club Note, which represents a small portion of an individual loan. As the borrower makes their monthly loan payments, investors receive monthly payments on their principal and interest, with amounts dependent on their rate of return, and minus the small 1% fee charged by Lending Club.
The rate of return investors receive is based on the Grade of the loan, which is determined by various factors such as the credit score and income of the borrower. Loan Grades range from Grade A (lower-risk borrowers) to Grade G (higher-risk borrowers), with interest rates and return rates being lowest for Grade A borrowers and increasing with the risk of the loan.
Just as with any type of investing, the riskiest loans can make — and lose — the most money. Inherent risks are a reality in any type of investing, even investing in loans through Lending Club — including the potential default of the borrowers and loss of your principal investment. Just like any type of investing, it's important to have a diversified portfolio.
"By investing in at least 100 different Notes of relatively equal size, you are able to diversify your portfolio, and 99% of investors who invest in the 100+ Notes of relatively equal size through Lending Club's platform have seen positive returns."
Making a Difference, Peer-to-Peer
If there's one thing my childhood venture into "peer-to-peer lending" had in common with the real modern version, it's that my investors got to help someone. Thousands of people are making their lives better with the funding provided by the investors at Lending Club, and Lending Club investors also get to reap the benefits of solid returns on their investments.

That said, while I'm grateful to the family members who took the risk of loaning to a questionable candidate, I know I got the better part of the deal. I did pay everyone back — eventually — but, they certainly didn't see any return on their investment. They definitely didn't get the median 5.5% return seen by Lending Club investors.
"We operate at a lower cost than traditional bank lending programs and pass the savings on to borrowers, in the form of lower rates, and to investors, in the form of solid returns." Truly, win-win.
Advertiser Disclosure
CardRates.com is a free online resource that offers valuable content and comparison services to users. To keep this resource 100% free, we receive compensation for referrals for many of the offers listed on the site. Along with key review factors, this compensation may impact how and where products appear across CardRates.com (including, for example, the order in which they appear). CardRates.com does not include the entire universe of available offers. Editorial opinions expressed on the site are strictly our own and are not provided, endorsed, or approved by advertisers.