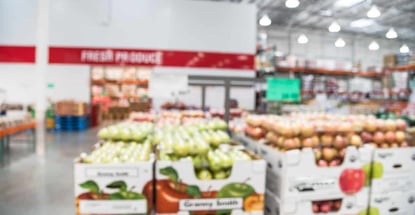 At a time when grocery prices are still increasing, consumers looking to save money will head to warehouse chains like Sam's Club to find lower prices than they would at a traditional grocery store. 
If you already shop at Sam's Club, you know all about these savings — but did you know that using the right credit card can save you even more money? Read below to learn about the best credit cards to use at Sam's Club, how to sign up, and which one to choose.
Best Cards to Use at Sam's Club
Several credit card issuers offer rewards such as cash back or points for eligible purchases made at warehouse clubs. Here are the best rewards cards to use at Sam's Club.
Best for Sam's Club Plus Members:
If you're a Sam's Plus member, the Sam's Club® Mastercard®, issued by Synchrony Bank, offers extra cash back on Sam's Club purchases. You will also get generous cash back at EV charging stations, Sam's Club gas stations, and eligible gas stations worldwide.
Best for Preferred Rewards Members:
The Bank of America® Customized Cash Rewards credit card includes warehouse clubs like Sam's in one of its top-earning categories. There is no annual fee and no expiration date for rewards. Bank of America Preferred Rewards members could earn up to 75% more cash back on their Sam's Club purchases.
Best for First-Year Rewards:
The Chase Freedom Unlimited® ranks highly for its welcome rates in your first year of card ownership. But the card offers such great rewards thereafter without charging an annual fee that you may just decide it's a long-term keeper. We regularly rate this Chase offering as one of the top cash back cards.
Best for Curbside Pickup:
The Blue Cash Everyday® Card from American Express provides 3% cash back on online retail purchases, including those made at Sam's Club. This makes this card a top option if you prefer to shop online and use Sam's curbside pickup. But note that you won't receive additional rewards for purchases ordered online that are paid for in-store.
Best For In-Store Purchases:
The Venmo Credit Card lets you select your top cash back categories, which include grocery stores and warehouse clubs. This card is the only card that offers 3% back in-store (Sam's requires you to be a Plus member to get the 3% back), but its ties to a Venmo account may be a deterrent for some, rating it lower in our evaluation.
Which Credit Cards Does Sam's Club Accept?
While other warehouse clubs have limits on acceptable credit card issuers, Sam's Club accepts most major domestic credit cards for both in-person and online purchases. You can use your American Express, Mastercard, Visa, or Discover card at Sam's Club.
Prepaid credit cards can only be used at physical Sam's Club locations, but not when shopping online. Curbside pick-up orders are treated as online orders so the same restrictions will apply.   
Is it a Good Idea to Use a Credit Card at Sam's Club?
Using a credit card at Sam's Club can help you earn more cash back on your purchases. If you have a card that offers extra rewards when shopping at warehouse clubs like Sam's Club, you can earn hundreds of dollars each year in potential cash back. 
For example, if you spend $700 a month at Sam's Club and shop with a card that offers 1.5% cash back, you'll get $10.50 in rewards each month, or $126 a year. 
When using a credit card, make sure you can afford to pay off the balance at the end of the month. The amount you'll pay in credit card interest will generally outweigh any cash back rewards, so don't spend more just to get cash back.
What's the Difference Between a Sam's Club Credit Card and a Sam's Club Mastercard?
If you're new to Sam's Club, you may not know that the retailer offers two store-branded credit card options for consumers: the Sam's Club Credit Card and the Sam's Club® Mastercard®.
To make things even more confusing, these cards have different benefits, and it can be easy to apply for the wrong one without realizing it. In short, the Mastercard version requires good to excellent credit while the Sam's Club Credit Card is easier to get approved for with a lower credit score.
The Sam's Club® Mastercard® is the only option that offers cash back on in-store purchases; the Sam's Club Credit Card does not. You will also get cash back for eligible purchases made at gas stations, restaurants, and other retailers, so this rewards card offers more benefits beyond extra Sam's Club perks.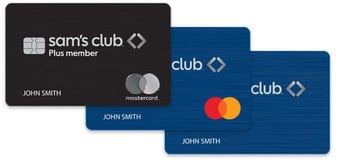 If you have the Sam's Club® Mastercard®, you will earn the most "Sam's Cash" on gas purchases, up to $6,000 spent annually, after which the reward rate drops to 1%. Plus members will also receive 2% more cash back for their in-store Sam's purchases than non-Plus members.
The Sam's Club Credit Card can be used to pay for purchases at the warehouse club, but users will not receive any cash back. There's no annual card fee for either card, but you still have to pay the annual price of a Sam's Club membership.
How Do Sam's Club Rewards Work?
Cardholders who open a Sam's Club® Mastercard® can receive Sam's Club rewards, also known as Sam's Cash. 
When you earn Sam's Cash, you can use the rewards to pay for your annual membership or put it toward Sam's Club purchases. Unfortunately, you can't use Sam's Cash to pay for gas purchases. 
Sam's Cash can be used for in-store, online, and Sam's Club app purchases. You can also cash out your Sam's Cash by visiting the Member Services department.
There is no minimum requirement necessary to redeem your Sam's Cash, but there is a $5,000 maximum annual limit that you can earn in Sam's Cash. Sam's Cash will be calculated and distributed one or two billing cycles after you earn it. Returns, cash advances, and balance transfers do not earn Sam's Cash.
Sam's Club cash rewards may not be as versatile as other types of credit card rewards, such as the Chase Ultimate Rewards program. If you want to earn travel rewards, consider applying for a travel card and using your warehouse card for your Sam's Club purchases. 
What's the Best Business Credit Card to Use at Sam's Club?
Believe it or not, warehouse stores like Sam's Club aren't just for big families or people hosting large gatherings. They're also a popular resource for businesses that need large quantities of cleaning supplies, kitchen tools, electronics, and other things. 
Sam's Club offers small businesses the opportunity to save money without having to go through an official wholesale provider.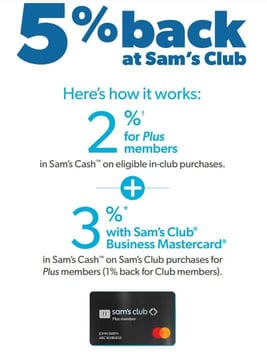 And just like regular consumers, business owners can save money by using the right credit card at Sam's Club. The Sam's Club® Business Mastercard® provides bonus cash back for purchases made at gas stations, restaurants, and at Sam's Club, plus 1% back on all other eligible purchases. 
You may also qualify for a special welcome offer when opening the card. The card has no foreign transaction fees or annual fees, but you'll need to pay for a Sam's Club membership.
For business owners with bad credit, the Business Advantage Unlimited Cash Rewards Secured credit card from Bank of America is the best choice for Sam's Club purchases. Because it's a secured card, you must deposit a minimum of $1,000 to open the business card account. Your credit line is equal to your deposit amount. 
Secured credit cards return the deposit after a period of responsible use at the credit card issuer's discretion. Using a secured credit card is a great way to build credit with consistent on-time payments.
Score Even More Savings at Sam's With the Right Card
When you shop at a warehouse store like Sam's Club, you're already guaranteed to save money on groceries and household goods, among other things. But you can maximize those savings by using the right credit card at Sam's Club. 
And since none of the cards above charge an annual fee, you won't have to pay extra just to save a few bucks (other than the price of club membership, of course). Make sure to compare each card carefully and see how it can benefit you outside of Sam's Club as well. The best credit card for you will reward you everywhere you shop. 
Advertiser Disclosure
CardRates.com is a free online resource that offers valuable content and comparison services to users. To keep this resource 100% free, we receive compensation for referrals for many of the offers listed on the site. Along with key review factors, this compensation may impact how and where products appear across CardRates.com (including, for example, the order in which they appear). CardRates.com does not include the entire universe of available offers. Editorial opinions expressed on the site are strictly our own and are not provided, endorsed, or approved by advertisers.