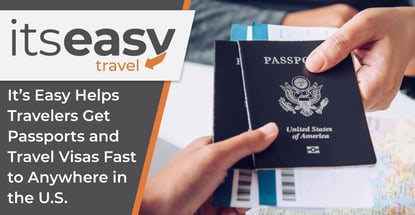 credit card news
Our experts and industry insiders blog the latest news, studies and current events from inside the credit card industry. Our articles follow strict editorial guidelines.
In a Nutshell: Anybody who has traveled abroad likely remembers feeling some stress around the passport acquisition process — especially if they were running behind schedule. It's Easy has been helping travelers easily expedite passports and travel visas for more than 40 years. With the advent of smartphone apps and the evolution of digital technology, It's Easy now focuses on making the passport application process more convenient for everyone, not just people who are short on time. Its premium Concierge Service provides the most convenience, requiring as little work from the applicant as possible, with a special concierge service team handling the heavy lifting.
Several years ago, my family was excitedly planning a vacation to Costa Rica — looking up places to stay, the best restaurants to eat at, and the coolest things to do. Then, we remembered that our then-3-year-old had never traveled out of the country, and therefore, didn't have a passport.
We briefly panicked and checked the turnaround time for passports. Thankfully, we were able to submit his passport application just in time not to worry about whether it would arrive on time for our trip.


Many travelers have had similar experiences, of course. Many others have had similar experiences with more stress-inducing results — when they find out they haven't renewed their passport in time for their trip or have to pay high fees to have the process expedited.
The list of problems that can arise when someone is planning a trip is nearly endless, and hangups with passports or travel visas are especially frustrating.
Travelers often turn to expedited services when time is of the essence, but that doesn't always mean everything will work out.
"Post Offices do not do true Expedited Passports," according to It's Easy, a passport and visa service. "Their 'expedited' mail-in service is actually two to four weeks — and if there's a problem with your application, you can expect the delays to be considerable to resolve."
We recently spoke with David Alwadish, Founder and CEO of It's Easy about how the company can make passport applications much easier and worry-free for travelers.
It's Easy Has More Than 40 Years of Experience in the Passport and Travel Visa Applications Arena
Most travelers don't deal with acquiring passports or visas frequently so the average consumer's knowledge of the process isn't exactly the deepest. But with more than 40 years of experience in the industry, It's Easy is a well-oiled machine when it comes to the application process.
The company began in 1976 when Alwadish dropped off a friend's passport application because the person was unable to leave work.
"And to everyone's surprise it worked!," according to the It's Easy website.
"We help people get a passport a little quicker, and even for those who need a Passport Renewal and are not in a rush, we just make the process very safe and easy," Alwadish said. "We try to keep it very honest regarding costs and keep it very affordable — a true customer service and not an abusive customer service."
He said a lot of people need passports who don't necessarily know where to go or what to do to acquire one. Additionally, there are only about 30 passport agencies around the country, he said, so some applicants may have to drive hours outside their home state if they need to visit the agency in person.
It's Easy maintains three offices in New York, service centers in Boston, Washington, D.C., Los Angeles, and Denver, and additional processing centers in key cities across the country.
"It's Easy is one of the largest and most established names in the business," according to the website. "We provide some of the most advanced technology including real-time order tracking, online chat services, automated email updating, fully dynamic website feeding off the most up-to-date requirement changes, and the highest levels of digital security available."
The company maintains a dedicated team of specialists ready to assist you in any way they can, according to the company, and also provides 24/7 access to assistance via its mobile app.
"I'm very excited about the ItsEasy Passport app available in both iOS and Android versions and I'm also excited that our Live Call Center is available to the public 24 hours a day, seven days a week, 365 days a year," Alwadish said.
How the Simple Process Works
For many years, It's Easy was primarily an expediting company, helping travelers get their passports and travel visas quickly and easily.
But with the technological developments of recent years, Alwadish said he began to see new opportunities arising to help travelers who simply wanted a simpler passport or visa process.
So, he learned how to incorporate apps and digital technology into the process, making things more convenient than ever before.
"Whether you need a passport, visa, or both, the basic process is the same," according to the company. "You gather the documents listed in our requirements section, either deliver them by hand to one of our offices or send to us using FedEx, we process the applications with the U.S. or foreign governments, and then return to you."
At any time during the process, if customers have any questions, they can contact the company via phone, webchat, email, or in person.
"When I saw apps come out — I started with our photo app," Alwadish said. 'People could just take a photo from their home, office, or virtually anywhere, and send it to me instantly. Maybe it was because they needed a travel visa. Just the thought of going to the store to get a passport photo was ridiculous, so it started like that."
Alwadish said that he then realized that, if he was able to receive the person's digital photo, he could also instantly send them all the necessary documentation via email, have them fill out the information, sign it, and send it back. And they can pay for it all by credit card.
"So, I started to enhance my business by also focusing on people who were not in a rush, people who were never customers previously," he said. "These customers just want a little hand-holding and didn't want to be overcharged for a passport."
Alwadish said other companies can be very expensive which rubs him the wrong way, so he makes it a point to give It's Easy customers fair pricing for a straightforward process.
"It's very simple," he said. "Take a photo and do a little bit of information via email, fill out the forms, sign them, place everything in an envelope, attach the included USPS trackable, secure shipping label — and drop the package in the mailbox. I get the paperwork, and your renewed passport and/or passport card can arrive in as early as two weeks."
It's Easy Also Offers a Concierge White Glove Service for Even More Convenience
For travelers who don't have the time or capacity to deal with the passport or travel visa process and want to hand off as much of the work as possible, It's Easy offers its premium Concierge Service.
"Concierge Service is our premium white-glove service, providing a dedicated Concierge Team to manage the entire application process including document preparation and review, optional one on one phone appointments with a Concierge Specialist, upgraded shipping, priority submission, and more."
Concierge Service customers are able to begin the process within four hours of their request.
"It's a complicated world out there," according to the company website. "Let us simplify it for you."
And attention to detail is key in this process.

"I'm very critical — I try to make sure that every single photo is perfect because, when I send work to the passport agency, I don't want it to get rejected for a photo," Alwadish said. "People don't know that the photos they get in the stores are often marginal and that, if you call the passport agency directly they will tell you that they have to reject 20% or maybe a quarter of photos because they don't meet requirements."
This just causes further complications, he said, which is precious time lost when a person sends in their passport application expecting a two-to-three week turnaround but instead finds out everything is delayed by a week or even two weeks because of the photo.
"I strive to get no rejections," Alwadish said, "unless the person is in some kind of trouble and the Department of State denies the issuance of the passport until the private matter is resolved."
Finally, for the most urgent situations, It's Easy offers an emergency service.
"If you have an EMERGENCY situation, you may utilize our EMERGENCY CONCIERGE SERVICE which puts you to the front of the line instantly!" according to the company. "EMERGENCY CONCIERGE is our 'drop everything' service for when you need that immediate team attention."
Even if You're Not Traveling Right Now, It Pays to be Prepared for the Future
Alwadish said he encourages people to get passports even if they aren't currently planning a trip abroad. The document is good for 10 years, so oftentimes, it is worth it to have a current passport to avoid unexpected headaches when their next trip comes around.
"My mission is: no passenger left behind," he said. "And I'm trying to carry out that mission in a way that's convenient and affordable."