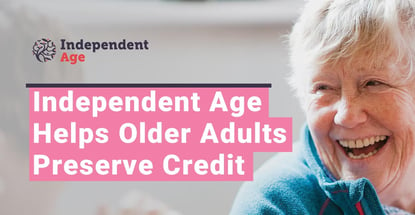 In a Nutshell: Older people and their families in the UK face challenges around healthcare, support, mobility, and isolation. They also may struggle to secure resources and preserve their credit while maintaining a reasonable quality of life. Independent Age has a history of advocacy that stretches back more than 150 years, and the organization serves UK seniors with free information, advice, and consultations. It aims to promote healthy independent living, social connections, and financial security for older people.
Today, more than 2 million older adults in the UK live in poverty. One established organization is on a mission to change that by ensuring UK seniors can live life on their own terms with dignity, choice, health, and financial security.
Independent Age was founded in 1863 as a voluntary society that provided a regular income to Britain's poor. Over the years, it has changed in size, shape, and focus many times, recasting its central mission to meet changing social needs.
Today, the organization addresses issues of health, poverty, and social isolation in the older population. It accomplishes that through direct service, public advocacy, and grants targeting resources to community-based organizations that work to improve the lives of older people.

Independent Age advocates against the sort of age discrimination or ageism that Director of Services Simon Hewett-Avison describes as pervasive in modern society.
"I've got two young children, and even in children's books, aging is always seen as a negative. The story we tell the world is that, as you get older, things get worse," Hewett-Avison said.
That type of thinking results in a view that tends to lump all individuals over 65 into one homogeneous group.
"We don't recognize the diverse range of experiences that the 65-plus age group has to offer," Hewett-Avison said. "We see it even in the way we collect data, so we don't get any insight into how older people's lives change and adapt."
Advice and Support to Address Aging Challenges
Beyond children's books, the media, in general, often plays a significant role in perpetuating harmful stereotypes of life as people age.
"Even ostensibly positive portrayals of older adults include stereotypes, like pictures of wrinkly hands, for example, that dehumanize aging," Hewett-Avison said. "We're all getting older all the time, in fact, and the challenges that Independent Age helps people over 65 with can happen to people at any point in life."
Independent Age can offer support around age-related benefits and other problem-solving tools to help with other emerging trends. Within that service delivery framework, Independent Age information and advice can take many forms.
Watch on
With one call to the Independent Age helpline, people can obtain insights and assistance on healthcare, housing, future planning, money, and credit issues. Staffers stand ready to dispense advice and support or arrange for delivery through partner organizations in different parts of the country.
Much of the assistance Independent Age offers is in the form of print materials sent through the mail, a preferred method for those the organization serves.
"We think it's important to provide a variety and a range of information, and we sent out over half a million print resources last year," Hewett-Avison said.
In normal times, Independent Age makes regular in-person visits available to older people who request them through its extensive network of volunteers. The organization depends on those volunteers, in addition to corporate partnerships and individual donations.
"For us, one of the biggest routes into the organization for seniors is through that phone number and the value of having someone who will take the time to listen and understand and then act," Hewett-Avison said.
Offering Insight into Money Management Complexities
Independent Age is changing with the times, as well, making more resources available through its website. That is especially important now, as the COVID-19 pandemic has forced many seniors to perform more basic functions online, including shopping and accessing public benefits.
"It's been a fascinating journey for us," Hewett-Avison said. "One fellow had been receiving videos of his grandkids and was too embarrassed to admit he didn't know how to access them. We got him set up with a tablet and helped him download and watch all those videos, and it was just a massive boost for him."
Wherever the COVID-19 pandemic forced many seniors to migrate to the internet, fraudsters followed. That's why Independent Age devotes much of its work to assisting clients with the challenges of moving online and protecting themselves once they get there.
Independent Age is ready with advice on credit and debt issues, and scams, for example, and to help people manage their debt and credit more successfully.
"We got a call from a lady who was looking for support because she couldn't afford to pay to get the ashes of a deceased friend released to her," Hewett-Avison said. "She had all these other debts from credit cards and things that were mounting up, and the ashes were simply the trigger for her to seek help. So we managed to get her working with a debt-based charity."
More ominous are stories of COVID-19-related online and phone-based fraud that can separate vulnerable people from the money they depend on.
"We're seeing a huge increase in people getting text messages asking them to pay for COVID-19 vaccinations — it's horrific," Hewett-Avison said.
Independent Age: Claiming Dignity for Older Adults
Independent Age works with partner organization Turn2Us to help people with credit and debt issues. Turn2Us provides hardship grants to people who have gotten in over their head financially.
Independent Age can also direct seniors with financial challenges to the help they need through the UK's Citizens Advice network. Another partner, Action Fraud, offers a channel for reporting fraud and cybercrime.
Meanwhile, through its advocacy arm, Independent Age directs resources to view fraud on a macro level. It works with cross-government groups on issues that include the prevalence of pension scams in the UK.
"With our policy work, we try to change the system so that fewer people will end up in a dire situation, and our services can then deal with the people who need us," Hewett-Avison said.
One way to deal with that problem is by addressing nearly £3.5 billion in annual unclaimed UK pension credits. The means-tested benefit could significantly help a large number of the 2 million older UK citizens who live under the poverty line.
"Uptake in pension credits hasn't changed inalmost a decade, and the government has had no targets around that," Hewett-Avison said. "We think the government could be more proactive in terms of identifying people in need and contacting them."
As to why so many UK seniors shy away from claiming the pension credits they're due, Hewett-Avison thinks it's a manifestation of a characteristically British concept of self-reliance. Independent Age aims to overturn that notion.
"We see that people don't necessarily feel entitled to claim that additional money," he said. "It's not easy for people to ask for help. What we do on the service side of things is try as best we can to help people out of those situations."
Advertiser Disclosure
CardRates.com is a free online resource that offers valuable content and comparison services to users. To keep this resource 100% free, we receive compensation for referrals for many of the offers listed on the site. Along with key review factors, this compensation may impact how and where products appear across CardRates.com (including, for example, the order in which they appear). CardRates.com does not include the entire universe of available offers. Editorial opinions expressed on the site are strictly our own and are not provided, endorsed, or approved by advertisers.