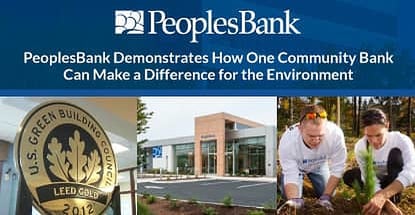 In a Nutshell: Awareness of global climate change and the threats it poses has led organizations around the world to actively reduce their carbon footprints. One such institution is PeoplesBank, a community bank headquartered in Holyoke, Massachusetts. PeoplesBank has been actively involved in environmental awareness and sustainable energy projects for more than a decade, and it's recently opened three LEED® Certified "green" branches. It is also active in financing sustainable energy projects, as well as supporting community-based initiatives like e-recycling events and mobile farmers markets within its communities. //
If you think weather reports have gotten more exciting lately, you're not alone. Record-setting lows across much of the US, record-high temperatures in Australia, and the flooding brought on by more intense hurricanes all suggest one conclusion: Changes in our global climate are real and are happening now.
A majority of scientists say man-made factors play at least some role in the environmental extremes we've recently seen. One of the contributing factors they point to is a radical increase in the amount of carbon dioxide (CO2) measured in our atmosphere. Most of the scientific community seems to agree: CO2 in the atmosphere traps warm air and causes ocean temperatures to gradually rise. This, in turn, causes more heat to be trapped, and the cycle accelerates.
Whichever side of the climate change debate you find yourself on, one thing seems clear: we can't afford to stand idly by. Around the world, organizations large and small are taking matters into their own hands by choosing to reduce their carbon footprint. One such environmentally responsible institution is PeoplesBank, a community bank located in Western Massachusetts.

One of the oldest and most respected community banks in the area, PeoplesBank maintains a commitment to serving customers and doing its part to protect the environment.
We recently spoke with Matt Bannister, First Vice President of Marketing and Corporate Responsibility at PeoplesBank. He described for us the commitment the bank has made over the years in support of the environment and raising awareness to what can be done to reduce carbon emissions.
"Encouraging sustainable energy is just the right thing to do," Bannister said. "I think the pendulum is swinging in that direction within society, and being able to represent that and to be out in front of that is something we're all proud of at PeoplesBank."
Green Banking Has a New Meaning
One of PeoplesBank's recent initiatives has been opening three LEED®-Certified "green" branches in its 17-branch network. LEED, or Leadership in Energy and Environmental Design, is the most widely used green building rating system in the world. The LEED program was developed by the US Green Building Council (USGBC), and it includes rating systems for the design, construction, operation, and maintenance of green buildings.
The three LEED-Certified PeoplesBank branches are located in Springfield, West Springfield, and Northampton, Massachusetts. Of the three, two are Gold Certified and one is Silver Certified. The branch in Springfield, opened in 2010, was honored with the city's GreenSeal award as the first green building in the area.
"LEED certification is what goes into the construction of the building, as well as how the building operates," Bannister said. "It's everything from energy efficiency, to using locally sourced materials, to making sure the water runoff is recaptured."
In addition to being environmentally friendly, each of the three green branches has been equipped with electric vehicle (EV) charging stations. It's one more way the bank is leading by example and making it easier to practice an environmentally friendly lifestyle. Bannister summed it up like this.
"Being green is one of our core values, especially being here in the Pioneer Valley," he said. "So, on the one hand, it reflects what our customers expect us to do, and on the other hand, we recognize it as just the right thing to do anyway."
Financing $145 Million in Sustainable Energy Projects
Green bank branches aren't the only way PeoplesBank shows its commitment to sustainable energy and the environment. Under the bank's previous CEO Doug Bowen, who retired in 2016, the institution's commercial lending division began developing an expertise in financing sustainable energy projects in the area. To date, more than $145 million in sustainable energy projects have been financed through the PeoplesBank commercial lending division.
"This is really about our commercial lenders developing expertise around things like federal and state tax credits for sustainable projects, and how to structure deals in the right way to minimize the cost and maximize the tax credit savings," Bannister said.
He said the region served by PeoplesBank is very progressive, and a lot of renewable energy projects are being implemented in the area.
One, in particular, that he shared with us was a high-performance computing center located in Holyoke, where the bank is headquartered.
"Holyoke is an old mill town with a lot of canals running through it," Bannister said. "Some of the water from the canals was actually diverted to help power a high-performance computing center that runs entirely on hydro-power. PeoplesBank helped develop the financing for that, and once we did, we realized there was a niche for us in developing an expertise in financing and figuring out the tax credits for these kinds of projects."
As that experience was leveraged into a core competency of the commercial lending division, it's led to a number of other large commercial projects. The result has been a complement to the bank's retail efforts around developing green branches and has helped PeoplesBank establish a reputation as a financial institution that knows how to get sustainable energy projects off the ground.
Bringing Environmental Awareness to the Community
Residents of Western Massachusetts have adopted sustainable practices and continue to build environmental awareness. As a community bank, PeoplesBank is committed to serving these people and reinforcing the values they hold. Examples of this commitment are seen in the bank's support of green initiatives, like e-recycling events held at various branches and at its headquarters building.
It's not an inexpensive endeavor, but each year, the bank builds the cost of these events into its annual budget. To date, the bank's e-recycling events have collected more than 100,000 pounds of electronics that can be recycled instead of heading to the landfill.
Another initiative within the bank's commitment to community is its support of mobile farmers market events. By subsidizing purchases and supporting local farmers, PeoplesBank makes sure that locally grown fruits and vegetables are feeding local residents.
"This is an important green initiative because when you think about the produce that people would otherwise be buying, it's shipped in on refrigerated trucks from outside of our local footprint, and that's not energy-efficient," Bannister said. "This is another way to address the problem from the community side, supporting local agriculture, and specifically the local farmers markets."
PeoplesBank, through its various initiatives and projects, is raising awareness and offering solutions to climate change — one of the biggest threats people face — and making an impact in their lives in the process.
Advertiser Disclosure
CardRates.com is a free online resource that offers valuable content and comparison services to users. To keep this resource 100% free, we receive compensation for referrals for many of the offers listed on the site. Along with key review factors, this compensation may impact how and where products appear across CardRates.com (including, for example, the order in which they appear). CardRates.com does not include the entire universe of available offers. Editorial opinions expressed on the site are strictly our own and are not provided, endorsed, or approved by advertisers.