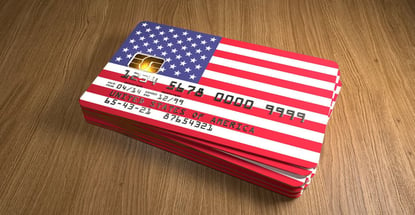 Bank of America serves more than 65 million customers, so it's no wonder many consumers flock to the bank's credit cards. This venerable financial institution offers several cards, but our focus will be on its cash back credit cards. We will, however, peek at its other credit cards and those of competing megabanks. 
Bank of America generally requires cardowners to have excellent credit to obtain an unsecured card, but it also offers a secured cash back card and a student card with more lenient requirements. 
All of its cards have valuable tie-ins with other bank products and services. Getting one of its cards is a no-brainer if you do your banking at Bank of America. Those who bank elsewhere (or nowhere at all) will also find these cards merit serious consideration.
Best Bank of America Cash Back Cards
Cash is so versatile — admired and coveted by most Americans. One way to increase your supply is to own a cash back credit card. Bank of America issues no less than four cards of this genre. If you like money, keep reading!
The Bank of America® Customized Cash Rewards credit card suits consumers who want to decide where they earn rewards. You choose your top-tier rewards from categories that include gas, online shopping, dining, travel, drug stores, and home improvement/furnishings. You can change your mind as often as once each calendar month or leave your choice unchanged indefinitely.
Perhaps you prefer the simplicity of unlimited flat-rate cash back on all your purchases. The Bank of America® Unlimited Cash Rewards credit card fulfills this mission admirably while charging no annual fee. Happily, that flat rate fattens when you become a Preferred Rewards member. As with all Bank of America cards, you want to avoid late payments, or they may jack up your APR and charge you a late fee.
The Bank of America® Customized Cash Rewards credit card for Students offers the same rewards as its non-student counterpart. You get to choose your top-tier bonus category.
You'll also earn a signup bonus if you satisfy the minimum spending requirement within the first 90 days after account opening. Through Balance Connect®, you can link the card to a Bank of America checking account to cover overdrafts. The card also features account alerts, FICO score access, and digital wallet technology.
The Bank of America® Unlimited Cash Rewards credit card for Students is the issuer's flat-rate cash back card for students. You can also get a signup bonus and 0% intro APRs (after which the regular APR will take effect).
There's no annual fee, but you should pay the balance in full each month to avoid interest fees that eat away at your cash back earnings. There's no limit to the amount of cash back you can earn, and your rewards never expire.
5. Bank of America Customized Cash Rewards Secured credit card
The Bank of America® Customized Cash Rewards Secured Credit Card allows you to earn handsome cash back rewards and rebuild your credit simultaneously. You choose which merchant category will provide the highest cash back rate, and you can choose a different one each calendar month.

Earn 3% cash back in the category of your choice
$200 minimum deposit required
Free FICO Score updated monthly
$0 annual fee
Bank of America sets your maximum credit limit based on your security deposit, income, and ability to pay your bill. The bank may eventually refund your collateral if you consistently pay on time. This unlimited cash rewards card works with popular digital wallets, including those from Google, Apple, and Samsung.
(The information related to the Bank of America® Customized Cash Rewards Secured Credit Card has been collected by CardRates.com and has not been reviewed or provided by the issuer or provider of this product or service.)
Other Bank of America Rewards Cards
Bank of America also offers two travel cards and a third for the frugally minded. All three provide good value, and its Balance Connect® service for bank customers can help prevent declined purchases, returned checks, and other overdrafts when you link your Bank of America checking account to your card account.
The Bank of America® Premium Rewards® credit card is one of the best cards for consumers who want travel benefits and top rewards on each purchase. You get a signup bonus when you spend the required amount on purchases in the first 90 days after account opening.
You also get a travel statement credit to reimburse you for airline incidentals and TSA PreCheck®/Global Entry fees. This premium reward card does not charge foreign transaction fees.
The Bank of America® Travel Rewards credit card is a good choice for consumers who like to travel. It offers a signup bonus and the standard flat rewards rate on all purchases. The card never charges an annual or foreign transaction fee.
Your reward points never expire. You can redeem your points for a statement credit to pay for travel and dining purchases, with no blackout dates or booking restrictions. The card frequently offers 0% intro APRs on purchases and qualifying balance transfers.
The BankAmericard® credit card has no annual fee nor penalty APR. The card doesn't offer rewards, but its 0% interest rate can save you a lot of money, whether you need to finance a large expense or transfer high-interest debt from another card. The 0% rate will revert to the standard APR after the promotional period expires.
Additional benefits include fraud liability protection, account alerts, and free access to your FICO score (updated monthly, opt-in required). The card works with digital wallets and contactless tap-to-pay.
Competing Cash Back Cards From Major Banks
You may find yourself right at home with one of these cash back cards if you don't hold your checking and savings with Bank of America. A few cards advertise cash back but actually use point rewards that you can quickly redeem for cash.
The Chase Freedom Unlimited® features a new card signup bonus, 0% intro APR promotions, and an extraordinary first-year rewards rate on all purchases, including bookings through Chase Travel. Benefits include auto rental collision damage waiver, extended warranty protection, and trip insurance, making it a solid choice as the best credit card in this review.
Unlike other Chase Ultimate Rewards card offerings, this card has chip & PIN capability for superior security. To qualify, you must have a good-to-excellent credit score, meaning a 680 FICO score or higher may be sufficient for most applicants. 
You can redeem the ThankYou Points from the Citi® Double Cash Card for cash via a check, statement credit, or direct deposit. Alternatively, you can use your points for travel, shopping, and gift card purchases.
The Citi® Double Cash Card provides 24/7 customer support, contactless pay, compatibility with digital wallets, and special access to entertainment events. The card addresses security concerns with around-the-clock fraud protection through Citi Identity Theft Solutions, Citi Lost Wallet Service, and zero liability for unauthorized charges. If you'd prefer a World Elite Mastercard, consider the Citi Premier® Card.
It's hard to beat the cash rewards you earn from the Discover it® Cash Back. The quarterly rotating bonus categories include grocery stores and restaurants, gas stations, warehouse stores, Walmart and Target, and even Amazon. You must activate the new rotating bonus category to receive the special rate on quarterly purchases.
New cardholders receive Discover's unlimited Cashback Match on all rewards posted in the first year. Cash back can be redeemed in any amount and at any time. The card features a free FICO credit score, US-based customer service, and no annual fee.
The Capital One Quicksilver Cash Rewards Credit Card offers the same flat-rate cash back as the Bank of America Unlimited Cash Rewards credit card. It also offers a promotional 0% intro APR on purchases and balance transfers, but its promotional period is shorter than that of the Bank of America card.
Your rewards do not expire while the account remains open. You can redeem any amount of cash back at any time through a statement credit or a check. If you prefer, you can use your rewards to cover recent purchases, get a gift card, make online purchases using PayPal Pay with Rewards, or pay for purchases at Amazon.com.
The Blue Cash Preferred® Card leads the pack for grocery rewards, offering the highest cash back rate on purchases at US supermarkets. We calculate that the average US household can earn around $300/year by using this card for groceries. 
Deduct the annual fee, and you're still ahead by about $200 a year. And that doesn't include additional cash back earned in other categories, including bonus rates on streaming, transit, and gas purchases. Other benefits include a signup bonus, car rental loss and damage insurance, and purchase return protection.
What Is a Cash Back Card?
A cash back credit card returns a small percentage of every eligible purchase in cash (or points easily converted to cash). There are different types of cash back cards in terms of how they pay rewards:

The cards we've reviewed offer cash back rewards of up to 6% on bonus categories or up to a flat 2% rate (or more) on all purchases. It's almost as if you have a coupon for every purchase.
How Do I Qualify For a Cash Rewards Card From Bank of America?
You must be at least 18 years old and satisfy the bank's credit requirements to apply for a Bank of America credit card. A card may not be available if you currently have or have had the card in the past 24 months. 
Additionally, reports suggest that you can obtain no more than two Bank of America credit cards in a rolling two-month period, three credit cards in a rolling 12-month period, and four credit cards in a rolling 24-month period.
The bank's card application requires you to submit the following data:
Name
Address
Phone number
Email address
Citizenship
Date of birth
Employment status
Total annual income
Monthly housing payment
The bank performs a hard credit check to confirm the information in your application. It will not issue you a card if it cannot verify your identity. You can streamline the application process if you are already a Bank of America customer, as much of the required information is already on file.
How Do I Redeem My Bank of America Cash Back Rewards?
Cash reward redemptions have a $25 minimum, and you can start redeeming after your first billing cycle. You can apply your cash back as a statement credit or transfer it to your Bank of America checking or savings account or to your Merrill Lynch Cash Management Account or 529 Account. You can also request a personal check but may have to wait two or more weeks to receive it.
You can redeem your Bank of America cash back rewards in three ways:
Website: To check your rewards balance or redeem it online, log in to Online Banking, select your credit card, and then select the Rewards tab.
Mobile app: Log in to the Mobile Banking app and tap the View My Rewards link to redeem your available rewards balance. You can also tap the Erica icon and say, "I want to redeem credit card rewards," and follow the instructions (if you prefer, you can also type your message to Erica).
Phone: To redeem your credit card rewards by phone, call (800) 434-8313 and select Option 2 (available Mon-Fri 9 AM to 9 PM ET).
What Benefits Should I Expect From Bank of America Cash Back Cards?
Most Bank of America cash back cards offer lucrative signup bonuses, and Preferred Rewards members earn 25%-75% more cash back on every purchase. The cards also frequently run 0% intro APR promotions on purchases and balance transfers.
They also offer:
A $0 liability guarantee against fraudulent transactions
Contactless chip technology supporting tap-to-pay checkout
Balance Connect overdraft protection using your Bank of America checking account
Paperless statements
Digital wallet technology
Online and mobile banking
Account alerts
Free FICO scores
No annual fee
The Bank of America Customized Cash Rewards Secured Credit Card provides the same benefits except for the signup bonus and 0% intro APR promotions.
Do I Need Good Credit to Get a Cash Back Card?
The bank requires excellent credit for its Bank of America® Customized Cash Rewards credit card and Bank of America® Unlimited Cash Rewards credit card. You generally need a FICO score of at least 750 to qualify for these cards.
You can get the Customized Cash Rewards Credit Card for Students with no or limited credit history. If you do have a credit score, it must be at least fair (above 580), though ideally higher. The Bank of America Customized Cash Rewards Secured Credit Card does not require a credit score to apply.
You may be able to get a cash back card from another bank or credit union even if you have only fair credit. Credit union customers generally have access to low-cost prime and subprime credit cards.
Which Is Better: Cash Back or Points?
Points may be a little more versatile than cash back for these reasons:
Cash back rewards are easy to value because a $1 reward is worth exactly $1. But point rewards may be worth more, less, or the same as cash rewards, depending on the context. For example, some cards increase the value of reward points when you redeem them for travel.
Some points cards allow you to transfer rewards to another loyalty program as points or miles. For example, you can transfer Chase Ultimate Rewards points to Delta Skymiles. 
A points card typically offers more redemption options.
Cash back rewards are simple to redeem. Be aware of any restrictions, such as minimum redemption amounts. Some card issuers revoke any unredeemed rewards if you cancel the account.
Bank of America's Cash Back Cards Are Worth Serious Consideration
Bank of America's cash back credit cards are well-positioned against competition from other large banks. Those more familiar with travel credit cards may notice that the cash back variety offers relatively fewer benefits, instead concentrating on rewards and bonuses. That's a good reason to consider owning both types of cards.
In any event, you don't have to be a Bank of America customer to get one of its credit cards, but they're a natural choice if you are.
Advertiser Disclosure
CardRates.com is a free online resource that offers valuable content and comparison services to users. To keep this resource 100% free, we receive compensation for referrals for many of the offers listed on the site. Along with key review factors, this compensation may impact how and where products appear across CardRates.com (including, for example, the order in which they appear). CardRates.com does not include the entire universe of available offers. Editorial opinions expressed on the site are strictly our own and are not provided, endorsed, or approved by advertisers.