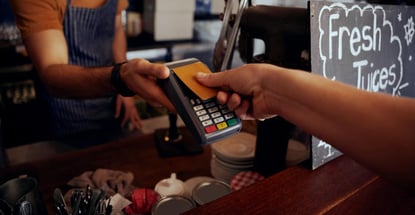 Bank of America offers a wide variety of credit cards to suit different needs, credit score categories (i.e., from excellent to bad credit), and lifestyles, and all are contactless. That's important because using contactless cards significantly reduces fraud costs for banks, financial institutions, and consumers. 
According to a report by Visa, the adoption of contactless cards in Europe led to a 30% reduction in fraud compared with the incidence of fraud using traditional magnetic stripe cards. 
If you are concerned about credit card security, no financial institution is more responsive than Bank of America. This article reviews its best contactless cards, which turns out to be the same as simply reviewing its best cards, since all its cards are contactless.
All New Bank of America Cards Are Contactless — Here Are Our 5 Favorites
Bank of America adopted contactless cards in 2019 as part of a larger effort to upgrade its credit and debit card offerings. At that time, Bank of America began issuing new contactless versions of its cards to eligible customers.
The following Bank of America credit cards are not only contactless, they compete head-to-head with some of the best offerings from rival banks. In other words, you don't need to be a Bank of America customer to consider adding one of these cards to your wallet. The bank offers cards for all credit score categories, from excellent to bad credit. 
+ See More Bank of America Contactless Cards
The adoption of contactless cards by Bank of America followed a broader trend in the financial industry. In recent years, the typical card issuer has upgraded its cards to include contactless technology. 
The growing popularity of contactless payments among consumers, along with advances in encryption and other security technologies, have made contactless cards an increasingly attractive option for both financial institutions and cardholders.
What Is a Contactless Credit Card?
A contactless credit card uses near-field communication (NFC) technology to enable fast and secure transactions without needing physical contact with a card reader. Instead of swiping or inserting the card into a card reader, you simply hold the card close to the contactless-enabled terminal to complete the transaction wirelessly.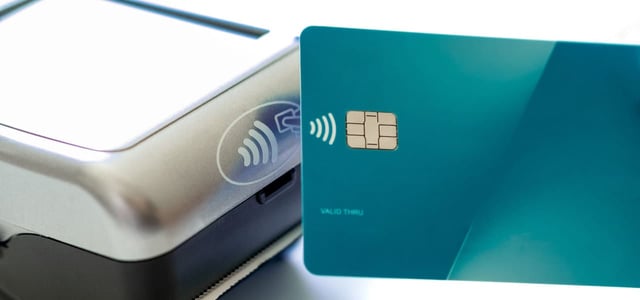 These cards employ encryption technology, and unique transaction codes make it difficult for fraudsters to intercept and use cardholder data for nefarious purposes. Additionally, contactless cards reduce the need for physical contact with payment terminals, which can help prevent skimming and other forms of physical card fraud.
Can I Request a Contactless Card From Bank of America?
Bank of America now exclusively offers contactless debit and credit cards. If you have an old Bank of America card, you can request a contactless version by contacting Bank of America customer service. 
Bank of America's credit card customer service line: 1-800-732-9194
To enable chip-and-PIN security, you can request a PIN for your Bank of America credit card by logging in to Online Banking. You may also request your PIN using the mobile banking app or by calling the number above or on the back of your card.
How Do I Use My Bank of America Contactless Card?
To use a contactless credit card, you must ensure that the merchant has contactless payment terminals and that the contactless purchase amount is within the card's transaction limit. Almost every credit card issuer besides Bank of America offers contactless EMV credit cards as a convenient and secure payment option. 
Contactless transactions may require a PIN or signature for added security, and they are faster than traditional credit card transactions.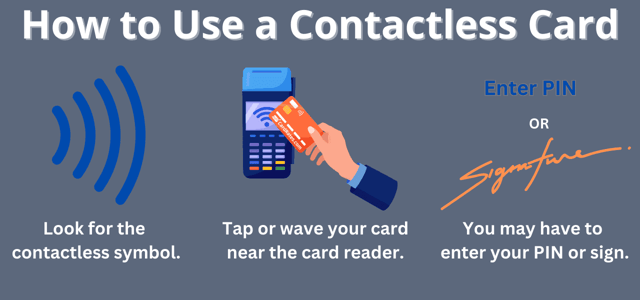 In all other respects, Bank of America's credit cards are conventional, offering the familiar features you'd expect from all the best credit cards, including signup bonuses, rewards, intro APRs, and balance transfer promotions. 
You can find a travel or cash rewards credit card with low or no annual fees. All offer Preferred Rewards to eligible Bank of America account holders. Preferred Rewards increase the redemption value of your point or cash rewards credit card by 25% to 75%.
Is a Contactless Card More Secure?
Experts consider contactless cards to be more secure than traditional magnetic stripe cards. The reason is contactless cards use advanced encryption technology to protect the cardholder's sensitive information during transactions. Nowadays, almost all of the best credit cards are contactless.
Paying with a contactless card generates a unique code and transmits it to the contactless payment terminal via radio frequency identification (RFID). This code differs for each transaction, making it difficult for fraudsters to intercept and use the data. In addition, most contactless transactions are subject to limits on the maximum value of the transaction.
Contactless cards are not immune to fraud or theft. It's still possible for a fraudster to steal a contactless card and use it for small value transactions without the cardholder's knowledge. 
To minimize the risk of unauthorized use, cardholders should always keep their cards in a secure location and report any lost or stolen cards to their bank immediately.
Although contactless cards are more secure, the most secure card is contactless and has a PIN. A chip-and-PIN contactless card, also known as a contactless EMV chip card, combines the security of chip and PIN technology with the convenience of contactless payments. 
As with other contactless cards, you can use a chip-and-PIN contactless card for payments by simply tapping it on a compatible payment terminal. Most chip-and-PIN contactless cards require PIN verification for higher-value transactions to prevent fraudulent use. 
If your eligible purchases exceed a set limit or the cardholder uses the EMV chip card too many times in a row, the card terminal will prompt the user to insert the card and enter a PIN. This procedure provides an additional layer of security to prevent unauthorized card use.
Chip-and-PIN contactless cards are widely available in many countries worldwide and offer a fast and convenient way to make secure in-person purchases. Look for the contactless symbol when you apply for your next credit card. The contactless symbol is on the front of the cards. 
Can I Use My Bank of America Contactless Card With Digital Wallets?
You can add Bank of America contactless cards to digital wallets, including Apple Pay, Google Pay, Android Pay, and Samsung Pay. Adding your Bank of America contactless payment card to a digital wallet allows you to make in-store purchases using your mobile device instead of carrying your physical contactless payment card with you and exposing your card number to theft.
To add your Bank of America contactless card to a digital wallet, simply follow the instructions provided by the digital wallet provider. In most cases, you must open the digital wallet app on your device, select "add card," and follow the prompts to enter your card information. 
Once you add your card, you can use the digital wallet to make payments at any merchant that accepts digital payments.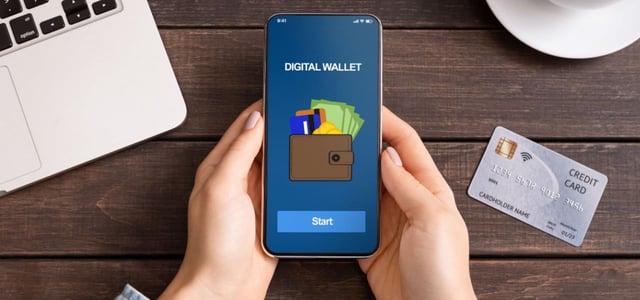 Using a digital wallet provides an extra layer of security, as your card information is encrypted and not shared with the merchant during the transaction. At the checkout line, the wallet will complete your contactless purchase transaction using a generated token in place of your card number.
Many digital wallets also require you to authenticate your identity before making a payment. You can use features such as biometric authentication or a PIN, thereby adding an extra layer of security to your transactions.
The Future Is Now With Bank of America Contactless Cards
Bank of America offers contactless chip-and-PIN technology on all of its credit cards. For even more peace of mind, you can load their cards onto your favorite digital e-wallet for cardless eligible purchases. We don't know what the future will bring, but for now, Bank of America's robust credit card lineup offers unsurpassed security and competitive features. They are worth a look, even if you bank elsewhere.
Advertiser Disclosure
CardRates.com is a free online resource that offers valuable content and comparison services to users. To keep this resource 100% free, we receive compensation for referrals for many of the offers listed on the site. Along with key review factors, this compensation may impact how and where products appear across CardRates.com (including, for example, the order in which they appear). CardRates.com does not include the entire universe of available offers. Editorial opinions expressed on the site are strictly our own and are not provided, endorsed, or approved by advertisers.