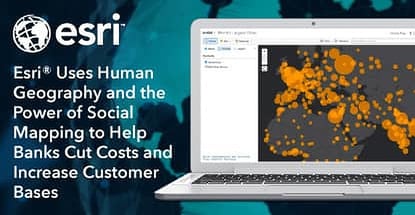 In a Nutshell: Financial institutions today are charged with being everywhere their customers expect them to be without blowing their budgets by constantly opening new locations. To help connect with their customers, Esri has harnessed its half-century of experience as the market leader in mapping and analytics software. The company empowers more than 350,000 worldwide clients with hyperlocal studies on the markets they serve. Studies show how individual communities interact with their bank branch and what they expect from the location to help businesses tailor their products and services and trim unnecessary costs. Clients like Starbucks have used the technology to determine where to build future locations. //
In the years that I've worked within — and written about — the financial industry, there aren't many times I've seen someone turn $5,000 into $4 billion. At least not legally.
That's exactly what Jack Dangermond did when he accepted a $5,000 initial investment from his mother to start Environmental Systems Research Institute (Esri) 50 years ago.
Dangermond never took in outside investments after that initial seed money. He had no need to. The geographic information system (ArcGIS) technology he developed caught on with businesses and government departments and remains as popular today as it was half a century ago.
Businesses in all sectors use GIS to make important site placement decisions based on human geography and social mapping. Many major retailers and service providers use Esri technology for location-based business intelligence. Many Esri users in the commercial space apply location intelligence to their business strategy to optimize physical locations, enhancing brand recognition. Contrary to popular belief, successful businesses don't have to be on every corner, they just need to appear to be everywhere.

Forbes magazine once called Esri a company that couldn't be killed. Despite competition from powerful entities like Google, Esri still leads the industry it started.
The heart of the company's technology lies in spatial analytics. The software places a microscope on a highlighted area and analyzes everything from the size and shape of area buildings and landscape features to area crime rates and proximity to services like fire rescue or hospitals.
Area traffic — both through vehicle and foot — help to determine customer access to your location. The software also detects patterns in pricing and consuming, and makes predictions for future growth based on current data.
The company predicts its 350,000 worldwide clients generate around 150 million new maps every day for their research on everything from behavioral science to consumer habits.
The software was heavily used by financial firms that built many new branches in the late 1990s when urban sprawl demanded more locations to meet the growing population. As consumers moved toward digital banking, GIS helped the banks decide which locations to eliminate to trim costs and still meet customer needs.
"At one point, banks were more interested in broader, regional, and more macro-level trends," said Alexander Martonik, commercial specialist for banking and insurance at Esri. "There is a much greater focus now on hyper-local market development. Banks now look at how localized customer segments interact and behave with a physical branch location. We map those group behaviors."
Customer interactions with financial institutions might seem like a broad concept, but Esri's GIS technology whittles it down to an exact science.
Take those bank branches from the 1990s for example. With the proliferation of smartphones in the mid-2000s, consumers started interacting with their banks more through digital platforms than in person. GIS helped many institutions faced with the dilemma of closing locations decide where the cuts should take place.
The software enabled banks study how customers in each area used their local bank branches, instead of just chopping away at under-performing locations. Many communities with older residents who depended on physical branches to do their occasional banking had branches that weren't necessarily the greatest performing, but they served a need and helped retain a large customer base.
"That's one thing our software does really well," Alexander said. "We're able to look at a hyper-local level and how these small segments behave in a particular market and what their affinity is for a particular service or good and what kind of branding would resonate with them."
A Hyperlocal Focus Helps Give Customers What They Expect
Esri's GIS technology isn't just for determining which businesses and branches should be closed down. The company's services help every department in an organization or business learn more about their customer, schedule services or product delivery more eddifiently, and understand the spatial interactions of people and things.
"Banks are mapping out behaviors in different markets to find out that it's not just a zero-sum game of cutting 15% of their footprint," Alexander said. "Some markets need more physical locations because the people expect to have it."
Banks that meet those expectations retain customers — and add new ones — while decreasing operational costs by eliminating offices and services that aren't used in certain areas.
"You can have two local segments that look very similar in terms of median income and education attainment — but they can have drastically different behaviors," Alexander said. "Our software looks at what kind of brands people are associated with in those areas and what they have a higher likelihood of engaging with."
Branches that know which services are preferred in their specific area can tailor their offerings to the people who use their services the most. That saves money by eliminating the need for excess services, locations, or employees.
"Geography is no longer just for real estate or Information Systems Technology," Alexander said. "Every department can get a value add from geography."
Be Everywhere without Actually Being Everywhere
Alexander pointed to Starbucks as an example of a business that has benefited from the study of human geography. In some areas, he's found groups of consumers who are likely to spend more for a morning cup of coffee than they are for an entire breakfast. Those areas become top choices for expanding coffee retailers.
That's why you never see a Starbucks in an area where it isn't needed. The ready availability of a Venti Macchiato wherever it is wanted gives the company an appearance that it is everywhere, even though it is not. Alexander attributes the same phenomenon to banks.
Another Esri client — one of the largest Sharia, or Islamic, banks in Indonesia — used GIS to determine where it needed to be without wasting time and money in areas where the demand for its services was negligible. In less than a year, the bank was able to cut its operating costs while increasing the number of accounts its branches were bringing in, said Alexander.
"It just so happens that Indonesia also has the highest concentration of Muslims in the world.
Alexander said. "The bank did a hyperlocal focus on behaviors and demographics and optimized its ATM network by putting ATM machines where they were needed most," Alexander said. "In a relatively short amount of time they were able to drastically change their operations using our technology."
GIS Makes Decisions About Location and Services Easier
Modern technology is shedding light on trends that existed — but weren't studied in depth— a decade ago. Banks today look at customer needs and expectations  — not just profits — to determine the location of physical branches and the services each will offer.
Closing branches that may not be the most profitable but are in areas where customers expect physical service can lead to the loss of accounts and revenue over time. Areas where bank customers regularly interact with their account through desktop or smartphone devices have less need for physical branches but may call for more ATM locations.
Esri's GIS mapping services help thousands of business and government clients around the globe make educated decisions about site placement and service offerings. Not just relegated to real estate, GIS can help determine staff sizing, products or services offered, and even determine how bank staff interacts with customers.
"What we're seeing with this hyper-local trend is that it's not just one department in a business that benefits from location-based data," Alexander said. "All of these departments need to work together and share data seamlessly in order to really maximize growth. The ones who don't are the ones who will fall behind. The ones who will are the ones we'll see in the next 50 or 100 years."
That's solid advice from a company that has lasted half a century and will likely still lead the industry 50 years from now.
Advertiser Disclosure
CardRates.com is a free online resource that offers valuable content and comparison services to users. To keep this resource 100% free, we receive compensation for referrals for many of the offers listed on the site. Along with key review factors, this compensation may impact how and where products appear across CardRates.com (including, for example, the order in which they appear). CardRates.com does not include the entire universe of available offers. Editorial opinions expressed on the site are strictly our own and are not provided, endorsed, or approved by advertisers.