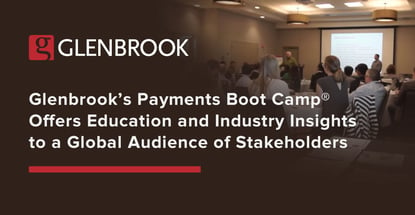 credit card news
Our experts and industry insiders blog the latest news, studies and current events from inside the credit card industry. Our articles follow strict editorial guidelines.
In a Nutshell: Change is the only constant in the payments industry, and that can make professional development a daunting challenge. Glenbrook Partners provides extensive consulting and educational services that cover the entire industry and its range of solutions. And for the past 15 years, Glenbrook's Payments Boot Camp® has offered training and industry insights to help professionals stay informed of developments in the payments industry. And amid a global pandemic, the Payments Boot Camp has gone virtual to reach a broader global audience.
The payments ecosystem surrounding the major card networks is often confusing. And when new employees enter the payments industry, they may find themselves awash in unfamiliar terminology and responsible for negotiating client relationships without a clear understanding of where they fit in. Even when industry veterans leave their comfort zones to take on new roles, they can find themselves in the same situation.
Meanwhile, everyone working in payments needs to stay up to date on industry trends and innovations.
That's why during its over 20-year history, Glenbrook Partners has expanded from a payments strategy consulting firm to one that also functions as an educational institution. And Glenbrook's Payments Boot Camp® has become the industry's go-to professional development resource. More than 24,000 payment professionals have taken courses in Glenbrook classrooms, corporate campuses, and online.


"When we started, we thought we were going to help clients directly solve their payment challenges and optimize their businesses," Glenbrook Partner Russ Jones said. "While we continue to do that, we also discovered a need to educate our clients' employees about how the industry works. And they need to know it fast."
Glenbrook's Payments Boot Camp is fast-paced and focused. It offers lessons for everyone from newcomers to experienced managers in all areas of the industry — including product, strategy, technology, operations, and risk segments, among many others.
"It's a diverse cross section of stakeholders who come to these workshops," Jones said. "And team exercises, interactive polling and testing, videos, diagrams, stories, and examples make our boot camps interactive and fun."
Identifying Trends and Best Practices for a Rapidly Evolving Industry
Banks and processors face competition from tech companies that pressure them to lower costs and add services. The Covid-19 pandemic has put a greater emphasis on ecommerce and shop-anywhere mobility.
The multiday Payments Boot Camp includes single-session Insight Workshops and hour-long Insight Webinars that enable participants to take deep dives into topics appropriate for specific stakeholders.
"Those advanced workshops give us a chance to drill down and give people a diversity of views," Jones said.
Meanwhile, Payments Boot Camp content is continually updated as issues emerge and recede in the industry. Boot camps predict trends in the industry that are presented by an experienced team of Glenbrook partners and supported by an impressive research and consulting staff.
"Out of roughly 3,000 slides that make up the Payment Boot Camp, only about 100 never change — they're as true in 2020 as they were in 1993," Jones said. "Beyond that, things are always evolving, with new technologies, the fintech phenomenon, and companies and topics coming and going."
While outside factors drive significant change, the bulk of innovation emerges from the competitive nature of the payments industry. A prime example of an outside factor is the rise of the coronavirus pandemic, which is compressing the decades-long shift from analog payments to contactless payments, according to Jones.
"Bills, coins, checks, and even the plastic in your wallet — that's the world of analog payments," he said. "Covid-19 is accelerating this massive shift in the marketplace from transactions that are swiped and dipped to transactions that are tapped."
Group Chat and Online Tools Allow Attendees to Opt for a Virtual Experience
The coronavirus is prompting change in Glenbrook and the Payments Boot Camp as well. Except for the webinars, the boot camps and auxiliary sessions were presented in-person.
That was motivated chiefly by a desire to preserve the interactive components that worked so well and also brought a steady stream of new participants into the sessions.
"When the pandemic took shape, it had a big impact on how we approached the workshops," Jones said. "Coronavirus pushed us to retool our approach while not losing what was working so well — the interaction, the extensive experience-based Q&A, and so on."
The results of that retooling to a Virtual Payments Boot Camp concept have surprised even the Glenbrook team. Not only have they managed to retain what was so appealing about the Payments Boot Camps, but the online experience has also added value and brought new benefits to participants.
"We've been able to do things we didn't have a way to do before," Jones said. "One technique that has been a real pleasant surprise is taking questions through group chats. We were able to develop a technique where we're answering questions, and expanding on those answers, while the workshop is going on."
Another benefit is that every question and answer is captured in a transcript. Migrating to an online format has facilitated the preservation of content so participants can refer to it later, Jones said.
"People leave workshops with a comprehensive payments education, including a digital copy of our companion book 'Payments Systems in the U.S.' and a transcript of all the Q&As that happened," he said.
Globalizing Payment Education for a Post-Pandemic Era
As the Glenbrook Payments Boot Camp continues to evolve, the program has expanded its reach beyond America to the rest of the world. And its recent focus on digital channels has been a driving force.
"Focusing on face-to-face workshops delivered at Glenbrook and privately on corporate campuses wasn't solving a problem that many large companies in the industry have," Jones said. "The industry is global, and U.S. companies have development footprints and employees all over the world. It had been hard to provide educational support to those customers when their employees were so far away."
That's why private instruction at Glenbrook has been such a viable option. International clients can send one or two participants to a Glenbrook workshop, or ask Glenbrook to present to a much larger group at a local corporate office.
Now, the only limitation to accessing Glenbrook Payments Boot Camp instruction is time-zone related.
"We're starting to get an extraordinary influx of people from outside the U.S. who are attending these online workshops that are optimized for delivery during U.S. office hours," Jones said.
And while that certainly means very late nights or early mornings for those international participants, the numbers tell the story that it's worth it. "In fact, 25% of participants in a recent workshop were from outside the U.S.," Jones said.
Those results bode well for the growth of Glenbrook's online presence.
"We found that by working online, we can capture the magic of what had worked so well for us in the face-to-face world," Jones said. "It's been a pleasant surprise that we've made the experience richer and extended our reach."