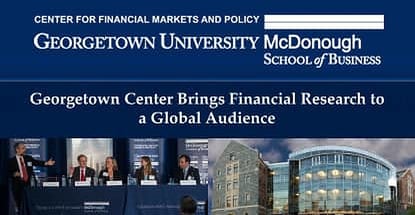 In a Nutshell: The collapse and subsequent bankruptcy of Lehman Brothers in 2008 knocked over the first domino that would topple several respected global financial institutions. From the chaos of that September came the birth of Georgetown University's Center for Financial Markets and Policy. The center's founding principle was to give a voice to the financial market at a time when few wanted to speak. Its focus today — on market structure and policy, corporate governance, and financial technology — places the center among the first of its kind in the world. In addition to hosting its own events each year — which draw renowned business leaders and policy makers — the center partners with local Washington, DC, groups and worldwide organizations to create a platform where they can discuss economic trends. //
Anyone who follows financial markets remembers where they were on September 15, 2008.
The world economy felt the aftershocks of the global financial crisis long after the last employee dragged his possessions from the Lehman Brothers' New York offices. The weeks following Lehman Brothers' historic bankruptcy filing and the market's subsequent plunge was unlike anything felt since the Great Depression, said Ben Bernanke, the former head of the Federal Reserve, to the Financial Crisis Inquiry Commission in 2009.
Twelve of the most important financial institutions in the US "were at risk of failure within a period of a week or two," said Bernanke in his 2009 confidential testimony later released to the public.
Nearly every name-brand bank went into hiding, with ledger books secured, and remained silent. Amid takeovers and bailouts, some parts of the world economy still have not recovered.
From the ashes of that financial crisis rose Georgetown University's Center for Financial Markets and Policy. A long-standing leader in business and financial market education, the center seemed a natural way to blend the talents of many departments into one to understand the economic events of the day.
"We realized no one really spoke out on behalf of the entire financial system," said Executive Director John Jacobs. "All of the banks and financial service firms had their head down and tried to survive and not become the next Lehman Brothers. The regulators had their nose to the grindstone, trying to fix things and turn it around to support the system. No one engaged in dialogue."
Lack of communication and updates kept investors on the sideline for months. Bank customers in fear of another Great Depression pulled money from banks. In Washington DC, all political, financial, and business wheels ground to a halt. On the northwest side of town, one group worked to bring understanding to the confusion and chaos.
"Georgetown has a history of bringing together disparate parties without an agenda," John said. "We try to facilitate dialogue between industry and regulatory policymakers and have a pretty good reputation for being neutral in the middle. That helps us drive dialogue and research on a global basis."
The school's prestige among scholars made it an obvious choice to host this groundbreaking venture.
"The McDonough School of Business has multiple centers of excellence and Georgetown's specialty in market structure began at least 20 years ago," John said. "We have many experts on many different topics, but this was an opportunity to bring them all together under one umbrella of Financial Markets and Policy. It kind of formalized the informal work that's gone on here for the last couple decades."
Uniting Conflicting Parties for Honest, Robust Conversation
To help unify all parts of the financial industry, the center hosts several annual events like its Financial Markets Quality Conference. The four-day event attracts regulatory and policymakers in a broad range of industries, including the 2017 keynote speaker, and London Stock Exchange executive, Mark Makepeace.
Spectators from around the globe mingle with students and attend speeches and panels that feature heads of the New York Stock Exchange and NASDAQ, as well as investors, bankers, and other top professionals.
"People come from all over for the event," John said. "Because in most cases, it's the only time any of these guests will be in the same room at the same time. Tickets are free. We are totally sponsor-based and don't make any money from the events."
Recent years focused on financial technology (FinTech) and its impact on global markets. That shift in direction blended two main interests in John's professional life.
After 32 years at the NASDAQ, he retired in 2015 as the Executive Vice President. He taught classes at Georgetown and Johns Hopkins University, eventually settling in as the Executive Director of the Center for Financial Markets and Policy.
His latest project is a FinTech class he developed and plans to offer at GU in coming semesters.
"It's like full circle for me," he said. "I'm back in the classroom after all these years."
Exploring Business and Policy in FinTech Advancements
Georgetown finds itself in an interesting position in the FinTech revolution. Without a school of engineering, the university takes a different approach to technology. Instead of focusing on building the next advancement, it works on developing new uses for current tools.
"Our approach to FinTech is in the business and policy side," John said. "We want our students to understand how organizations of any size in financial services use FinTech applications to improve processes and problems."
Students study organizations domestic and foreign. And past research has dealt with using blockchain technology to solve problems within Africa's aging banking system.
Other partners include Washington's Chamber of Digital Commerce for its annual blockchain summit and Blockchain in Health Care Code-a-Thon. The latter sought to develop distributed-ledger-based applications to address key operational issues in the US healthcare system.
John stresses that student and educator-based research is meant to affect a global audience as the tools being developed have effective uses across many platforms.
A Leading Institution with a History of Excellence
For more than 225 years, Georgetown University has been at the cutting edge of innovation and education. The financial crisis gave birth to a new way of thinking in America, but the school continued the advancement of communication with the introduction of the Center for Financial Markets and Policy.
While most of the Lehman Brothers employees — and staff members of other banks felled during the crisis — moved on to new jobs, the work continues to ensure that past mistakes are not repeated. Meanwhile, John and his staff look to further the work of previous students and faculty and expand the list of contributors to all parts of the world.
"Our center is global," John said. "We did events this past year in London and at the United Arab Emirates. Georgetown has a global reach and I think we are very good at bringing our dialogue and research to different parts of the world and all the way back to our campus."
Advertiser Disclosure
CardRates.com is a free online resource that offers valuable content and comparison services to users. To keep this resource 100% free, we receive compensation for referrals for many of the offers listed on the site. Along with key review factors, this compensation may impact how and where products appear across CardRates.com (including, for example, the order in which they appear). CardRates.com does not include the entire universe of available offers. Editorial opinions expressed on the site are strictly our own and are not provided, endorsed, or approved by advertisers.