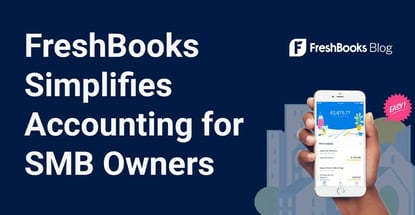 Our experts and industry insiders blog the latest news, studies and current events from inside the credit card industry. Our articles follow strict editorial guidelines.
In a Nutshell: To say small business owners are busy is an understatement. FreshBooks provides comprehensive accounting, invoicing, payment, and payroll services that allow business owners to focus on what matters most. Their epic customer service leaves customers highly satisfied and positioned for success. Seamless software integrations further streamline business processes, saving business owners both time and money. FreshBooks is expanding into new markets around the world while continuing to keep extraordinary customer service at the forefront of everything it does. 
Prospective entrepreneurs and business owners often start out equipped with just a dream. The dream often includes sharing their passion with the world, allowing others to benefit from the fruits of their labor, and years spent developing and fine-tuning their business idea. 
The dream rarely includes the many hours they will need to spend toiling on the bookkeeping tasks required to run their business. In fact, for many small business owners, that isn't part of their dream at all. To them, that side of running a business may be more accurately described as a nightmare.
But it doesn't have to be. The market has plenty of companies vying to sell software solutions aimed at aiding business invoicing and accounting functions. But these solutions are not all equally effective. The choice of which accounting software provider to use may be nearly as daunting as actually performing the accounting work itself. 

FreshBooks provides accounting and invoicing software that meets the comprehensive needs of each business, positioning the business for success. The product is well-suited for a wide variety of businesses, from sole proprietors to those with employees of 100 or more.
"We've built the easiest to use accounting platform in the world," explains Stefano Grossi, Chief Product and Technology Officer. "Our products are customized to fit the unique and diverse needs of different businesses. Our solutions free a business owner's time, so they can focus on what's important to help their business grow. Whether you're a subscription-based business, an internet service provider, or a construction company, we have a solution for you."
An "Owner-Centric" Approach Promotes Success
FreshBooks devotes time to work with businesses while designing, developing, and validating their solutions. This approach, which Grossi describes as "owner-centric," provides the business with the confidence that FreshBooks understands their unique requirements. Spending the necessary time at the outset to get the solution correct helps to prevent issues and time spent troubleshooting in the future.
"Honestly, our goal is that business owners don't spend much time using our software," Grossi explains. "You're going to be happier to spend as little time as possible on the tool. This gives the business owner time to focus on their craft and what they do best. We automate your processes to allow that to become a reality for our customers."
But FreshBooks doesn't just implement software for customers, deliver the finished product and disappear. Their customer service team remains available to answer questions, propose solutions, and walk individuals through performing various tasks.
FreshBooks provides unparalleled customer service that follows its "4E Philosophy", which stands for Execute Extraordinary Experiences Everyday. 
An in-house team of support specialists are adept at solving a wide variety of customer issues. In fact, 99% of calls are fully handled by the support specialist who originally answers the call. Anyone who's had a lengthy conversation with a customer service representative, only to be transferred to another one or returned to the automated menu, can understand the value of this.
"Customer service is so ingrained in our culture," Grossi says. "Everyone who joins our organization spends one month on our support team, even our CEO. This way, everyone learns our product suite, but, more importantly, they learn what is most essential to our customers." 
Seamless Integrations for End-to-End Accounting Needs 
Offering a product suite that fully meets customer needs is vital to any successful business. Integrating those products into a business' existing systems and processes provides additional time and cost savings.
FreshBooks is experienced in providing deep integration across a variety of solutions. Grossi cites FreshBooks' payments solution and its deep integration as particularly valuable to customers. Moving money in and out of an organization needs to occur both securely and quickly. FreshBooks' user interface is so seamless that many customers don't even realize an integration has been enabled.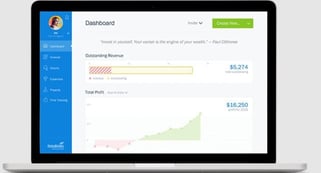 Payroll integration is another popular solution FreshBooks provides. Its payroll product offers a quick and simple setup, with 85% of customers saying it's easier to use than their prior payroll service. If questions do arise, FreshBooks support specialists are available to help with implementations. Tax services, including auto-filing, can also be enabled through their payroll software.
Grossi is particularly proud of the company's newest integration, an appointment scheduling solution that helps business owners stay on top of their daily tasks. It also allows for users to open access to their calendars so customers and vendors can directly schedule appointments with them.
Recognizing that many small businesses will use FreshBooks' solutions in addition to employing an outside accountant, FreshBooks enables customers to give their accountants direct, customized access to their software. They can also export their account information and provide it to their accountant.
Additional integrations and automations to simplify processes for FreshBooks customers are scheduled in the future.
"We partner with our customers every step of the way. And this isn't just for current solutions and integrations, but also on improvements we are planning to roll out," Grossi says. "In addition to our customers, we regularly meet and seek feedback from accountants to get their perceptions of our products. This way we're able to anticipate industry trends and changes that help inform upcoming enhancements to our solutions."
Expanding to Meet the Needs of Businesses Worldwide
Freshbooks, which initially started as a billing platform for small businesses, has grown into a leading cloud accounting software provider that has worked with over 30 million businesses and currently has paying customers in 130+ countries.
FreshBooks recognizes the need for services that complement the company's ever-expanding global footprint. It has recently taken steps to offer services in multiple languages. Moreover, different countries have different terminologies, business rules, and tax codes. FreshBooks has recently strengthened its global strategy to better understand its customers around the world.
Recent acquisitions in Mexico and Germany serve to bring FreshBooks into those markets, and the company has also recently opened in the Netherlands and Croatia. These openings and acquisitions position it closer to customers in these respective markets, which helps FreshBooks better understand their unique needs.
Future geographic expansion as well as product enhancements and rollouts will further solidify the quality and completeness of the FreshBooks product suite. Regardless of how much it grows, its solutions will continue to first consider and incorporate the customer's perspective. Grossi embodies the ethos of this approach by personally reviewing every piece of customer feedback the company receives.
"We collect as much feedback as we possibly can," he explains. "We also have multiple channels for capturing feedback. Each customer comment comes across my desk. And I read every one of them."
Interested customers have the option to try FreshBooks for free. And what action should they take if they have any questions during this trial?
"Give us a call," Grossi encourages. "We'll probably pick up on the first ring."