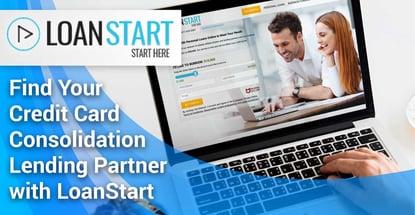 In a Nutshell: LoanStart helps consumers in search of a loan find a lender that suits their funding needs within just five minutes after submitting a simple, fee-free loan request form. Working securely with more than 300 trusted lending partners, including conveniently located storefront providers, the service makes finding a suitable lender easy. In today's connected world where loan options abound, LoanStart cuts through the clutter to connect consumers in need of funds with lenders willing to provide financing.
Lenders take more than a credit score into consideration when deciding to whom to extend a loan. Every lender has its own criteria, and every state has its own regulations. And, because the internet has drastically expanded the options available to consumers, the process of selecting and applying for a personal loan has never been more complicated.
That's why LoanStart has grown consistently since it launched in 2015. Acting as a free platform where consumers can be matched with a lender originating from a network of more than 300 reliable online and storefront providers, LoanStart makes the process of acquiring a loan that much simpler.
"One thing that always comes to mind when we talk about loan offers for a prime audience is credit score — the idea that if you have a higher score, you definitely should be able to get a prime loan," said LoanStart Business Development Manager Hayk Serobyan. "But that's not always the case. If for one reason or another you're not approved, we offer alternative solutions."
That means more options for consumers who venture into the loan market seeking funds for credit card debt consolidation, emergency health-related or other unexpected expenses, home renovation, and much more.
LoanStart brings better results to more consumers by unearthing lenders willing to lend. Out of the large bucket of potential that is today's personal loan market, it presents funding options to many who may otherwise find themselves choosing more expensive offers.
High Loan Ceilings and Low APRs Facilitate Consolidation of Multiple Card Debts
Place of residence, length of credit history, employment, income, and even the applicant's purpose in seeking a loan are all non-credit-score factors that impact a lender's decision to extend a loan.
But on LoanStart, finding the right provider is easy — simply enter a preferred loan amount, select a purpose for applying for a loan from the drop-down menu, and enter a zip code, mailing address, and some personal information into LoanStart's encrypted form.
The user's eligibility will then be determined and paired with a lending option in seconds.
"When you visit LoanStart, it takes five minutes or less to find out whether you have been connected with one of our lenders," Serobyan said.
Depending on the details, the result can be a loan of up to $40,000 at a rate as low as 4.85% — a great choice for consumers who have accumulated a relatively high amount of credit card debt and are dealing with the logistics of paying off multiple cards at the same time.
LoanStart, therefore, makes credit card consolidation more viable for people who may otherwise face a credit-damaging settlement process.
The high loan amounts and low APRs LoanStart finds can also make consolidation loans better options than the typical 0% balance-transfer plans offered by card providers. This is because the credit limit on the new card may not be high enough to accommodate the amount of debt involved or the 0% period is not long enough to pay the debt off.
A personal loan facilitated by LoanStart can reduce the multiple interest charges and payments associated with paying off multiple card debts.
"We connect based on the provided information on one end and the filter provided by the lender on the other end," Serobyan said. "So, we take two different pieces and try to connect them."
Once someone chooses the loan option they want to proceed with, the platform provides instructions to connect directly with that lender to begin the application and funding process.
No credit inquiries are made leading to this point, so your credit score will not be affected when using the LoanStart platform.
Bringing More Loan Options to More Consumers
Inevitably, some consumers in some markets will simply not be in the right place at the right time to prequalify for a personal loan. Therefore, among LoanStart's more than 300 partners are a number of storefront lenders.
"We expand your options," Serobyan said. "Specifically in the personal loan space, nobody else does that. If an online lender is unwilling to work with a specific consumer, we direct the consumer to one of our storefront partners — that's a big advantage."
Distinct from the predominantly short-term loan providers often referred to as payday lenders, LoanStart's storefront lending partners typically operate out of brick-and-mortar storefronts and can provide near-prime products to consumers with slightly higher credit scores.
"A lot of prime consumers have taken out loans multiple times in the past and gotten their credit score lowered for one reason or another," Serobyan said. "Instead of forcing them into subprime territory, with its higher interest rates, we try to find them loans within a workable APR."
Storefront lenders are able to take a more personal approach to lending than online algorithms that determine approval based on a set of specific data.
"A lot of underwriting and prequalifying is done online with lenders, and, quite often, if not always, they use their standard approach on whether to approve or to deny someone," Serobyan said. Storefront lenders, on the other hand, require an in-person meeting, which means the process "can be a lot more subjective when it comes to providing loans."
The result may be a secured loan, a loan requiring a cosigner, or something else "that will help you get the loan you need," Serobyan said.
See Your Loan Options without Affecting Your Credit
Even in today's hyperconnected world, sometimes the right loan option is one that requires face-to-face interaction. LoanStart is a great choice when those somewhat sensitive circumstances are required.
And, in finding a storefront lender for a consumer, LoanStart really does make things easier.
"When a storefront location is nearby, we provide the storefront location with the customer's information, making sure that the distance between the consumer and the location is reasonable," Serobyan said. "We only connect consumers within a specific range."
There's never any cost — or consequence — associated with LoanStart's introduction of the consumer to the lender. The LoanStart service is free for consumers to use in every state where personal loans are offered. And, there's never any impact to the consumer's credit report until the consumer moves beyond the introduction facilitated by LoanStart and makes formal contact with the provider.
"There's no inquiry on the credit report," Serobyan said. "We connect consumers to lenders who then work with them directly. Any consent to a credit inquiry has to be given by the consumer either verbally to the lender or via the lender's website."
Life happens — oftentimes in unforeseen ways. But when a financial need arises, LoanStart's secure configuration and privacy-minded functionality mean there's no reason for consumers ever to shy away from exploring their options on the platform. With LoanStart, it's easy to free up liquidity through debt consolidation or begin any quality-of-life improvements that can be facilitated by a personal loan.
Advertiser Disclosure
CardRates.com is a free online resource that offers valuable content and comparison services to users. To keep this resource 100% free, we receive compensation for referrals for many of the offers listed on the site. Along with key review factors, this compensation may impact how and where products appear across CardRates.com (including, for example, the order in which they appear). CardRates.com does not include the entire universe of available offers. Editorial opinions expressed on the site are strictly our own and are not provided, endorsed, or approved by advertisers.