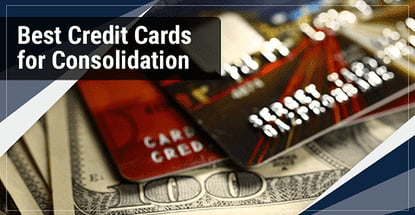 Once upon a time, you could get a full barrel of whiskey for just five bucks. (Of course, those were actual bucks — as in deer.) Nowadays, five bucks — of either kind — doesn't buy what it used to, and it seems like prices go up every year.
Whether you're having trouble keeping up with the cost of everyday living or just have a hard time saying no to a good sale, it's all too easy to swipe and click your way into more debt than you can manage.
When that happens, consolidation may be a good option for getting your debt back under control. And, helpfully, there are a number of solid options for consolidating credit card debt. In the article below, we'll take a look at some of our choices for the best credit cards for consolidation, including 0% APR offers, no fee balance transfers, cards for fair credit, business credit cards, and personal loan options.
0% APR | Fair Credit | Business | Loans
Best "0% APR" Balance Transfer Cards for Consolidation
With credit card interest rates as high as 30% not uncommon, it can be easy to get overwhelmed by interest charges while trying to pay down debt. In these cases, reducing your interest rate can be a huge step toward making your debt more affordable.
One of the best tools for (temporarily) eliminating interest fees is to transfer your balance to a credit card with an introductory 0% APR offer. Many of the best offers, like our top-rated picks below, are good for 0% interest for 12 months or more.
There are a few things you'll need to keep in mind when using an intro-APR offer, of course, including the fact that introductory offers tend to expire. Once your promotional period is over, any remaining balance will be subject to the regular APR, which is typically much higher.
Additionally, most credit cards charge balance transfer fees of 3% to 8% of the transfer amount. So, while you may not be charged interest on a transferred balance with an intro-APR deal, you'll still likely need to pay the balance transfer fee.
You should also remember that balance transfers don't earn rewards, even when transferred to a rewards credit card. Transfers also won't generally count toward the spending requirement for a signup bonus or other rewards promotions.
Best "Fair Credit" Balance Transfer Cards for Consolidation
Although unfortunate, one reality of credit card debt — and debt in general — is that help is the least available to those with the lowest credit scores who likely need it the most. And this sad pattern extends to the world of balance transfer credit cards.
In general, finding a 0% APR balance transfer offer with fair credit (or worse) will likely require some digging, especially if you prefer to stick with major banks. Student credit cards and secured credit cards are the most likely to provide a good balance transfer offer.
Many more balance transfer credit card options exist at the local level, with credit unions and small community banks more willing to provide lower APRs — even some 0% intro-APRs — for those with at least fair credit.
6. Aspire Platinum
The Aspire Platinum has a low regular APR range of 10.15% to 18%, depending on your credit, and a generous six-month 0% APR introductory offer.

0% introductory APR on new purchases and balance transfers for the first 6 months
Standard 10.15% to 18% APR, depending on creditworthiness
Pay no annual fee
You'll need to become a member of Aspire Credit Union to apply for its credit cards, but you can become eligible for membership if you work for a Select Employer Group or by joining the American Consumer Council.
Balance transfer offers available to those with fair credit are likely to be much more limited than those open to consumers with higher scores, so be sure to read the fine print carefully before signing up. Make sure you know when your intro offer expires and what APR you'll need to pay on any remaining balance.
Best "Business" Balance Transfer Cards for Consolidation
Regardless of your industry, nearly every business has quarters that are busier than others — and periods when revenue can be sporadic at best. For new businesses, that period of instability can even extend for months.
If you're using your credit cards to keep the business going during dry spells, your high-interest balances can add up quickly. As with consumer credit cards, however, transferring your balance to a lower-interest business card can make all the difference.
7. U.S. Bank Business Edge™ Platinum Card
The U.S. Bank Business Edge™ Platinum Card offers a competitive 20-month 0% intro-APR period for balance transfers and new purchases, as well as a low regular APR thereafter.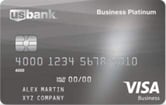 Get 0% intro APR on balance transfers & new purchases for the first 20 months
Balance transfer fee of 3% of the amount transferred
Pay no annual fee
As with most balance transfer cards, this card charges a balance transfer fee; prepare to pay 3% of your total transaction amount for each balance transfer you make.
8. Blue Business Plus Credit Card from American Express
The Blue Business Plus Credit Card from American Express has a lengthy introductory APR offer that's good for both new purchases and balance transfers. Transfers will be charged a balance transfer fee of $5 or 3% of the total transfer amount, whichever is larger.

Earn 2X Membership Rewards® points per $1 on the first $50,000 in purchases each year
Earn unlimited 1X points per $1 thereafter
Pay no annual fee
You'll need to request your balance transfer within the first 60 days of opening your account for it to qualify for the introductory 0% APR offer. After that, transferred balances will be charged the standard balance transfer APR.
9. Wells Fargo Business Platinum Credit Card
The Wells Fargo Business Platinum Credit Card doesn't have the longest introductory offer out there, but it does apply to both new purchases and balances transfers. Transfers must be made within the first four months to qualify for the reduced rate.

Choice of purchase rewards with unlimited 1.5% cash back or 1X rewards point per dollar
0% introductory rate for nine months
Pay no annual fees
You'll be asked to choose your rewards type when you first enroll in the rewards program. Those cardholders who choose cash back will earn unlimited 1.5% back on eligible purchases. Cash back is automatically applied to your account as a statement credit.
(The information related to Wells Fargo Business Platinum Credit Card has been collected by CardRates.com and has not been reviewed or provided by the issuer or provider of this product or service.)
Most business credit cards will charge some sort of balance transfer fee. In another parallel to the consumer world, those fees can sometimes be avoided by going the credit union route, though not all credit unions will offer business credit cards.
Best "Personal Loans" for Consolidation
As handy as credit card balance transfers can be, they simply aren't the best solution for everyone. This is particularly true for those consumers who can't qualify for a quality introductory APR offer or who have too much debt to consolidate onto one credit card.
If balance transfers aren't a viable option, consolidating your card debt with a personal installment loan could be the next best method of getting your interest rates under control. Be sure to shop around for the lowest APR, however, perhaps by using an online lending network like our picks below.
Loan amounts range from $1,000 to $35,000
All credit types welcome to apply
Lending partners in all 50 states
Loans can be used for any purpose
Fast online approval
Funding in as few as 24 hours
Loan amounts range from $500 to $10,000
Compare quotes from a network of lenders
Flexible credit requirements
Easy online application & 5-minute approval
Funding in as few as 24 hours
Loan amounts range from $1,000 to $35,000
Flexible credit requirements
Loans can be used for anything
Five minute application
Funding possible in as few as 24 hours
Large lending network with multiple partners
Online lending networks partner with dozens to hundreds of lenders from across the country to help potential borrowers find the right match — all with a single online application. Qualified borrowers can receive up to four offers at a time to quickly compare rates and fees.
When consolidating credit card debt with a personal loan, be sure to determine your current interest rates and balances before starting the process. You'll need a loan with a lower APR than you're currently being charged on any of the balances you intend to transfer.
Lower Your Interest Rate for Easier Debt Repayment
As annoying as it is, the value of a buck seems to decrease every year — and the cost of everything seems to keep going up. Before you know it, even basic everyday expenses — let alone those inevitable emergencies — can cause your credit card balances to skyrocket.
No matter how you got your high card balances, consolidation is often the best solution for lowering your interest rate and making it more affordable to repay your debt. And while options are much more abundant for those with good credit, even fair-credit consumers can often find a decent way to reduce their interest rates.
Advertiser Disclosure
CardRates.com is a free online resource that offers valuable content and comparison services to users. To keep this resource 100% free, we receive compensation for referrals for many of the offers listed on the site. Along with key review factors, this compensation may impact how and where products appear across CardRates.com (including, for example, the order in which they appear). CardRates.com does not include the entire universe of available offers. Editorial opinions expressed on the site are strictly our own and are not provided, endorsed, or approved by advertisers.