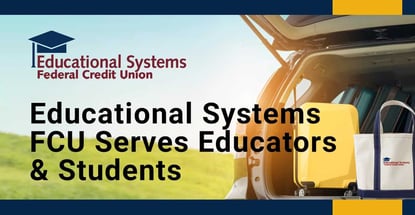 Our experts and industry insiders blog the latest news, studies and current events from inside the credit card industry. Our articles follow strict editorial guidelines.
In a Nutshell: For nearly 70 years, Educational Systems Federal Credit Union has served the education community in Maryland. The credit union focuses on educator-friendly solutions, including savings accounts for 10-month paid employees and low-rate credit cards. The credit union also develops learning resources that help members of the education community improve their financial situations for both the short and long term. By catering to member needs, Educational Systems FCU has developed a reputation as one of the best credit unions in the state.
In 2022, Educational Systems Federal Credit Union was named one of the best credit unions in Maryland. It wasn't the first year the credit union received that recognition, and its members have helped Educational Systems FCU earn that high ranking for three years in a row. 
That level of customer appreciation is no surprise to Kristy Mathey, Senior Vice President of Retail Delivery at Educational Systems FCU. The credit union was founded by a group of educators in 1955, so it also makes sense that it has the best interests of the education community at heart. 
"There was actually a teacher who needed to purchase a car to get to work. Their colleagues came together, pooled their money and made that vehicle loan happen. So that was how we were started," she told us.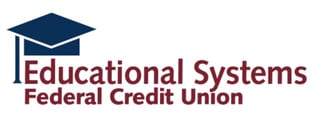 Over the next almost 70 years, the credit union has continued to grow and expand its financial solutions to support more members of the education community—teachers, administrators, support staff, parents, students and their families. Today, Educational Systems FCU holds $1.2 billion in assets across 13 branches and supports eight school systems and three community colleges.
Members feel connected to the credit union because its employees work hard to find solutions that will help educators. For example, several financial solutions take into account that many educators only receive paychecks 10 months out of the year, with none issued during summer break.
Educational Systems FCU employees can also offer members advice on how to make the most of their money by building their financial profile. 
"We have certified financial counselors who help our members plan for the future," said Mathey.
Financial Solutions Designed for Educators 
The credit union customizes solutions for educators and their unique needs. For example, Educational Systems FCU's Premium Summer Pay savings account recognizes that many educators don't receive a paycheck in the summer.
The savings account allows educators to put aside money from their paychecks during the school year through direct deposit to cover the period in which their pay may be interrupted. And the money is disbursed on a schedule, just like their regular paychecks.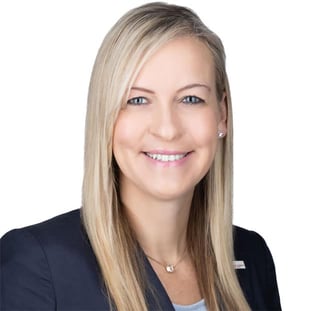 Mathey said the credit union worked with the school systems to design the savings account, and educators have a significant degree of control over how they use it.
"Once July 1 comes, they have access to that money because not everyone wants to get the money every two weeks. Some members want the money up front because they have vacation coming up or camps for children," she said.
A related solution for educators is the credit union's Summer Skip Payment Option for loans. Educators make their regular loan payment in June, and then can defer payments until September.
Educators also have multiple options to redeem the points they earn from the Educational Systems FCU Visa Rewards credit card. For example, members can redeem their points for gift cards, travel, merchandise or to pay their annual fee in January.
Offering Credit Card Options For Many Situations
In addition to its unique offerings for educators, the credit union also aims to give members the best possible deals on certificates and credit cards. 
Educational Systems FCU's certificates are unique in that members can open them with only $500. This differentiates the FCU from most other financial institutions, which typically require a minimum of $1,000. That allows educators to start saving money and building their financial profiles more quickly.
The credit union team also educates members about the benefits of laddering certificates with different terms, so they always have certificates maturing at different times.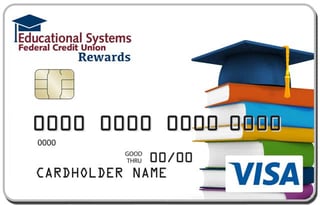 Educational Systems FCU also has three different credit card offerings to meet a variety of individual financial needs. 
The first of these is the Visa® Rewards Credit Card because it offers reward points and one of the lowest APRs in the country. The other two are a Visa® Gold Credit card with a fixed rate and a traditional Visa® credit card with a variable APR. 
"Some want a Visa® credit card with no annual fee, while others want to earn double points on every purchase. We believe in providing our members with options to meet their unique needs," Mathey said.
The Educational Systems FCU team is equally committed to teaching its members more about their finances. One of the credit union's significant areas of focus is financial literacy. 
Credit union team members present financial education seminars on topics such as budgeting, understanding your credit, saving for college, buying a home and retirement. The content is not only for educators, but also for students and parents. The team even moved these events online during the COVID-19 pandemic to reach more members of the education community.
Prioritizing Financial Literacy and Member Feedback  
Educational Systems FCU also has a financial planning arm called Ap Financial Planning, which gives a nod to the advanced placement classes students can take in high school. Many of the credit union's employees are accredited through CUNA's Financial Counseling Certification Program, meaning that they have the skills and knowledge to guide credit union members to sound financial decisions.
"The certification requires employees to study and sit for a proctored exam. There are some members who want to go to a seminar in a bigger setting, but others want to meet with someone one-on-one and have them review their credit report," said Mathey.
Certified financial counselors offer credit union members advice on how to plan for their futures or improve their credit scores. Members can also ask questions or seek advice on an ad hoc basis. This connection with Educational Systems FCU employees gives members peace of mind when making important financial decisions. 
For nearly 70 years, Educational Systems FCU has served the education community, a group of people with unique financial needs. In that time, the financial institution has remained steadfast in its mission to grow by helping the members of the education community achieve their financial goals and dreams.
Despite the financial institution's longevity, Mathey and her team continue to seek feedback from educators about their needs, and explore new options to offer relevant solutions.
"We have different email addresses for members to send suggestions, comments or feedback," Mathey said. "We're constantly listening to our members and use that information to enhance the member experience."