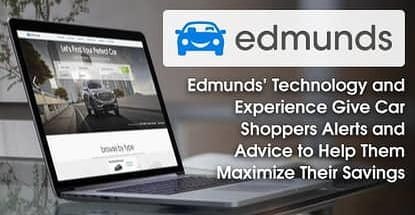 In a Nutshell: Consumers across the US are keeping their cars longer than ever before. That can make the car-buying process even more stressful when it's done only once per decade. To help shoppers get the best deal and ensure a quality purchase that will last another 10 years, Edmunds offers the web's leading resource of vehicle reviews, pricing information, and expert advice. A full-featured mobile application gives shoppers everything needed to conduct — from their phone — a detailed car search, including the "Can it Fit?" feature that places a three-dimensional rendering of any vehicle into a physical environment, like a garage, to gauge how it will look when placed there. //
My mother called me a few months ago asking for help. After 23 years with a Honda Civic that only had 34,000 miles on the odometer, she was ready for a new vehicle. The car ran beautifully, but it was time for a change. Being the family's resident finance guru, she wanted my help finding a good deal.
She said it would be easy for me because she'd already decided on the type of car she wanted, as well as the color and the price she wanted to pay. Soon after her first trip to a dealership lot in nearly a quarter century, she realized it wasn't that easy.
Buying a vehicle can be a tense process — especially if you're like my parents and can't tell the difference between a Hemi and a hatchback. Consumers want to find a car that fits their lifestyle, garage, and especially their budget while making sure they're getting the best deal possible.
When my mother was shopping for her Civic in 1994 (believe it not, despite the few miles she put on the car, she bought it used), her options were limited to spending days driving to each dealership lot or browsing the classifieds to see what deals were available in town. When it came time to buy her new car, we skipped that route and went straight to Edmunds.
As the market-leading resource for online vehicle research, pricing, and model information, Edmunds has helped countless Americans find the car of their dreams with less effort and greater peace of mind that they're getting the best deal possible.

The company's website remains an invaluable resource for car shoppers with any size budget, but Edmunds is revolutionizing modern car buying with a mobile application that includes features like the ability to see how any car would look in your driveway or garage before you even take it for a test drive.
"We continue to push the envelope and try to make it easy for people to buy a car," said Eugene Park, Chief Product Officer at Edmunds.
Edmunds equips consumers with ratings and model information for virtually every car in production while giving real-time availability at individual dealership lots and pricing information that includes active discounts and recent sales numbers.
The website also helps shoppers analyze their current vehicle's trade-in value and offers calculators to determine the monthly payment associated with a purchase.
Edmunds' experts also compile car-buying tips to help shoppers ask the right questions at a dealer's lot. Since Americans are holding on to their cars longer than ever before, that knowledge is important if you're conducting negotiations for a new vehicle for the first time in a while.
Up-to-Date Pricing Information Means You Won't Overpay
If you're looking for a specific car or just thinking about getting a new ride, the typical first step is researching vehicle prices in your area. That can be tricky when different dealerships offer competing discounts that sometimes include hidden fees.
Edmunds offers pricing information on virtually every car lot in a shopper's area and updates regularly to reflect any special financing terms or discounts offered by dealers or manufacturers. Eugene says Edmunds' tools put the focus on details that aren't always on a dealership's pricing sticker.
"We help you figure out what your monthly payment would be," he said. "While you may see a sticker on the window that tells you the total price of the car, what's really important is what you'll have to pay on a monthly basis."
Eugene said that info is especially important since more than 84% of car buyers finance their purchase, either through a traditional loan or a lease.
Edmunds suggests shoppers never exceed spending more than 13% to 15% of their total monthly income on a vehicle, with only a portion of that total going toward the payment.
"We suggest at least 8% of that be factored for the car's upkeep, gas consumption, and other expenses not associated with the monthly payment," said Matt Jones, Edmunds' Senior Advice Editor. "Those are the things that most people don't consider when they're deciding if they can afford a new car."
Advice From Car-Buying Experts Puts Shoppers in the Know
A major feature that sets Edmunds apart from its competitors is the depth of research and advice provided to customers. Matt and his team of auto-buying experts cover topics many consumers forget to consider when car shopping (like the best dog-friendly features on modern cars).
"Our editorial advice and opinions about cars help consumers understand if the car they're interested in is really the right match for them," Eugene said. "We provide a lot of the features and specs and pricing information to give people the tools to answer questions they may have about the car."
Like most major purchases, those questions tend to revolve around price. That's where the work that Matt and his team put in pays the biggest dividends to readers.
"Our editorial team has spent a lot of time trying to help people really understand what their purchase price means in real dollars," Matt said. "That can be shocking for some people."
Matt, a former car dealer, said the shock usually stems from shoppers who focus on the sticker price of a vehicle that interests them and not the monthly cost associated with the total cost.
"I've personally seen people who say they've found the best possible price for a vehicle and they're ready to buy it, but then it comes time to hammer out the payments and they're shocked at what those payments are," he said. "That's because they hadn't taken that extra step to calculate that ahead of time."
Edmunds' research team helps prepare consumers in any stage of the car-buying process, whether they're just casually looking, ready to buy, or researching the differences between buying new, used, or leasing.
Mobile App Innovations Help You Find a Perfect-Fit Vehicle
Modern technology not only changed how we shop for cars, but it's completely overhauled how we interact with the cars we buy. The vehicle my mother chose has the ability to answer her phone, makes calls for her, and accesses files on her mobile device through Bluetooth. While those features are handy for some consumers, my mother's current flip phone, with buttons each the size of the palm of my hand, isn't compatible with the technology.
For just about everyone else, Edmunds offers the technology that enables them to conduct the entire car-buying process on a smartphone. Customers can shop for cars, see deals in their area, or be alerted when they're on a dealership lot with sales and deals available at that location.
When shoppers get serious about a certain model, they can even see if the car would fit in their garage without taking it home. The "Can it Fit?" feature uses augmented reality technology to look at a three-dimensional image of a car in any location.
"You can put in the physical dimensions of your garage and see the car inside your garage to see how the car will fit in that space," Eugene said.
The feature is one of many the company is working on to help consumers use their mobile devices to make life, and car shopping, easier.
Making it Easier to Find the Right Car Using Just Your Phone
Eugene said he sees Edmunds, which is already at the top if its field, developing more features like "Can it Fit?" and other tech-based additions in its next phase.
"We've focused in particular recently on how to meet the needs of mobile-oriented users," he said. "We're seeing more and more of our traffic move toward mobile devices and are constantly adding features that take advantage of the small screen size with faster page load speeds."
Those features include improved location detection for price information when you're on a dealership lot. Shoppers can also save on their account information of cars they're interested in and receive alerts when deals are announced on the vehicle.
The point is to make shopping easier and less tense for consumers. The features definitely helped my mother, who meant well when she made definitive decisions on model, color, and price before shopping, but didn't realize how difficult such rigid thinking could make the experience.
"Car shoppers need to be as flexible with their thought process and their shopping as possible," Matt said. "We're seeing a lot of people going to a car dealership with a firm set of goals they plan to execute. Things are different now. There may be offers in place that help you get that car and save money, but you get sidestepped because you aren't as flexible in your thinking."
Advertiser Disclosure
CardRates.com is a free online resource that offers valuable content and comparison services to users. To keep this resource 100% free, we receive compensation for referrals for many of the offers listed on the site. Along with key review factors, this compensation may impact how and where products appear across CardRates.com (including, for example, the order in which they appear). CardRates.com does not include the entire universe of available offers. Editorial opinions expressed on the site are strictly our own and are not provided, endorsed, or approved by advertisers.