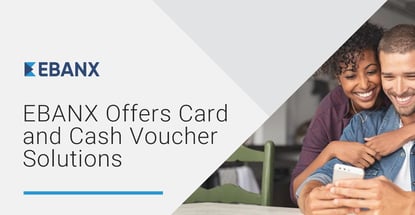 In a Nutshell: Credit products can be elusive and expensive in Latin America, and many underbanked consumers still prefer to transact in cash. That combination can discourage international companies from conducting business there. EBANX helps global businesses enter the Latin American market by offering innovative digital payment solutions for merchants and consumers. The company develops card, transfer, and cash voucher solutions, among others, that link Latin America to global markets, bringing the benefits of ecommerce to millions of consumers and helping to expand business access.
Borders and regulatory barriers can impede global ecommerce expansion into new markets by adding costs to each transaction. Every market has a structure with conditions that reflect its unique history — and some are more open to growth than others.
EBANX has been working to help merchants and consumers in Latin America overcome financial and cultural barriers that have slowed the region's integration into the global economy.
It accomplishes that by helping international firms do business with Latin American consumers on their own terms, using familiar payment methods that work within the market.

EBANX designs card, transfers, digital wallets, and cash voucher payment solutions that allow global companies of all sizes to reach consumers from all walks of life. That includes millions of individuals in Latin America who live and work entirely outside the banking system.
That means ecommerce firms gain efficient access to Latin American markets while consumers receive access to products and services they typically could not have access to.
"When you're a global company, and you only work with an international acquirer, the only way to sell abroad is by accepting international cards," said Paulo Shargorodsky, EBANX VP of Global Merchant Success. "But then you go to Latin America, and you see the market share for those is something like 20% to 30% depending on the country."
Before EBANX, companies that wanted to enter the market would have to establish a local presence and work with an institution to offer local payment methods for consumers.
"You'd have to invest in infrastructure, have an office, a tax team, a legal team, among other basic business needs — it wasn't worth it," Shargorodsky said. "Now, you can do everything through EBANX without the need to establish a local entity, and still be able to serve your local customers and get paid in the home country."
Bringing Cash Vouchers and Installments to Ecommerce
The relatively low level of global integration in Latin America is the result of some systemic issues. Those start with a lack of access to international credit and debit cards.
Equally challenging is that card products with more mainstream appeal tend to work only in local markets.
"It varies market by market," Shargorodsky said. "In Chile, for example, the majority of credit cards are issued by retailers. And in Brazil, where EBANX got its start, you have Visa and Mastercard cards, but you also have Elo and Hipercard, for instance, which are local banners, accepted locally."
Even more important is the fact that many Latin American consumers still prefer using cash.
""In Brazil, for instance, the preferred way they pay for ecommerce is with cash vouchers," Shargorodsky said.
Selecting the cash voucher option when making an online purchase generates either a printed invoice, digital QR code, or barcode, depending on the method and the country. The consumer presents those credentials to an authorized payment processor in a physical location who accepts their money and authorizes shipment of the product.
Many consumers also enjoy the convenience of paying in installments.
"Because they tend to have limited budgets, the way they go about it is to determine if they can afford the monthly payment, even if there is a high interest involved," Shargorodsky said. "Offering installments is crucial to ecommerce success in Latin America."
The banks, cards, processors, intermediaries, currencies, and customs vary from country to country. In the 15 South and Central American countries where it currently operates, EBANX solves those issues with its unified payments solution. Recently, the company launched EBANX ONE, a unified platform that offers hybrid combinations of operational models in only one system integration: payment processing with international and/or domestic settlement, domestic and international payout.
Aligning Merchant Needs with Consumer Preferences
EBANX connects businesses with more than 50 banks and processors. It enables consumers to transact in their preferred payment methods and supports installments and recurring payments, all within a secure and compliant platform that works the same way for everybody.
Specialization enables EBANX to accomplish that. Ecommerce businesses working with EBANX often ask if it offers services outside Latin America, and the answer is always, "No."
That's a significant differentiator for EBANX that keeps customers coming back.
"We're a Latin American company, meaning that every single investment of resources we make, we invest in Latin America," Shargorodsky said. "That's a good thing for us, our merchants, and their local customers because we continue to focus on expanding our markets, improving our infrastructure, and adding new payment options."
Watch on
In addition to offering credit and debit card linkups and supporting cash voucher networks in the 15 countries where it operates, EBANX now also supports alternative payment systems, including the Pix system, which is popular in Brazil.
EBANX has also moved to support digital wallets in developing regions where mobile infrastructure has surged ahead of legacy communications and exchange networks.
The company decides which new platforms to onboard by assessing consumer preferences and merchant needs. The introduction of new payment methods is always seamless from the point of view of EBANX customers, which is a critical factor in partnerships.
"We're flexible enough that if a merchant suggests we should explore and add something, we will," Shargorodsky said. "But because we offer a single integration and API, merchants don't have to do anything when we introduce a new method other than update or do an easy UX adjustment."
Seamless Platform Integrations Encourage Expansion
EBANX works for any ecommerce company interested in growth, including businesses based in Latin America looking to expand into neighboring markets. That is another way the company encourages capital expansion in the region, not just consumer growth.
"Latin America has developed significantly over the past few years," Shargorodsky said. "Now you see local merchants based in Brazil wanting to operate in Colombia and Mexico, or merchants in Mexico or Colombia wanting to operate in Brazil."
Companies based all over the world turn to EBANX to reach Latin American consumers. U.S.-based firms, including Airbnb and the Wish shopping platform, have had success. The Spotify music and podcast platform is popular. Many Asian companies have made inroads. And even the Tinder dating app leverages EBANX to help folks meet up.
"We're talking about ecommerce players, digital players, travel players — pretty much every industry sees the opportunity," Shargorodsky said. "They're going big, and those that go first gain a competitive advantage."
Generating brand awareness and acquiring customers establishes early momentum that can overcome new competition — it's the same story worldwide. EBANX makes ecommerce in Latin America easy for companies, and momentum continues to build for consumers, local merchants, and the global economy.
As the COVID-19 pandemic recedes, consumer buying habits in Latin America appear permanently changed, with more consumers opting for digital payment methods, banks reaching out to new customers, and ecommerce growth accelerating. Latin America was one of the fastest-growing e-commerce markets in the world in 2020, and it is expected to accelerate 19% in 2021, as pointed out Beyond Borders, EBANX's annual study about the digital market in Latin America. EBANX is continuing to look for ways to help everybody work better together.
"Anything new in the market, anything that's seeing significant adoption, anything that fills a need on the customer or merchant side, we're going after," Shargorodsky said.
Advertiser Disclosure
CardRates.com is a free online resource that offers valuable content and comparison services to users. To keep this resource 100% free, we receive compensation for referrals for many of the offers listed on the site. Along with key review factors, this compensation may impact how and where products appear across CardRates.com (including, for example, the order in which they appear). CardRates.com does not include the entire universe of available offers. Editorial opinions expressed on the site are strictly our own and are not provided, endorsed, or approved by advertisers.