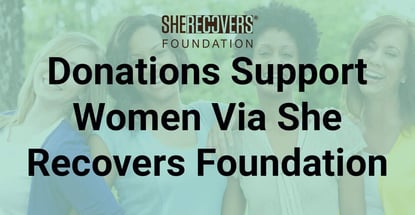 Our experts and industry insiders blog the latest news, studies and current events from inside the credit card industry. Our articles follow strict editorial guidelines.
In a Nutshell: She Recovers Foundation wants to expand society's understanding of the word "recovery." The nonprofit helps women and non-binary people recover from all types of issues affecting their lives, including childhood trauma, codependency, depression, and substance use problems, to name a few. The organization offers free online meetings, led by a trauma-informed coach, that connect women with like-minded peers working to improve their lives and coping skills to recover. To support their mission, She Recovers partners with organizations and accepts tax-deductible donations from individuals interested in funding their initiatives.
In 2017, now-CEO of the She Recovers Foundation Susan Carter attended the first conference hosted by the organization. Her plan was to explore the exhibits and get referrals for a women's healing center she was starting in her hometown of Santa Fe.
But Susan found more than she expected. The foundation hosted a star-studded lineup of speakers including Gabby Bernstein, Elizabeth Vargas, Glennon Doyle, and Marianne Williamson. All of them talked about the unique journeys of recovery they'd had in their lives.
"Six hundred women erupted with their hands in the air just being so grateful and so joyous about being in recovery," Susan told us.
Susan is one of the founding employees of the Susan G. Komen Breast Cancer Foundation, and she remembers when women kept their breast cancer diagnoses, mastectomies, and scars hidden from public view. In the 1980s, women believed that they were "maimed" if they had breast cancer and would rarely speak in public about the disease.

"We watched the whole movement change: the way we talk about and treat breast cancer, the way research is funded, competing with male-oriented diseases back then. Healthcare wasn't really dedicated to women's issues," Susan said.
She said she felt the same when she heard women talk about their own recovery processes at the 2017 conference. Women discussed all the issues they were in recovery for — topics that are often "hidden" from public forums ranging from intimate partner violence to anxiety and workaholism.
Susan was so inspired by the conference, she told the Canadian co-founders Taryn Strong and her mother Dawn Nickel that if they ever wanted to start a nonprofit in the United States, she would help them get started.
"Sure enough, about a year later, they called me!" Susan said with a laugh.
'We're All Recovering from Something'
Often, when we hear that someone is in "recovery," we think they are striving for alcohol or drug sobriety. While this is one type of recovery She Recovers Foundation addresses, the organization takes a holistic view of the term. So, women can be "in recovery" from everything from prescription drugs to codependency, eating disorders to infertility.
Years ago, founders Taryn and Dawn started sharing their own struggles on a blog. Their goal was to encourage women to share what they'd done to recover from whatever issues impacted their lives. More and more people started following the blog and the Facebook group, and from there, the organization was born.
Unfortunately, by the time the organization received its official tax ID letter from the IRS, COVID hit. So, organizers pivoted and moved all their in-person programs online.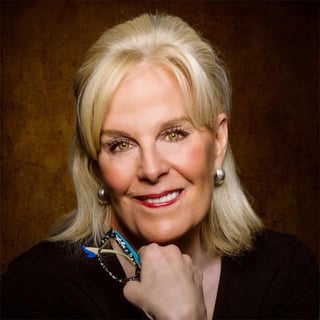 "That was when the community exploded because of the mental health issues due to isolation that sprung up during the pandemic. No one should have to recover alone. And connection and support from people sharing their lived experience. We're a very different organization because we have grown organically from the ground up," Susan told us.
Today, the organization builds community for more than 325,000 women and non-binary people around the world. Members turn to She Recovers seeking support for a variety of issues.
The point of differentiation between She Recovers and similar organizations is that all meetings are facilitated by a professionally trained and certified recovery coaches. Coaches ensure meetings are always trauma-informed.
"Their purpose is to ensure we don't cause any harm to anybody who might be on that call. That's really what sets us apart from everybody else," Susan said.
She Recovers Foundation Relies on Donations
She Recovers Foundation groups are formed based on shared issues, which may include substance use disorders, depression and anxiety, bipolar disorder, eating disorders, loss of spouses — the full gamut.
"The women support each other, and we have a private Facebook group that is available 24/7 for women to support each other," Susan said.
All of the organization's online programming is free. Susan and her team want to break down all the barriers keeping women from getting the help that they need. The foundation charges fees for offline programming, including conferences and retreats, but tries to keep these offerings as affordable as possible.
Every year, the foundation's staffers meet to create or revise the organization's three- to five-year strategic plan, based on the current market. Most of its funding comes from companies and organizations that support women's mental health. In turn, the foundation promotes partners and vetted resources on its platform.
But this is only one source of the foundation's financial support. She Recovers is always seeking donations of any size from both users and supporters.
"We depend on public donations! It's absolutely essential for us because we want to continue offering these programs for free. Most recovery platforms have subscription services or membership fees, but we don't want to do that. We want everybody to have the resources," Susan said.
Cardholders interested in supporting She Recovers Foundation can visit its donation page for more information. But there are many other ways to lend support.
"We have some measurements in place, and it's been incredibly powerful showing the efficacy that this online provides. We really are supporting communities all around the world," Susan told us.
On a Mission to Expand the Definition of Recovery
One of She Recovers Foundation's most significant goals is making the public think differently about what "recovery" means. To Susan, recovering means moving away from unhealthy coping methods, like alcohol abuse, that are spurred by root causes, like childhood trauma.
"Everybody thinks when you say recovery, you're just talking about substance use disorder. Holistically, we look at recovery as being inclusive of all mental health issues such as severe depression and anxiety," Susan said.
She Recovers encourages members to consider their issues from many angles, including body, mind, emotions and spirit. Then, they can figure out which modality or modalities resonate with them and will help them recover.
"We believe you can live a joyous life. You can live life to its fullest without these blocks that are keeping you from it," Susan said.
She Recovers continues to develop platforms that are more useful and relatable to users. Specifically, the team regularly asks community members about the types of groups they'd like to see. In response, they recently created a group for healthcare and allied professionals, mothers of high needs children, another for BIPOC women of color, LGBTQIA+, and a third for veterans and first responders.
Next up, Susan and her team are hosting another conference similar to the one that inspired her nearly six years ago. The annual She Recovers Conference will be held in Chicago this year.
"Our theme this year is going to be Our Stories, Our Strengths. It will be about sharing your story. The more you hear people being open about being in recovery, the more stigma and shame will be broken. So, we always say when we're ready, we recover out loud," Susan told us.