In a nutshell: By bringing diversity, equity and inclusion (DE&I) into the forefront, Discover has made a solid commitment to advancing its workforce to better reflect the communities it serves. Discover's first DE&I report in March revealed that the company has achieved many of its goals and is poised to make greater strides in the future. As it pushes company initiatives in a new direction, Discover looks to be a leading figure in the advancement of marginalized groups. For its focus and dedication to this key area, we are recognizing Discover with our Editor's Choice™ Award for DE&I Efforts.
Some major corporations are just beginning to accept their social responsibilities to address the needs of marginalized groups. But Discover has long been committed to unifying its diversity, equity and inclusion (DE&I) strategy into its company culture.
That transformation started more than 10 years ago with the creation of Discover's DE&I division, its employee resource group. The move has helped the company reexamine what is needed for community outreach and internal growth.
In 2020 the DE&I team began working with the executive committee at Discover to establish multiyear goals that focused on increasing diversity in its job recruitment and community outreach. The goals outlined steps to ensure Discover's talent acquisition is fair and equitable and fosters an inclusive and engaging environment. The company also identified ways to make a strong impact in underserved communities. Over the two years since then, Discover has been able to fine-tune its approach and become more intentional about where the company wants to focus.
In March 2022, Discover released its first Diversity, Equity and Inclusion Report, documenting the improvements the company has achieved along its DE&I journey and outlining its multiyear goals.

Discover's Chief Diversity Officer, Jonita Wilson, explains the purpose of this report is to highlight the company's workforce diversity, and it includes examples and data showing the company's dedication to a more socially justified environment.
"We're establishing ways to make a strong impact on communities, and these actions really have helped us work towards our mission of helping people achieve brighter financial futures," says Wilson.
The report, which will be publicized on an annual basis, also outlines opportunities for improvement.
Building Business Strength Through Inclusion
As a company, Discover also sees DE&I as a business imperative that supports its principles and directly affects engagement with customers.
"It really aligns with our values and behaviors, both as the right thing to do and as a core business practice that we see as critical to our success. So we recognize that a diverse organization really attracts the best talent, retains the best talent, and makes better decisions – all of which allows us to better serve our customers," says Wilson.
"And that is true for every level in our company."
There is much information to back Wilson's statement. Studies have shown a strong relationship between diversity on executive teams and the likelihood of financial outperformance over time, according to a series of reports released by McKinsey. The research also provides new insights into how inclusion is highly relevant.
Analysis of employee sentiment in online reviews shows workers want companies to pay greater attention to inclusion, even when they consider their companies to be relatively diverse.
For its part, Discover will continue to develop progressive strategies, and a key component of that focus will be illustrated in the company's DE&I reports.
Successful Measures and Opportunities for Improvement
In its first DE&I report, Discover has highlighted a number of achievements as well as opportunities for further development.
"We do a comprehensive diagnostic review that consists of a deep dive into our qualitative and quantitative data so we can gain insights to help us understand where we need to focus," says Wilson.
One of the report's highlights is the opening of a new customer care center in Chatham, a neighborhood in Chicago's South Side. The center created jobs and helped connect with an underleveraged pool of diverse talent and suppliers.
Another highlight is that Discover's workforce diversity either exceeds or matches the workforce availability in each of the metropolitan areas where the company operates. And representation of women and people of color is higher at almost every level in comparison to other U.S. companies.
Discover also increased its spending with diverse suppliers by more than 30% from 2020, which includes a 92% increase in spending with veteran-owned businesses, an 80% increase with minority-owned businesses, and a 27% increase in women-owned businesses.
To help keep the company accountable, the report outlines several opportunities for improvement, including increasing representation of women and people of color at all levels of management to 50% and 40%, respectively, by 2025. Discover also intends to increase Black and Latinx representation in all management levels to 15% by 2025.
The company says transparency is critical to achieving its goals to promote diversity, equity and inclusion.Discover said that publishing this report serves as a method to reinforce its commitment. This visibility exemplifies how businesses take real action versus simply being performative, and it also allows Discover to be held accountable through that action.
This approach has helped Discover develop its strategic journey and execute an intentional road map connecting the DE&I strategy to the company's future vision.
New Plans for Progress Within the Company
An unfortunate reality of entering the workforce is that, as people advance through their careers, there is an unevenness of advantages that cannot be denied. What would be considered a fair opportunity for some is not the same for everyone. "I think we all know that. And we see that," says Wilson.
Discover's DE&I team is diving into and addressing those obstacles as it looks to the future. The company is doing this through the neurodiverse hiring program ….. It's also partnering with a third-party workforce solutions firm that has an extensive talent pool that will help Discover design best practices in a holistic end-to-end hiring program. The firm will also train Discover's leaders to create an environment that can sustain an engaging experience for the new talents the company is bringing in.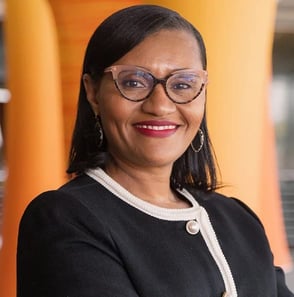 The other new project Discover will roll out is based on self-identification. This type of inclusion requires intentional efforts to establish full participation and a sense of belonging for every employee.
"We want everyone to feel like they belong in our environment. And so one way to drive inclusion is through social identity. It can help people understand similarities, differences, and also their impact on the workplace," says Wilson.
This year, Discover will enhance the voluntary self-identification options in its human resources information system to include sex, gender identity, sexual orientation, and race. The information option for race will include an additional field specifying whether an employee identifies as two or more races. The initiative began in early April and includes a four-week campaign encouraging employees to update their identity demographics.
While Discover has made headway with its DE&I initiative, Wilson emphasizes that it is a very dynamic process and always evolving.
"You never master this. You just learn how to get better at it and more accepting of it," says Wilson. "We don't take our foot off the gas pedal, even though we are seeing these great numbers."
Advertiser Disclosure
CardRates.com is a free online resource that offers valuable content and comparison services to users. To keep this resource 100% free, we receive compensation for referrals for many of the offers listed on the site. Along with key review factors, this compensation may impact how and where products appear across CardRates.com (including, for example, the order in which they appear). CardRates.com does not include the entire universe of available offers. Editorial opinions expressed on the site are strictly our own and are not provided, endorsed, or approved by advertisers.