credit card advice
Disclosure: When you apply through links on our site, we often earn referral fees from partners. For more, see our ad disclosure and review policy.
In the modern consumer marketplace, many industries are often dominated by two leading brands and their latest products. If you want a soda, for instance, you're likely choosing between some version of Pepsi or Coke. Similarly, most people likely carry a phone sporting the latest version of either Android or iOS.
When it comes to cash back credit card rewards, the two biggest names to beat are Chase Freedom® and Discover it® Cash Back, similar cards that pack a lot of rewards punch for consumers who can make the most of them. But while both cards operate on the same cash back rewards structure — quarterly rotating bonus categories — a variety of small differences set them apart. In the article below, we explore the ins and outs of the Chase Freedom vs. Discover it credit cards to see which one may be the most well-suited for your personal needs.
Signup Bonus | Rewards | Qualifying | Networks | Summary
Signup Bonus: Quick Reward vs. Long-Term Savings
One of the first things a prospective cardholder may notice when comparing the Chase Freedom® and Discover it® Cash Back cards is the all-important signup bonus. The Chase Freedom® offers a more traditional signup bonus, namely a one-time, lump-sum cash bonus that becomes available when a new cardholder meets the minimum spending requirement on the card within the first 90 days after you open the account.
at Chase'ssecure website
Earn a $150 Bonus after you spend $500 on purchases in your first 3 months from account opening
Earn 5% cash back on up to $1,500 in combined purchases in bonus categories each quarter you activate. Enjoy new 5% categories each quarter!
Unlimited 1% cash back on all other purchases - it's automatic
0% Intro APR for 15 months from account opening on purchases and balance transfers, then a variable APR of 16.49 - 25.24%.
3% intro balance transfer fee when you transfer a balance during the first 60 days your account is open, with a minimum of $5.
No annual fee
| | | | | |
| --- | --- | --- | --- | --- |
| 0% Intro APR on Purchases 15 months | 0% Intro APR on Balance Transfers 15 months | | | |
Given the fairly small spending requirement of the Freedom's signup bonus, it should be easy for just about any cardholder to meet within the 90-day period. Since most signup bonuses are deposited within six weeks of earning them, this can mean a nice lump sum in just a few months.
In contrast, the Discover it® Cash Back card has a relatively unique signup bonus offer that Discover refers to as Cash Back Match®. Rather than offering a quick flat-rate sum, Discover's Cash Back Match® program gives cardholders a one-time bonus at the end of the first year, equal to the total amount of cash back rewards earned with their Discover it® Cash Back card during that first year.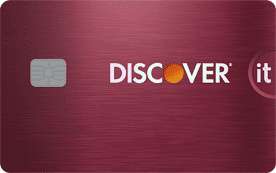 at Discover Card'ssecure website
INTRO OFFER: Discover will match ALL the cash back you've earned at the end of your first year, automatically. There's no signing up. And no limit to how much is matched.
Earn 5% cash back at different places each quarter like gas stations, grocery stores, restaurants, Amazon.com and more up to the quarterly maximum, each time you activate.
Plus, earn unlimited 1% cash back on all other purchases - automatically.
Redeem cash back any amount, any time. Rewards never expire.
Use your rewards at Amazon.com checkout.
Get an alert if we find your Social Security number on any of thousands of Dark Web sites.* Activate for free.
So, for example, if you were to make $3,000 worth of qualifying 5% cash back purchases with your Discover it® Cash Back card during the first year, you'd earn a total of $150 cash back on those purchases. Under the Cash Back Match® program, you would then receive an additional one-time $150 cash back bonus on your one-year account anniversary.
And if you spend enough to max out your 5% cash back category every three months ($1,500 in qualifying bonus category purchases per activated quarter), your total cash back would be $300, which means your Cash Back Match® would be a huge $300 at the end of the year. And that's without adding any additional cash back earned at the unlimited 1% cash back rate for all other card purchases.
Rewards: Duel of the Rotating Categories
When you get right down to it, the Chase Freedom® and Discover it® Cash Back cards have a ton of similarities, starting with the fact that neither card charges an annual fee. Both cards also offer a nice introductory 0% APR offer good on both new purchases and balance transfers — and both charge a balance transfer fee.
Of course, the real déjà vu comes when you look at the rewards systems operated by the two cards. Both the Chase Freedom® and Discover it® Cash Back cardholders earn cash back rewards, with bonus 5% cash back rewards earned for purchases in specific bonus categories that change each quarter. Each card in the pair has the same quarterly purchase cap, as well, limiting bonus cash back to the first $1,500 in combined category purchases each quarter.
Since 5% cash back is only as good as its categories, both cards offer popular everyday bonus categories, including things like gas, groceries, and restaurant purchases. Most quarters will also offer a secondary category in a more niche area, such as wholesale clubs or Amazon purchases. Both cards will require you to "activate" your bonus category each quarter to be eligible for the 5% cash back rewards.
For many credit card rewards aficionados, the best way to maximize their cash back rewards is by using both cards. Essentially, while the bonus categories do occasionally overlap between the Chase Freedom® and Discover it® Cash Back, it's infrequent enough that you could effectively double your 5% cash back potential by obtaining both cards.
As an example, the last quarter of 2017, the Discover it® Cash Back card offered bonus cash back on Amazon.com and Target purchases, while the Chase Freedom® provided 5% cash back for Walmart and department store purchases. Since it's likely at least some portion of your seasonal shopping takes place with one or more of these retailers, using both cards could create a nice stockpile of cash back to use when the holiday bills come 'round.
And the Chase Freedom® and Discover it® Cash Back make it easy to redeem your cash back, which you can get as a statement credit or a deposit into a qualifying bank account. If you already have a card that earns Chase Ultimate Rewards, like the Chase Sapphire Preferred® card or the elite Chase Sapphire Reserve®, then you can also exchange your Chase Freedom® cash back rewards for Ultimate Rewards points through the Ultimate Rewards portal.
Qualifying: Credit Scores & Chase 5/24 Rule
Other than a few fees and specific bonus categories, the biggest differences between the Chase Freedom® and Discover it® Cash Back cards stem from the different issuers and networks (the latter of which is discussed in the next section). How the issuers come into play is more than just a matter of which bank you make your payments to; it also tends to play a big role in the card's approval requirements.
For instance, Chase is generally considered to have some of the higher credit qualifications for their cards, and the Chase Freedom® is little exception. You'll want to have a FICO credit score over 700 for decent approval chances, though a higher score will net you a better APR and higher credit limit. The lowest FICO score reported by a reviewer accepted for the Chase Freedom® was 645, which is firmly in the "Fair" credit range.
Discover cards, on the other hand, are typically considered to be easier to obtain, with multiple reviewers reporting being approved for a Discover it® Cash Back card with scores in the mid-500s. That being said, the average cardholder had a score over 650, and you'll still need a credit score in the 700 or better range to qualify for the lowest APRs and highest credit limits.
Another important way the cards' issuers come into the picture is through application limitations in place from each issuer. Chase, for example, operates under what's known as the "5/24 Rule," which means that most applicants will be automatically rejected for a new Chase credit card if they have opened more than five new credit accounts in the last 24 months.
While Discover doesn't have any specific rules that prevent you from applying for a single Discover it® Cash Back card, the issuer does have a rule in place that restricts the number of Discover cards you can have at any one time to two. It also requires that you wait at least 12 months after opening your first Discover it® Cash Back credit card account before you can open a second card account.
Networks: Discover vs. Visa
The final area in which cardholders might notice differences between the Discover it® Cash Back and Chase Freedom® cards will be related to the processing networks, as the Discover it® Cash Back card will obviously run on the Discover network, while the Chase Freedom® operates on the Visa network. This affects your card use in a few ways that will primarily be noticeable through your card's acceptance rate and peripheral benefits.
Not too long ago, Visa was the solid leader in worldwide acceptance — but not anymore. Discover has made huge leaps in its number of overseas merchants and is now the most widely accepted network by volume, with 42 million worldwide merchants. In contrast, Visa and Mastercard are accepted by 40 million merchants globally, and American Express only 25 million merchants.
At the same time, Discover is accepted in only 175 countries, compared to Visa's 200+, with limited to no Discover acceptance in some parts of Africa, South America, and the Middle East. Domestically, you likely won't notice much of a difference in acceptance rates, with both Visa and Discover accepted by 9 million US merchants across the country.
Beyond basic acceptance rates, the credit card network will also determine the extraneous perks and benefits cardholders enjoy. All Discover cardholders are given access to their FICO credit score for free each month. Plus, you'll receive $0 fraud liability and the ability to activate free Social Security number alerts.
Visa cardholders enjoy access to many of the same perks, including an auto rental collision damage waiver, zero liability for fraudulent purchases, and emergency cash disbursement. Your Visa card will also allow you to use Visa's Roadside Dispatch® service, a pay-per-use roadside assistance program.
Summary: Similar Cards with Complementary Rewards
To some dedicated consumers, there are only two types of people in the world: Android People and Apple People. Similarly, the Coke and Pepsi superfans out there know which they prefer — and they're happy to share every reason why. For the savvy savers who love to make the most of credit card rewards, it all comes down to Chase Freedom® versus Discover it® Cash Back.
But just like soda junkies who like to escalate their culinary creativity by blending both brands in the same cup, credit card rewards rebels know that the Chase Freedom® and Discover it® Cash Back cards are more alike than different, and it's those similarities that make the two cards a great duo for maximizing your cash back rewards.