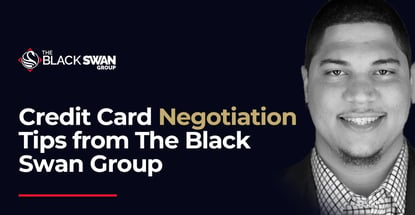 In a Nutshell: The same skills professionals use to take the next step in their careers or make great deals can also help people negotiate better outcomes with credit card issuers, according to the team at The Black Swan Group. The group teaches clients how to negotiate successfully and has more than a decade of experience working with individuals and corporations. The Black Swan Group's proven methodology has helped thousands of negotiators enhance their skills and achieve their personal and professional goals.
People who are afraid to ask a credit card issuer for a higher limit or for some extra time to pay down their balance may want to think like a crisis negotiator. Instead of bombarding support representatives with threats or demands, they may want to empathize with them to forge a connection.
The Black Swan Group, founded by veteran FBI crisis negotiator Chris Voss, helps clients learn those valuable skills. The Black Swan Group draws on Chris's law enforcement experience to teach businesses and individuals proven strategies and build negotiating confidence. And the company has a 10-year track record of success in relating crisis negotiation tactics to business settings and deals.
The group's training and resources help clients step up to the bargaining table, whether they want to advance their career, make high-dollar deals, or just need a little cushion from a credit card issuer.

As Chris was diffusing potentially catastrophic standoffs at the FBI, his son Brandon was honing his skills as an entrepreneur. Brandon started his first business at age 14 and gained more experience through a series of retail and B2B sales positions.
The father and son realized that, despite their different career paths, they were drawing on many of the same skills to succeed. Hostage situations and business meetings may not have a lot in common at first blush, but beneath the surface, they're both about opposing parties trying to get what they want.
"We put our heads together and started developing communication specifically for the private sector," said Brandon, the President of The Black Swan Group. "With everything my father did in hostage negotiation at the FBI and my robust sales training, combining our knowledge base has been interesting and fun."
Communication Skills for Consumers and Businesses
Chris and Brandon started The Black Swan Group in 2008 to bring their skills directly to corporate boardrooms. The team, which includes several former crisis negotiators, like Author and Coach Derek Gaunt, and a stellar support team, offers a variety of training options.
Services for individuals include live online courses, case studies, and other resources. On-premise training for businesses is interactive and customized for each organization. The Black Swan Group also offers bespoke negotiation coaching that allows teams to achieve the best possible outcome on specific deals.
Chris has taught business negotiation as an Adjunct Professor at the University of Southern California Marshall School of Business and at Georgetown University's McDonough School of Business. In 2016, he published the book "Never Split the Difference," a distillation of the philosophies he and Brandon now apply at The Black Swan Group.
Watch on
"The book did all of the translating to the private sector that we needed," Brandon said.
Many of The Black Swan Group's individual clients come from the higher echelons of the corporate world. They may be executives with years of experience who understand that they can always learn something new."
"These are people who wake up every day and make a choice to be better than they were yesterday," Brandon said. "People searching for transformation — that's the mindset we're looking for."
The negotiation skills Chris and Brandon teach are applicable everywhere. The Black Swan Group's blog, The Negotiation Edge, is packed with fundamentals that can help people outside the corporate world — including those calling their credit card issuers.
"We've designed our concepts and skills to deal with emotional human beings, and that pretty much covers everybody," Brandon said.
Using Tactical Empathy™ for Credit Negotiation Success
The Black Swan Group introduces the idea that proactively anticipating and addressing a negotiation counterpart's negative expectations can diffuse them and create an environment of goodwill. That is evident in its Accusation Audit.
For example, a buyer almost reflexively dreads learning the seller's price because it's always going to be too high. But when the seller understands and addresses that dread in advance, the bad news is mitigated.
"When you get to the ask, demand, or your issue, it comes as a relief because whatever they've imagined in their head is always going to be worse than what you actually have to say," Brandon said.
The Accusation Audit is a subset of a broader concept known as Tactical Empathy, the calibrated application of emotional intelligence to negotiations. The seller may play a similar role to that of the cardholder in a phone conversation with a customer service rep. The key is for people not just to control their own behavior during a call with a card company but also to understand — and address — the other party's feelings.
"What do people in customer service get more than anything else from the people they talk to? They get yelled at for things that aren't their fault," Brandon said. "And that's information you can use."
Brandon said callers can address that upfront by being empathetic with the representative and the confrontations they regularly encounter.
"You're showing a deep understanding of what that person experiences every day that probably no one else has shown," Brandon said. "Now, how willing do you think that person will be to help you if you lay all that out before you've even made an ask?"
Helping People Master Negotiations to Get More of What They Want
The Tactical Empathy approach shows that emotions play a greater role in winning negotiations than do logic or reason, according to Brandon.
"We like to say that negotiation is essentially about navigating a series of emotional moments," he said. "In other words, people make deals because they feel like it. They aren't persuaded as we like to think they are."
That means that explaining to a credit card service representative that the cost of acquiring a new customer is greater than the cost of retaining a current customer by granting some leeway on interest or fees is probably doomed to fail.
"The bottom line is that rep on the other end of the line doesn't care what it costs to acquire a new customer," Brandon said. "That's what a lot of people say to them. And when you sound like every other person that rep has talked to for 30 years, they know how to handle you."
Instead, Brandon advises individuals to use Tactical Empathy to cut through the clutter and create a spirit of collaboration and trust. Credit card issuers likely know that a customer will ask for more time to pay or for a lower rate, but it is often how they ask that makes the difference.
"The only thing that's keeping them from doing it is whether they feel like it," Brandon said. "And that's why we come at this through anticipating and addressing the elephant in the room, which shows you're not their enemy. When you're nicer than everybody else, it feels wrong, and they feel like cutting you a deal."
Advertiser Disclosure
CardRates.com is a free online resource that offers valuable content and comparison services to users. To keep this resource 100% free, we receive compensation for referrals for many of the offers listed on the site. Along with key review factors, this compensation may impact how and where products appear across CardRates.com (including, for example, the order in which they appear). CardRates.com does not include the entire universe of available offers. Editorial opinions expressed on the site are strictly our own and are not provided, endorsed, or approved by advertisers.