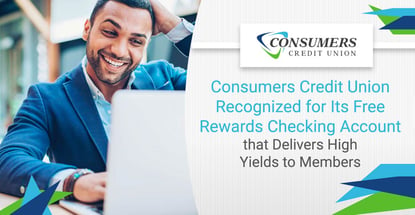 In a Nutshell: Credit unions are known for putting the interests of their members above profits by reinvesting in improved products and services, but Consumers Credit Union in Illinois stands out from the pack for its Rewards Checking account. The account delivers an APY of up to 5.09%, making it one of the most competitive in the nation. And Consumers Credit Union membership is not limited to people living in the vicinity of its northeast Illinois locations. For just a one-time $5 fee, anyone in the country can become a member. Consumers Credit Union also stands out for its willingness to embrace technology where some other credit unions may shy away from the latest tech tools. We are recognizing the credit union's Rewards Checking account with our Editor's Choice™ Award as a top online checking account.
Most credit unions are built around a few common principles, such as serving the communities in which they operate, putting the interests of their members above profits, and delivering competitive rates and services.
While many credit unions were formed to serve regional industries across the nation, membership eligibility today is commonly based on geographic location.
Consumers Credit Union is a little different.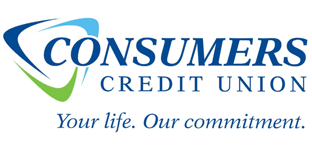 By paying just a $5 fee to join the Consumers Cooperative Association, anybody in the U.S. can become a member of the Illinois-based institution.
And why would someone in, say Miami, Los Angeles or Portland, care about joining a credit union an hour north of Chicago?
One good reason may be Consumer Credit Union's Rewards Checking account with an APY of up to 5.09%, one of the most competitive checking account return rates in the country.
We know how CardRates.com readers appreciate learning about new opportunities to make their money work for them, but it's not too often that such rates are available with a checking account.
That's why we spoke with Consumer Credit Union's Director of Marketing, Jennifer Fournier, to learn more about the organization's impressive checking account and how the credit union breaks out of the normal geographic restrictions seen with most credit unions.
"It is a highly sought-after account, and it's such a valuable offer of reward that we see members coming in from all over the country," Fournier said. "And it comes with all the mobile functionality — mobile deposits, mobile banking. It really makes it attractive to anyone, even if you don't live or work nearby one of our locations."
Checking accounts are one of the most common banking products around so it really takes something unique to make one stand out from the pack. But that's just what Consumers Credit Union does with its Checking Rewards account. And that's why we are recognizing the product with our Editor's Choice™ Award as a top online checking account.
A Free Checking Account That Pays One of the Nation's Highest Yields While Providing Plenty of Conveniences
Fournier said Consumers Credit Union began offering its Rewards Checking account in 2007, and it has always come with attractive rates.
"Every credit union's goal is just to provide the members with the best value possible," Fournier said. "So, this account was kind of tailored to help provide those values to the members who really utilize us as their primary financial institution."
The checking account is divided into three APY tiers — 3.09%, 4.09%, and 5.09% — for up to balances of $10,000.
Fournier said there are certain qualifications account holders must meet to gain access to the reward tiers. But, for people using the Consumers Credit Union Rewards Checking account as their main account, meeting those qualifications should not prove difficult.
"The first qualification you need to earn 3.09%, which is way higher than most checking accounts are paying nationally, is really just signing up for an electronic documents platform," Fournier said. "These documents can be accessed within online banking or the mobile app."
Qualifying members must also use the account's debit card, she said, for at least 12 transactions totaling $100 or more during the month. Members must also use the account to receive ACH or direct deposit funds of $500 or more.
To jump to the next reward tier of 4.09%, users must meet the first tier qualifications and spend $500 or more in CCU Visa Credit Card purchases each month. To reach the top tier of 5.09%, users must meet the qualifications for the first tier and spend $1,000 or more in CCU Visa Credit Card purchases each month.
"For me, that's easy to hit," Fournier said. "I'm always getting the 5.09%. It's a nice reward in your account."
The Credit Union Emphasizes Technology to Deliver the Best Customer Experience
"A lot of people assume credit unions have limited offerings or their services aren't as convenient. They're definitely viewed by some as being behind in the tech space," Fournier said. "But we are a pretty technology-driven institution."
Consumers Credit Union does not shy away from using today's technology to provide quality experiences for its members. That includes giving members access to more than 30,000 ATMs and more than 5,000 shared branches.
"We offer refunds of any ATM fees you may incur," Fournier said of qualifying members. "So you can go use any bank's ATM that's in your path, basically, and you don't have to worry about the fee they're going to charge."
She said any ATM fees incurred will be reimbursed at the end of each month, when account qualifications are met. This is an advantage Rewards Checking members can enjoy that is not even available at some of the large national banks, Fournier continued.
The credit union's technology focus also extends to its mobile app and online banking platform, both of which are designed to provide members with a high-quality and convenient experience.
Members can also track their rewards status via Consumers Credit Union's Rewards Update feature. Rewards Update users can easily access information revealing which rewards tier they are currently qualified for, the total dollar amount of debit card transactions they have made for the month, the number of transactions, the amount of CCU Visa Credit Card transactions for the month, and the year-to-date interest.
Consumers Credit Union also ensures that its members' information and funds are protected.
"We utilize the latest security practices to ensure a safe environment when accessing your account and to protect your sensitive account information," according to the credit union website. "Our secure online banking gives you full access to your account information."
With a Nationwide Member Base, Gathering Feedback is Key
Consumers Credit Union has 11 locations in the Gurnee, Illinois, region to serve its members, Fournier said, but unlike many other credit unions, CCU has an open membership policy.
"Basically, anyone nationwide can join us, which is really unique," she said. "Most credit union membership is employer-affiliated or they serve a particular community or geographic area — members usually share a common bond."
For Consumers Credit Union members, that common bond is becoming a member of the institution's sponsor, Consumers Cooperative Association. Members simply pay a one-time, non-refundable fee of $5, then deposit and maintain a minimum of $5 in their Membership Share/Savings Account.
Fournier said the majority of Consumers Credit Union members are currently local, but almost 40% of new accounts opened this year have been from outside of Illinois.
"It's really starting to grow and take off," she said. "It's exciting for a credit union to be playing in the space with some of the bigger names out there. It's really quite a movement we have going on here and we just keep growing and growing."
And as with any product or service, being in touch with customers' — or in this case, members' — needs is crucial. Perhaps even more so for Consumers Credit Union since so much of its growing membership base is outside of Illinois.
Fournier said the credit union makes a point to keep in touch with online user reviews and also garner feedback from member surveys and simply paying attention to what members are telling them.
And the credit union has altered policies based on member feedback, she said. With the Rewards Checking account, the debit card usage requirement used to only apply to signature-based transactions. Fournier said this was a pain point with members because so many transactions today are not signature-based. So, Consumers Credit Union broadened the qualification to accept any debit card transaction.
The Institution Will Announce a New High-Yield Savings Account in the Near Future
With the popularity of Consumers Credit Union's Rewards Checking account, the institution is gearing up to launch a high-yield savings account in the near future.
"We're getting close to beta testing it now," Fournier said. "It's going to be a Smart Saver account, and it's really tailored to encouraging members to automatically be setting aside a certain dollar amount certain dollar amount, with a maximum of $1,000 per month."
She said she didn't want to reveal too much information about the savings account just yet, but interested readers can always check the Consumers Credit Union website for the latest news.
In the meantime, it's certainly worth considering paying the $5 fee to join the Consumers Cooperative Association to gain access to Consumers Credit Union's high-yield checking account.
Advertiser Disclosure
CardRates.com is a free online resource that offers valuable content and comparison services to users. To keep this resource 100% free, we receive compensation for referrals for many of the offers listed on the site. Along with key review factors, this compensation may impact how and where products appear across CardRates.com (including, for example, the order in which they appear). CardRates.com does not include the entire universe of available offers. Editorial opinions expressed on the site are strictly our own and are not provided, endorsed, or approved by advertisers.